This is one of my hubby's favourite desserts. When we used to live in Nantes, my mother-in-law would always bring one of these home whenever she returned from Auvergne. For those who haven't read my earlier posts, this brioche is a specialty of the French region of Auvergne. What makes it so special is not only the taste of the brioche but those lovely eye-catching bright red pralines in the brioche that captivate our attention, entice us and make us drool… and awfully sinful too – rich in butter and sugar – an ultimate comfort food.
I was immediately taken by it at the very first bite of this brioche, I was fascinated and interested to know how to make this awesome dessert. Then I was told that brioche is not easy to master… my enthusiasm got dampened. It wasn't until we moved to the Auvergne region that my fascination with this brioche renewed. Finding the red pralines on the supermarket shelf by chance was sort of a calling… Still, I hesitated, doubted about my baking skills… Could I do it? Hubby was confident that I could do it and told me 'What have you got to lose? If you don't try, you will never know.' With that in mind, one evening, I decided to just take the plunge, with hubby sitting opposite the dinning table surfing with his laptop while Little One did her colouring at the other end 🙂. My two favourite people in the same room to cheer me on. Every now and then while kneading the dough, doubts floated through my mind and I would ask hubby absently 'Do you think the consistency is correct? I think so, what do you think? Do you think it needs more flour? etc. Hubby naturally doesn't really know the answer to those questions but all the same, he tries to give me reassuring answers 'yes, dear, I think it's looking correct.' or 'yeah, perhaps a little bit more flour, what to do you think?'.
Thank you hubby for your confidence in me and your encouragement.
Brioche Aux Pralines
Ingredients
1 tbsp plain flour
40 ml warm milk
a packet of yeast (instant or normal)
250 g plain flour
45 g sugar
vanilla essence
3 eggs
125 g salted butter (cut into cubes)
22 pralines (roughly break them with a hammer in a plastic bag)
some melted butter mixed with some sugar (for coating)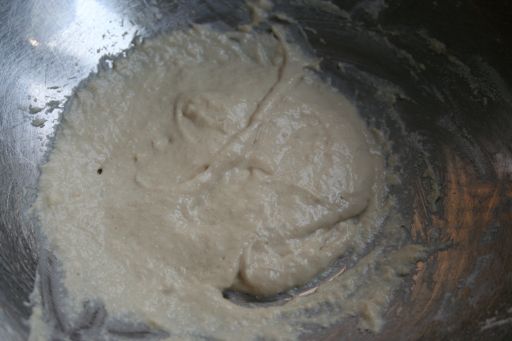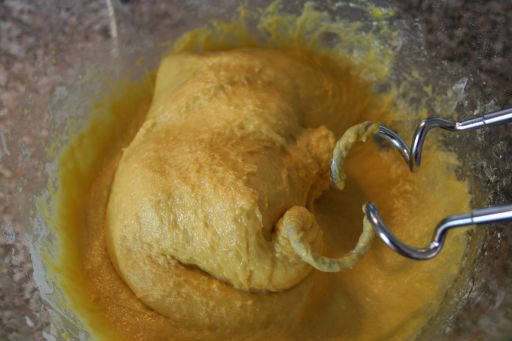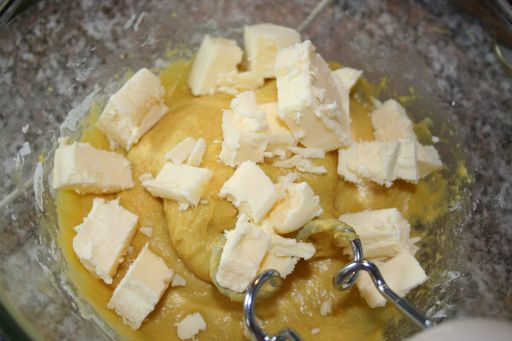 Directions
Preheat oven at 160°C (325°F – gas mark 3). Line a 20 cm (dia) round baking pan, bottom and side with baking paper.
In a big bowl, combine warm milk, 1 tbsp flour and yeast together making sure it is well mixed. Leave it for 15 minutes.
Add in the rest of the flour, sugar, 1 egg and vanilla essence. Knead it with the dough hooks that comes with your electric beater. Mix till everything is combined.
Add in the rest of the eggs and continue kneading it. Continue kneading until the dough gives smooth, silky texture and slightly pale yellow. The dough will look a bit wet and glossy when you stop kneading it. It will also be slightly sticky to touch.
Knead in the butter until it is well worked into the dough – no butter lumps. The dough is done when it is smooth and elastic. It will still feels slightly sticky but it doesn't stick to your finger.
Cover it with a cloth and leave it to rise for an hour or until it doubles in size.
Stir it down and knead it a bit (with the dough hook), then cover it and leave the dough in a cool place to rise for 5 hours.
After 5 hours of rising, mix in the broken pralines. Knead it until it is well distributed in the dough.
Lightly flour your work surface, turn the dough out and lightly dust it with flour. Roll it out into a big rectangle.
Roll in from the longest side like a Swiss roll. Cut it into 6 or 8 even slices and arrange them loosely in the prepared round baking pan.
Melt butter and sugar together in a small bowl. Brush this mixture on top of the brioche and let it rise for 1 hour.
Bake for 40 minutes or until a toothpick comes out clean.
Coat the top with some melted buttery sugary mixture again and let it cool.
Serve it with a cup of tea. Savour it.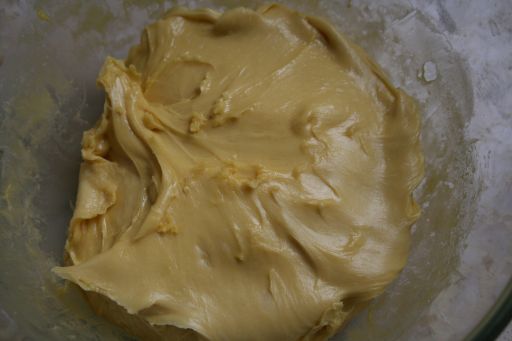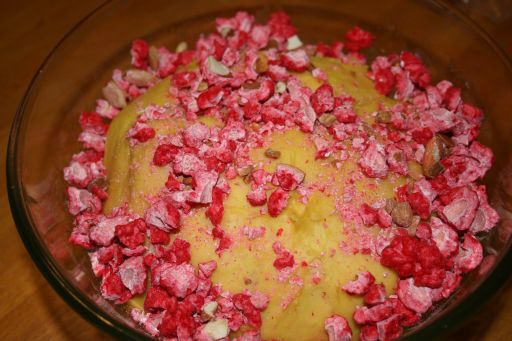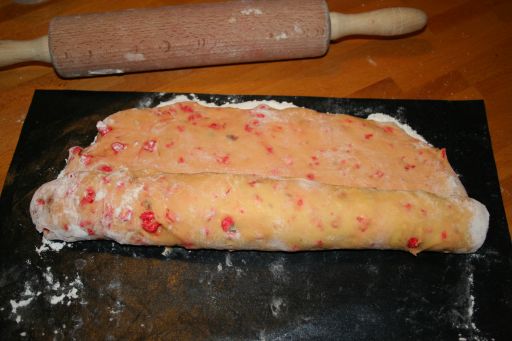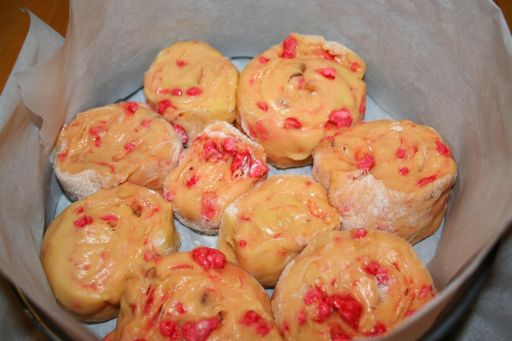 The Verdict
You know how we all have some "signature" dishes – things that we do so well people keep asking for us to make some more ? Well this is one of them. If you let me brag a little: it actually does taste better than the best ones I ever bought in a bakery
. It's buttery, soft, sweet… Unlike some other brioches I've tried this one isn't dry and you don't need to drink anything with it to "get it down". It's also generously stuffed with pralines and they are well spread out everywhere. And the salted butter gives an extra kick to this brioche that isn't found in those sold in the bakeries. This brioche rocks!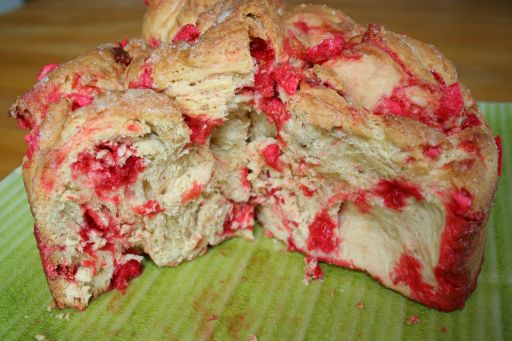 Notes
Note that during winter period, I can make the dough at night and leave it to rise overnight at the coolest part of our house and bake it the next morning. However as the weather is warming up to summer, I would suggest not to leave it overnight or let it rise overly long as there is a risk of over fermentation, thus giving your brioche a funny taste and smell.
This recipe can also be done by hand but it will be a very sticky affair 🙂. At the beginning, it will feel like a lump of sticky mess but never mind that, continue kneading (dip your hand with a bit of flour now and then in between kneads). After a while, you will noticed that the dough is slowly coming together and stick less to your hands and bowl. The dough will be pale yellow, soft and elastic and slightly sticky. Knead in the butter, flour your hand a bit now and then a few times (but not too many) if it is too sticky. Dough will be become elastic and very gluey feeling and the dough should be able to stick off any sticky dough on your fingers cleaning. Continue to knead until dough becomes very smooth, elastic, pulls away from the bowl cleanly and you can lift it off with your hand. Once you got that, cover and leave it to rise and follow the rest of the instructions above.