It's funny how I have thought for years that lasagne were difficult and complicated to make – I mean, looking at the multiple layers of pasta and tomato sauce oozing out with the crispy cheese on top etc. I thought only chef could whip that up… definitely not for the layman I used to be.
Now you would have thought that since I have now done quite a few dishes, making lasagne would be child's play for me… well, a few days ago I was still thinking that making lasagne was really complicated and beyond my cooking capability 😛. Why in the world do I still think that way, I have no idea. It's strange, isn't it. However after making these lasagne the other night, I realised that sometimes something that may look complicated sometime isn't. You should have seen my jaw dropped on the floor when I was preparing them – it is really is child's play: a layer of this and a layer of that, repeat it a few times and top it with grated cheese. Et voilà !
For this post, I really have Pierre and Michèle to thank for. Why ? If not for him thinking of his mom's lasagne and requesting for it, I wouldn't have overcome my cooking shyness. And thank you Michèle for sharing your recipe with us.
Lasagne
Serves : 6
Ingredients
1 pack lasagne
1 clove garlic (cut into half)
3 onions (chopped)
450 g minced beef & pork
600 ml tomato puree
salt & pepper
grated cheese
750 ml béchamel sauce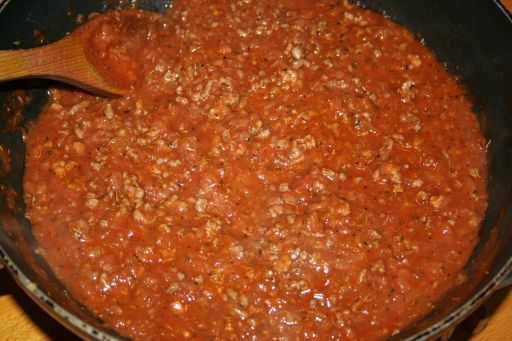 Directions
Prepare your béchamel and meat sauce first and set it aside.
Rub the halved garlic all over the sides and base of a deep rectangle baking dish (or gratin dish). Don't throw it away after that – chop it up and cook it together with the meat sauce.
Making lasagne
Preheat oven at 210°C (410°F – gas mark 7).
Spread some béchamel sauce on the base of the prepared rectangle baking dish (or gratin dish), then lay each piece of lasagna side by side. It should more or less cover the dish.
Put some meat sauce all over the dish, followed by a layer of béchamel sauce on top of it. Sprinkle some grated cheese on top of the béchamel sauce.
Lay another layer of lasagne on top of it, followed by the meat sauce, then the béchamel sauce and some grated cheese. Repeat this until all meat is used up and end the dish with lasagna and a layer of béchamel sauce with grated cheese generously sprinkled all over.
Bake it for about 30 minutes. The top should be golden brown like gratin.
Serve hot and enjoy !
Making Meat Sauce (Bolognese)
Heat up pan with some olive oil, when it's hot, stir-fry the chopped onions until it is golden and sort of transparent (it will be very aromatic). Throw in the chopped garlic.
Add in the minced beef & pork and mix it well, making sure that the meat are broken up into small pieces.
Sprinkle the amount of herbs de Provence according to your liking. Season it with salt & pepper.
When the meat is almost cooked, pour in the tomato puree and mix it well. Check to see seasoning is to your taste. Add more if needed.
Making Béchamel Sauce
Melt 50 g butter in a pot at medium heat, add in 50 g plain flour and stir it vigorously with a whisk. Continue to stir vigorously until you obtain a mousse like mixture.
Stir in 750 ml milk a little at a time (make sure it's well incorporated), vigorously to avoid getting lumps.
When about half the milk is in, switch to a balloon whisk and start adding large amounts of milk instead, but always whisking briskly.
Whisk it until it thickens, then turn the heat down to its lowest setting.
Season it with salt, nutmeg and pepper.
Let it simmer for about 10 minutes (whisk it from time to time) and then remove from heat.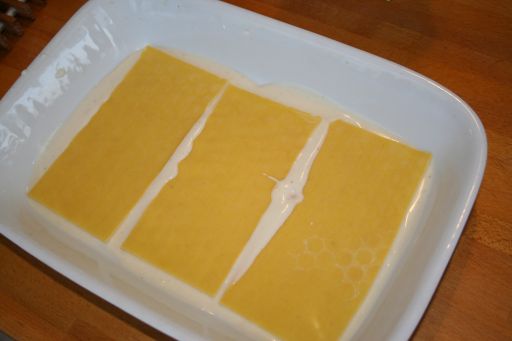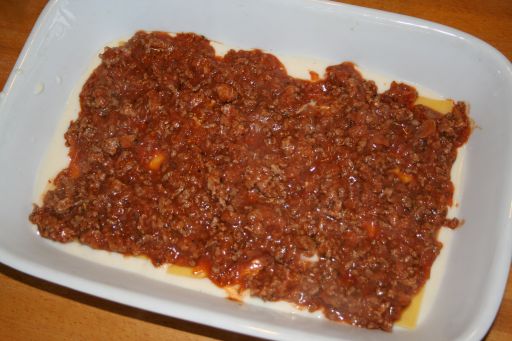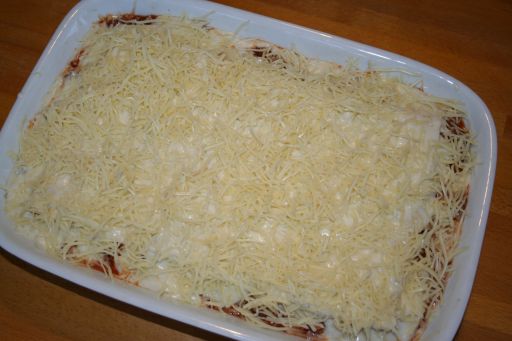 The Verdict
The flavour of meat sauce and béchamel blend so nicely together giving these lasagne a rich and creamy taste that makes you long for the next bite, just to get more of the flavour. It is so good that you can easily over-indulge yourself. So be warned! The texture is a bit rich because I put a lot of béchamel sauce, you might want to put a little bit less of it if you like your lasagne to feel less creamy.
Notes
This is a great dish to prepare in several quantity and freeze it to be baked later whenever you wish.
BTW: In the US, this dish is commonly known as 'lasagna' (singular) while the rest of the world refer it as 'lasagne' (plural).