Carrots – so many kids hate them with a passion. Even my hubby won't touch that stuff no matter how deliciously it has been cooked or presented to him. I think I know why. When Little One started on her first solid food – guess what was the first most recommended food to introduce to a baby? Carrots. Since they are sweet, babies love them and as it is full of nutrients it's a baby's classic along with other infamous spinach. Unfortunately my baby didn't get to eat much either because of digestion issues. Oh well!
Thankfully there are a few ways to serve carrots to people who don't enjoy them so much. Carrot cake is one. Another one is Carottes Râpées (Grated Carrot Salad) that I'm going to introduce today. It is a very popular side French dish that my mom-in-law often prepares at home. It's available at many café and bistro menus, even at charcuteries and supermarkets where it is often sold in small plastic boxes ready to go. It's pretty easily done, requires very little time to prepare and the best of all: it's healthy, fresh and delicious. This is perfect for those who are trying to get kids or adults to eat carrot, because the lemon flavor is dominant over the carrot one. A ninja got to be sneaky! 😉
Carottes Râpées (Grated Carrot Salad)
Ingredients
5 fresh carrot (medium size)
1/2 organic lemon (home grown)
1 clove garlic (chopped)
parsley (chopped)
salt & pepper
5 tbsp olive oil (approx.)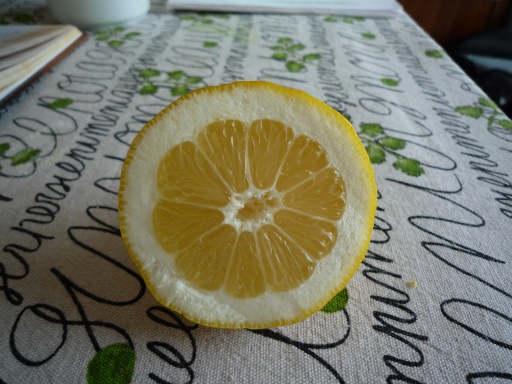 Directions
Grate the carrots and lemon together and put it in a big salad bowl.
Throw in the chopped garlic and parsley. Season it with salt and pepper.
Pour in about 5 tbsp olive oil, mix until everything is combined.
Serve cold.
The Verdict
I'm so surprised by the taste and aroma of this simple salad. The fragrant lemon skin and juice dominates but doesn't overwhelm the sweet taste of the carrots, in fact the combination brings out the best of both fruit and vegetable. I'm not a big fan of carrots but this is really good. I went for a 2nd, 3rd and 4th helping without any guilt, as its so low in calories. 🙂
Notes
Home-grown lemon has very thick skin which gives this salad a fantastic aroma and taste. If you are using a lemon from supermarket (it's preferable to buy an organic one as the skin is non-treated), use only 1/3 of it if the lemon is very juicy.