This year we decided to do an impromptu birthday celebration of 3 generations – Grandpa Patrick – 66, Aunt Irène – big 30 and Little V – 3 🙂. Come to think of it, everyone got a gift that day: my sis-in-law who is back on vacation for a month or two brought with her gifts for all the birthdays that she missed out this year. No prize for guessing who got the most presents on this day. 😉
As it was an impromptu affair, we had to decide on a cake that is easy to make and doesn't take up much to prepare and bake. Not an easy task when you are short of time 😛. Since it's strawberry season, we decided to make a strawberry cake – that got all of us drooling… until we realized that we didn't have any grounded almonds for it. As we still had plenty of black cherries left over (we baked a lot of cherries clafouti a few days ago), my mother-in-law and I decided to go for a 'Black Forest Cake' – according to her, it's my hubby's childhood favourite cake. Technically speaking, one should be able to do this whole cake by himeself sans problem. It's not difficult at all, it just needs a bit of time to put it together. However as we were running out of time, 3 chefs got to work on it – me, in charge of mixing and baking the cakes; Hubby, made the syrup and poached the cherries while my mother-in-law took care of the cream. Little V was of course over excited by this big event… kept coming into the kitchen checking on the progress of the birthday cake. Me, I had to keep an eye on her to make sure she didn't sneakily poked and pinched the cakes as they cooled down.
This day was the occasion for Little V to learn riding on her first bike. Once she nearly got it right, she was impatient to show off her newly acquired skill to us – shouting for us to come and watch her pedal off 🙂. Half an hour later, she was off like a little champion – we even had a hard time getting her to stop biking and sit down for her lunch. Even bribing her with singing birthday songs, blowing-off candles and opening presents was a hard sell 🙂. Oh yeah… this little girl of mine understands the importance of wearing a head gear while riding a bike. We forgot all about it, it was she who insisted on putting on her headgear before she started riding her bike.🙂
Immediately after blowing-off the candles, she asked 'Tante Irène, can we go biking now?'
Black Forest Cake
Ingredients
150 g butter
6 eggs
1 tsp vanilla extract or essence
240 g sugar
60 g flour (sieved)
75 g cacao (cocoa) powder (unsweetened)
1½ tsp baking powder
Syrup
180 g sugar
250 ml cold water
1 small glass of kirsch
Fillings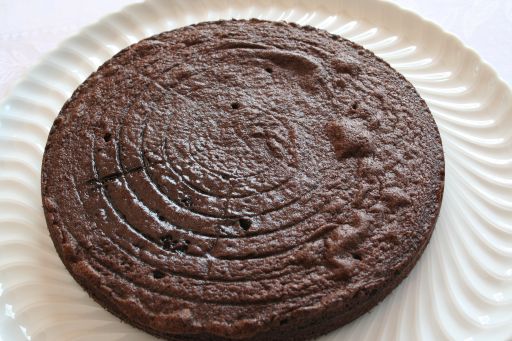 Directions
Preheat oven at 190°C (375°F – gas mark 5).
Butter 2 round cake pan.
Melt butter slowly and set aside to cool down.
In a big bowl, whisk eggs, sugar and vanilla extract at high speed with an electric beater until it is thick and frothy.
Mix the cocoa powder, flour and baking powder together in a bowl and then add in small quantity at a time into the egg batter.
Using a spatula, incorporate 2 tbsp of cooled down melted butter at a time delicately by lifting up your spatula and turning (as you would with stiff egg white). Do not over mix it.
Distribute the batter equally into the prepared 2 round cake pan.
Bake it for about 15 minutes or until the tooth pick comes out clean. Let it cool down for 5 minutes before turning it out of the pan.
Making the syrup
While the cake is baking, bring a pot of water with sugar to boil.
Once the sugar is dissolved, add in the seedless cherries and let it poach gently for 5 minutes.
Strain the cherries, saving the syrup in a bowl. Let both syrup and cherries cooled down before adding the kirsch.
Lightly forked the surface of the cakes, with a big spoon, spread syrup equally onto the surface of the 2 cakes, letting it soak in.
Making the Fillings
Beat the cold heavy crème fraîche in a big bowl until it is thick and light. Add in the sieved powdered sugar.
Whisk until the cream becomes consistent, then add in the kirsch. Be careful not to over whisk the cream or else it will turned into sweet butter. 😛
Keep the cream chill in the fridge until it is ready to decorate the cake.
Putting the cake together
Place the first cake on a nice big service plate, spread some cream covering the whole surface and sprinkle some cherries on top of it.
Gently place the 2nd cake on top of it. Spread the rest of the cream all over the cake and sprinkle the rest of the cherries on top of the cake.
Serve the cake immediately or keep it in the refrigerator till it is ready to serve.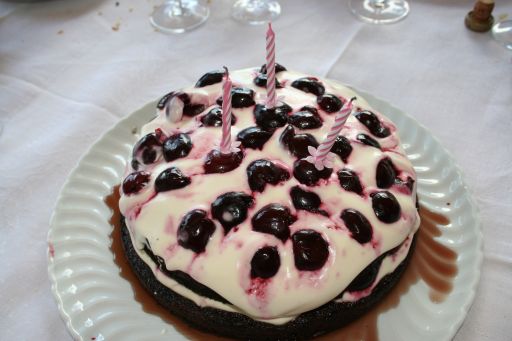 The Verdict
I love this version very much – a mix taste of bitter chocolate, sweetness of the cherry syrup with a tint of cherry taste and the cream makes for a great combination. The syrup and cream makes the cake moist and easy to eat, and the kirsch gives it the extra oomph that is missing in the non-alcoholic version.
Notes
This recipe is for a small 3 layered cake of 15 cm in diameter. For a bigger 3 layered cake, please double the quantity.
For the cream, I let it chill in the fridge and it gives a nice thick consistent.