The first time I fell in love with the taste of blueberries was my very first waffles with blueberry jam when I was a teenager. It then started in me a blueberry craze – I would buy a slice of cake with blueberry toppings or make a peanut butter-blueberry jam sandwich, blueberry ice-cream etc. I had never seen or tasted the fruit itself (not many growing around Singapore), until I started living in France. While out on a walk in the forest with my in-laws, we came across some blueberries. I picked one up and tasted it – it wasn't anything like I remembered. I was kinda disappointed but all was forgotten when it was presented to me as a dessert. 🙂
We were at my in-law's place for the long weekend a week ago, and boy were we in for a real treat of desserts – they picked a bucket full of blueberries in the forest just the day before and made some blueberry yogurt ice-cream with it. As for what was left, we decided to turn it into a blueberry tart. 😁
Blueberry Tart
Ingredients
Directions
Prepare short crust pastry (pâte brisée) in advance if using home-made.
Place the dough onto the pie dish and press the pastry firmly into the pan and trim any excess dough from the edge.
Prick all over the pastry bottom with a fork, put a smaller pie dish on top of it and bake it at 200°C (400°F – gas mark 6) for about 20 minutes or until it is golden brown. If you don't have a smaller pie dish, cover the top with either baking paper or aluminum foil, weigh the pastry down with either beans or uncooked rice.
Remove pie crust from the oven and allow it to cool totally.
While the pie pastry is baking, make your crème pâtissère and set it aside to cool.
Spread the cooled crème pâtissère evenly on the baked pie pastry.
Arrange blueberries evenly on top of it.
Voilà, the tart is ready to be served. If not serving immediately, put the tart in the fridge.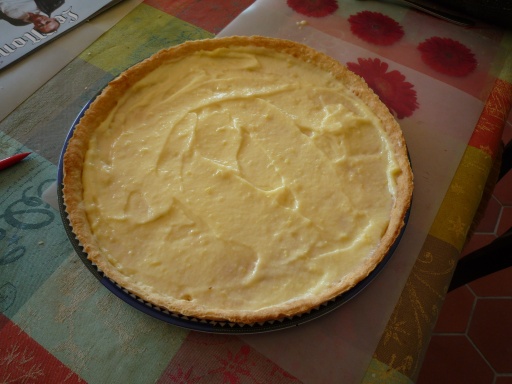 The Verdict
That pie is great in summer if you put it in the fridge: because of their water content, the cream and blueberries cools down and make for a refreshing dessert. This tart is not too sweet as my in-laws aren't big on sugar, you can turn the knob up by choosing a sweet pastry dough instead and covering the tart with blueberry jam or jelly on top (as many bakeries do) .
Notes
This recipe works perfectly with strawberries or raspberries too.