What is a Charlotte? That is what I was wondering as I had never heard, seen or tasted this dessert that my better half kept raving and craving for months. This is what I found out!
A Charlotte is a traditional French dessert, formed in a deep round mold, served warm or cold. The warm kind is usually mold lined with buttered bread, filled with fruit puree and topped with slices of bread and then baked in oven, and served warm with sauce. A cold charlotte is not baked: it is mold lined with ladyfingers or sponge cakes, filled with ice cream or whipped cream or custard and fruits.
Today, I'm introducing a cold charlotte that my significant other has been yearning for years, since his childhood to be exact. All he could remember was this delicious raspberry charlotte that his mom made once or twice when he was 7 – 9 years old but he couldn't remember what was the filling. He did know that it wasn't whipped cream and tasted like vanilla. He asked his mom to make it again for years, but she doesn't remember the recipe either. 😛
So I tried my luck and made this charlotte hoping it is his long lost holy grail of cakes. Hélas, according to him, it isn't the same as the one he had. Oh well, I did try and as long as he can't remember what was the filling, I can't really help him realize his dream charlotte.
Anyway, it was an interesting recipe for me to make and it turned out pretty delicious despite my initial misgiving. This delightful fruity charlotte, is a great "High Tea Treats" (this month's monthly mingle theme hosted by Aparna) for all ages.
Charlotte aux Framboises (Raspberries)
Preparation time: 30 mins
Chilling time: 7 to 8 h
Serves: 6
Ingredients
24 sponge fingers
¾ glass of water
2 tbsp eau-de-vie raspberry (I had none so replaced it with vanilla extract)
400 g raspberries
a bottle raspberries coulis
Frangipane Cream
250 ml milk
½ vanilla pod
50 g sugar
30 g plain flour
50 g ground almonds
1 egg
1 yolk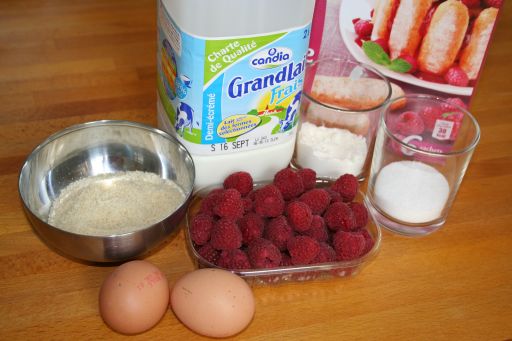 Directions
Making Frangipane Cream
Boil milk with vanilla pod. Let it infuse for 10 minutes.
In a big bowl, mix sugar, flour and ground almonds together.
Stir in the egg and egg yolk into the dry mixture.
Pour the boiling milk into the mixture a little by little while whisking continuously to avoid curdling. And then stir in the rest of the milk until the mixture is well combined.
Transfer the frangipane cream into a pot and bring it to a boil while stirring constantly. Take it off heat and let it cool.
Making Charlotte aux Framboises
First, prepare frangipane cream and let it cool.
Lightly dip ladyfingers in the mixture of water and raspberry eau-de-vie (I replaced it with vanilla extract). Line the dipped ladyfingers the sides and bottom of a spring form cake tin.
Spread a layer of cream frangipane, then top it with raspberries. Lay some broken ladyfingers on top of the raspberries.
Spread another layer of cream frangipane, raspberries, then broken sponge fingers until the cake tin is filled. Ending the top with ladyfingers.
Press it down lightly to make it a bit compact and chill it in the refrigerator for 6 to 7 hours.
Remove it from the baking mold, decorate it with more raspberries and serve it with a drizzle of raspberry coulis.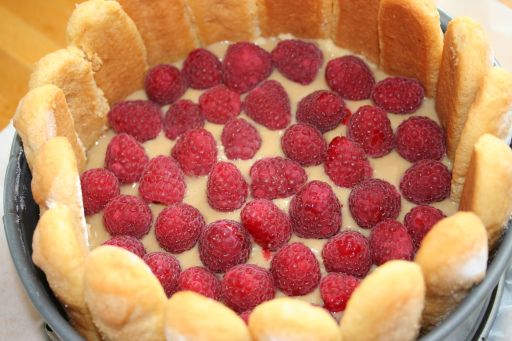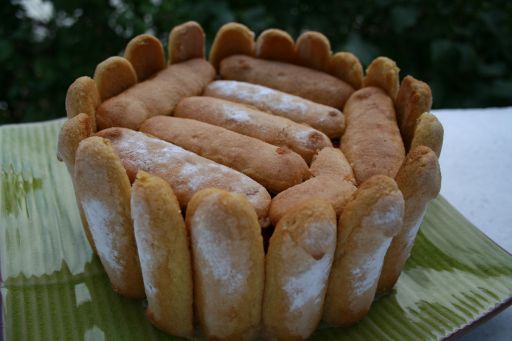 The Verdict
I really don't know what sort of taste to expect from this dessert as I never had it nor made it before (obviously) so I was pleasantly surprised when I took the first spoonful – it's texture and taste is really nice. I love the mixture of raspberries and frangipane cream with some bits of ladyfingers. The raspberry coulis heightens the raspberries and the mix of vanilla and raspberry is always a winning combo for me.
Notes
I have to admit that I didn't know how does a frangipane cream look like so I made some mistakes here while making this dessert. To throw it away is such a waste so I decided to just use it instead. My first frangipane cream – it turned out too concentrated like a paste (Think I read the French instructions wrongly). My 2nd try looked thick enough – but turned out a bit too liquid 😒. From my failures, I realized that the frangipane cream should turn out like the French cream pastry (duh!).
You can replace the frangipane cream with either custard filling or French cream pastry or ice-cream or whipped cream.