Tomato has always been my favourite fruit, or more precisely favorite veggie until I learned it was actually not one. So what makes a fruit a fruit and a vegetable, a vegetable? Basically if it has seeds, then technically (botanically), it's a fruit. So does that means cucumbers, green beans and walnuts are all fruits? Yes. And the rest of the plant where the fruit is from like the leaves (spinach), stems (celery), roots (carrots) and flowers (cauliflower) are referred as vegetables.
For the record, tomatoes are an excellent source of vitamin C, A & K, molybdenum, potassium, magnesium, dietary fiber, chromium, and vitamin B1,B2 & B6, folate, copper, niacin, iron, pantothenic acid, phosphorus, vitamin E and protein. With all these healthy benefits, we should eat more of this fruit. Don't you agree? 😉
Tomatoes are sensitive to cold, so don't put unripe tomatoes in the refrigerator as the cold temperature will impede their ripening process. It is best to store them at room temperature and out of direct sunlight. However, if the overripe tomatoes are not ready to be eaten, keep them in the refrigerator (it will keep for another one or two more days). Tomatoes stored in the refrigerator tend to lose flavor but they will regain maximum flavour and juiciness if taken out 30 minutes before using them. To hasten the ripening process, place tomatoes in a paper bag with a banana or apple.
As you might guessed it by now, today's recipe is all about tomatoes, lots of it 🙂. Today I'm introducing a very popular Italian sauce called marinara sauce. Why is it popular? Simply because it is very quick and easy to prepare and the simplicity of this sauce makes it a very common and versatile base for many Italian dishes. The word marinara derives from the Italian word for sailor, marinaro (please correct me if I'm wrong). This sauce dated back to the 16th century, originated from Naples – back then, it was a very popular sauce to cook by the cooks on board sailing ships as it is easy to whip up, meatless and the high acid content of the tomatoes makes the sauce last longer.
This is my all time favourite pasta sauce. I have tried so many times to replicate this sauce sans success until my mom-in law gave me this book recently. All that went wrong with my 'tryings' is simply I didn't add enough tomatoes. Duh! Something so simple yet has such big enough impact on it. Amazing, isn't it.
Spaghetti with Marinara Sauce (Tomato)
Taken from Cooking Light – Pasta
Serves: 6
Ingredients
1 tbsp olive oil
1½ tbsp minced garlic
2.7 kg or 6 cups tomatoes (coarsely chopped & peeled)
¾ tsp salt
½ tsp black pepper
¼ cup fresh basil (chopped)
¼ cup fresh parsley (chopped)
cooked spaghetti (600 g uncooked spaghetti)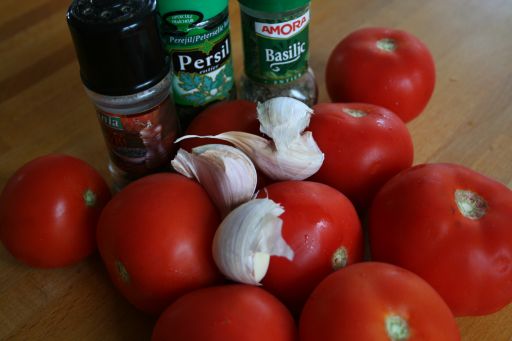 Directions
Heat oil in large saucepan over medium heat.
Add garlic, let it cook for about 2 minutes stirring it frequently.
Add tomato, season it with salt & pepper, bring to a boil. Then reduce heat, let it simmer for 25 minutes, stirring it occasionally.
Add in chopped basil & parsley, let it cook for 1 minute.
Serve with pasta and Parmesan (optional).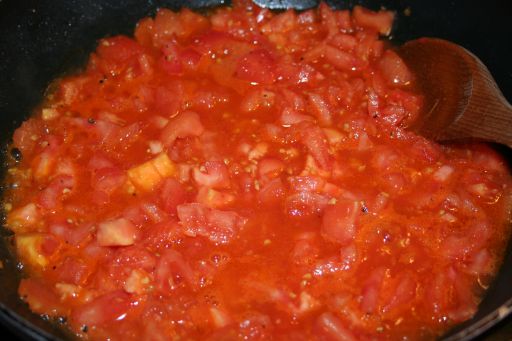 The Verdict
Obviously it's very tomatoey, and you'll taste the difference if you use quality tomatoes. I only had dried basil and persil but this was so flavorful and "sunny", just imagine using fresh ones! Little One loves it and so did the adults who had 2nd and 3rd helpings.
Notes
Normally I cook a big batch of it and freeze the sauce in small batches – it comes in handy on days when I don't know what to cook or run out of food in the fridge or a very hungry kid or adults who can't wait for me to slave over the stove to present a big meal. 🙂
For some kick in the pasta, add some dried chili when you are cooking the garlic. You can either remove them before adding the tomato or just leave them in. If you have little mouths, scoop up some sauce aside for them and throw in some freshly cut chilies to the rest of the sauce for adults.
Peeling tomatoes
Score a small 'X' with a knife at the bottom of each tomatoes. Place them in boiling water for 30 seconds. Remove them with a slotted spoon and quickly plunge them in iced water to stop the cooking. The skin is easily removed once the tomatoes are cooled.