HAPPY NEW YEAR! May all of you be basked with joy, happiness, prosperity, health & laughter all year long.
Woohoo! 2009 ends today. Good riddance, indeed! It has been a long and hard year for not just me, but for everyone around the world. I'm so looking forward to 2010 – it sure looks promising with economy bouncing back more or less globally. Let's usher the new year with a big bang of our own – be it singing, cheering, horning, setting off fire crackers or fireworks or even popping champagne with our family and friends.
Like every year, we celebrate New Year's Eve together with my parents-in-law at their house. Mom-in-law has already prepared half of the dinner (Boudin Blanc and Potato Pie) and dessert (Cherries Clafoutis) for tonight. Mind you, sometimes I think my mom-in-law is Wonder Woman in disguise. LOL! Now she is off for a walk in the woods with Little One who is bouncing all over the house full of energy.
What is a festive celebration without chocolates and cookies (besides good wine and champagne) ? And cookies, we definitely have made. Together with my sister-in-law, we made Amaretti – an Italian macaroon over Christmas. It's incredibly simple to make… you don't even need any baking skills. So if you are a beginner and wants to impress your loved ones during this festive season, try this. It's quite fool proof!
Amaretti
(Irène's Recipe)
Ingredients
200 g ground almonds
150 g sugar
2 egg whites
1 tsp almond extract
Directions
Preheat oven at 180°C (350°F – gas mark 4).
Mix sugar and ground almond together in a big bowl.
Stir in the egg whites and almond extract into the dry ingredients. The mixture might look a bit too dry at first. Continue to fold and mix the ingredients together. Slowly it will form a dough.
Let the dough rest in the refrigerator for an hour.
Moist your hands with a bit of water, take a small bit of dough and roll it into a ball between your palms. Then press your thumb in the middle of the ball to flatten it slightly. Place each ball slightly apart from each other on a baking tray lined with baking paper.
Bake it for about 15 – 20 minutes. If your amaretti gets brown too quickly on top, cover it lightly with a foil.
The amaretti should be crunchy on the outside but soft in the middle.
Serve it with coffee or tea.
Store it in an airtight box as amaretti hardens when left in open too long.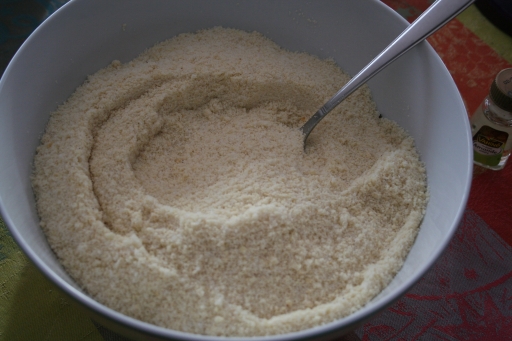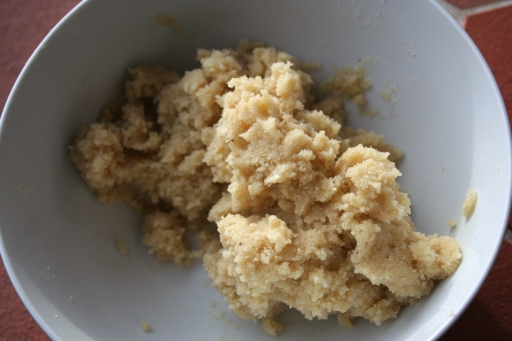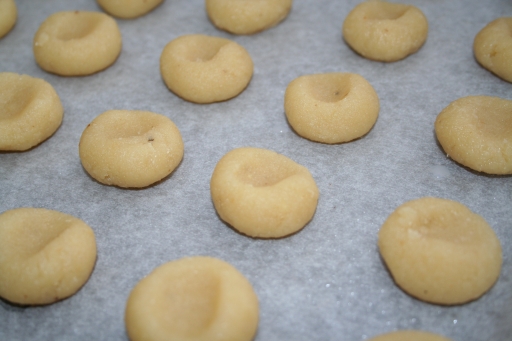 The Verdict
Crunchy outside, soft inside with a strong flavor of almonds: just yummy! You can definitely put these in the "this time it's the last one" sort of treats – can't stop eating them!
Notes
The cookies tend to be soft when first taken out of the oven but will harden once it is in contact with air. Do know your oven well and adjust the baking temperature and timing accordingly. If your cooled cookies are not done in the middle due to oven not hot enough, you can always put the cookies back into the oven for a few more minutes.
I noticed that there are many version (with some slight variations of flavouring) out there for making amaretti but I like this recipe the best – it's simple and it tastes excellent.