I had so much fun doing November Daring Cooks that I can't wait to know what we would be cooking for December. And I wasn't disappointed at all!
The this month's Daring Cooks challenge was hosted by Simone of Junglefrog Cooking who chose Salmon en Croûte from Good Food Online. This is a delicious fillet of salmon topped with a creamy vegetable spread and baked in shortcrust pastry.
Salmon en croûte
(from Good Food Online)
Ingredients
1 short crust pastry (Prepare this advance if you are using home-made)
500 g salmon fillet (skinless)
150 g mascarpone or creamcheese
120 g watercress, rocket & spinach
1 egg yolk slightly beaten with a bit of milk
Directions
Preheat oven at 200°C (390°F – gas mark 6).
Process the mascarpone or cream cheese together with the watercress, spinach and rocket in a food processor until you have a creamy vegetable puree. Season well.
Roll the pastry out so you can wrap the salmon in it completely (approx. 2-3 mm thick) and lay it on a buttered or oiled baking sheet.
Put the salmon in the middle. If it has a thinner tail end, tuck it under.
Spoon half of the watercress mixture onto the salmon.
Fold the pastry over into a neat parcel (the join will be at the top, so trim the edge neatly. Seal the join with water), making sure you don't have any thick lumps of pastry as these won't cook through properly. Trim off any excess as you need to.
Make 3 neat cuts in the pastry to allow steam to escape and make some decorations with the off-cuts to disguise the join if you like.
Brush it with milky yolk mixture.
Bake for 30 minutes or until the pastry is crisp and browned. To test whether the salmon is cooked, push a sharp knife through one of the cuts into the flesh, wait for 3 seconds then test it against the inside of your wrist; if it is hot, the salmon is cooked.
Serve it with the rest of the watercress puree as a sauce.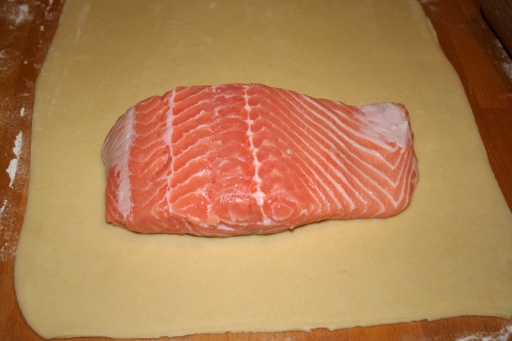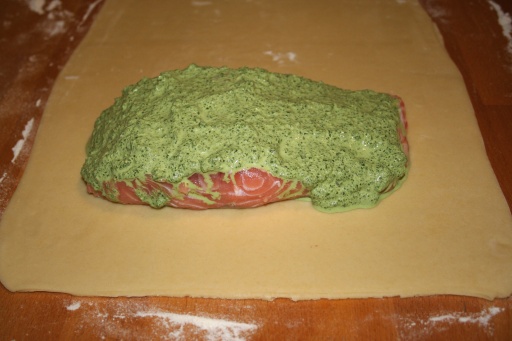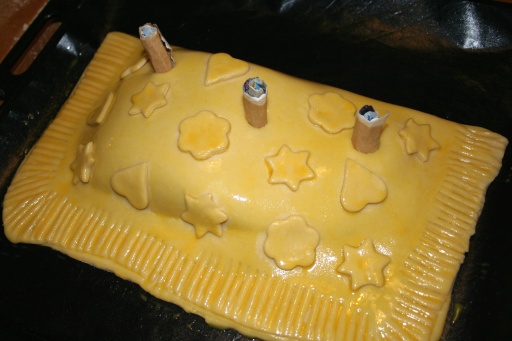 The Verdict
The delicious aroma of salmon and butter pastry filled my kitchen making us even hungrier (I was late in dinner preparation, as usual😒. The creamy sauce not only compliments the salmon very well, it also leaves, what I would describe as a refreshing aftertaste. Because of the crust, it is quite a filling dish. The sauce can be consumed cold or warm (warm it up in a microwave oven) together with the dish.
Everyone loved it and it's definitely a dish that I would make again and again for my family.
Notes
You can cook an extra set, wrap it up in aluminum foil when cooled and freeze it for later consumption. The sauce can be frozen too. And I would highly recommend to make this in individual portion, that way everyone has their own Salmon en Croûte on their plate and nicer presentation.
You may replace salmon with another type of fish fillet if you wish. If you find that your crust browns too fast, cover it lightly with a baking paper or aluminum foil.