Two weeks ago I left Pierre and Little One in France to attend my very first food conference – Food Bloggers Connect in London – all nervous and excited at the same time. And of course nothing went as smoothly as expected! On eve of departure I realized that I had left my credit card with my hairdresser 2 days ago (it was too late to pick up), then the next morning just as we were near the airport for my 6.20 am flight to Paris/London, I realized that I had also left my winter coat at home. Well, no time to make a U turn back home for it, so like Pierre said to me: Bon courage! You'll just have to brave cold (it was 9°C that morning) until you get yourself a new coat in London. As I kissed him goodbye, I went through the check-in point with this lingering question in mind 'What else did I forget? I'm sure I forgot something else.' While on the flight from Paris to London, it suddenly hit me that I did left behind some gifts: a French saucisson for Alesscio and curry powder for Davina. Ah la la…!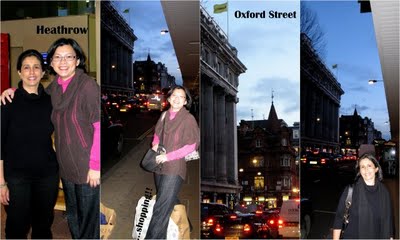 Finally touched down Heathrow, exit through a rather strange looking door that looked like a fire exit… all the nervousness about meeting Deeba disappeared as soon as I saw her standing there patiently waiting for me with her luggage. We really did hit it off instantly – chatting non stop until we arrived at the doorstep of our hotel. There we dumped our load off and happily trod off to Oxford street in just our sweater. Sweet Deeba refused to wear her coat and insisted, despite my plea (seeing that she caught a flu upon her arrival in London), on keeping me company. She came armed with a shopping list in hand and I gladly accompanied her as I had no shopping to be done except get myself a coat (duh) and some English tea for home. Erhm… Did I just said that? Hit the shops we did, like Deeba said in her post, I was a goner. Clothes in beautiful colours everywhere: pink, purple, lime green, aqua blue etc… just hit me my senses hard with attractive prices, too good a deal to let go with the exchange rate of almost 1:1. Poor Deeba waited patiently for me at a corner while I ascended to another world amongst the clothes. Luckily for Pierre, I didn't have my card with me so I had to shop with a tight budget. Imagine the damages I could have done with a card. LOL! For a non-shopaholic like me, spending 5 hours going in and out one mall to another totally exceeded my maximum record time of 3 hours. And of course, I bought lots of other things except my tea. LOL! Boy, did she nearly converted me.
Soon it was time to meet the virtual gang in person (Alesscio, Mowie, Beth & Jamie) at the Eros statue at Picadilly. I was wondering how we would be able to recognise each other amongst the sea of people gathered there. Magically somehow we did, instantly we recognised beautiful Beth, handsome Mowie, sweet Italian Alesscio and elegant Jamie. Squeals of joy, laughter, hugs and kisses were exchanged. Then finally came Hilda, another rounds of squealings. LOL! Hit it off we did like old friends, chatting non stop (as usual) all the way to the restaurant, Busaba Eathai at Soho, a Thai restaurant, with Mowie leading the way. There was a long queue and we waited 30 minutes to be seated (not that we mind at all, we were having too much fun getting to know each other). We shared a table with 2 couples who sat and ate quietly throughout their meal with an occasional glances at us. We were really intrigued by them not exchanging any conversation on their own. Could our boisterous laughter, photo taking, exchanging gifts and our zealous love for food – touching, smelling, exchanging notes about spices, taking pictures of food frightened them into silence? They must have thought we came from another planet the way we were inspecting the food. We were having so much fun that we forgot time, and it was late when we left the restaurant to hit the sack for the day.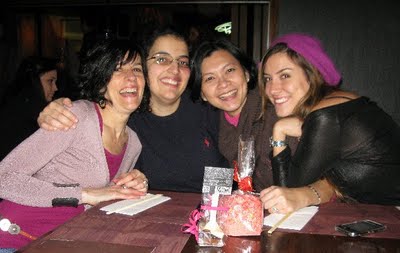 Next morning, Deeba & I took a taxi to Levant Restaurant where the FBC event was held. As soon as we entered, we could immediately feel and hear the shrieks of laughter, surprise, the excitement bubbling in the air from everyone, 30 minutes of mingling and getting to know each other before everyone settled down to savour the delicious Lebanese cuisine and of course non stop photo taking of long spread of food first.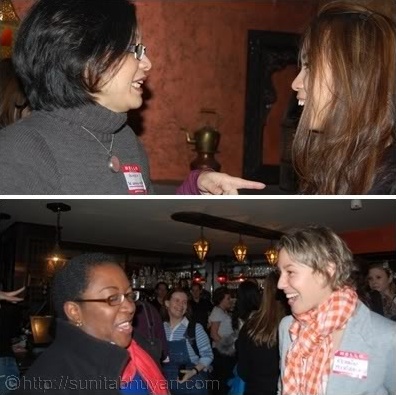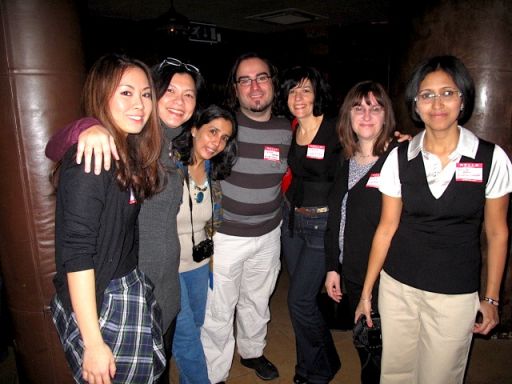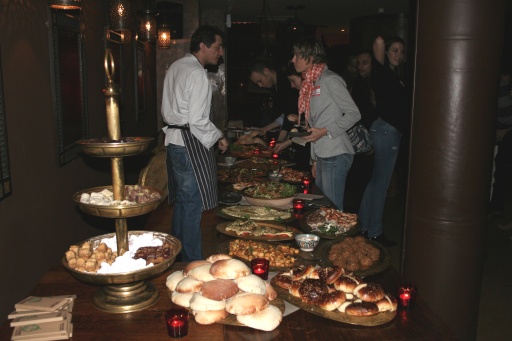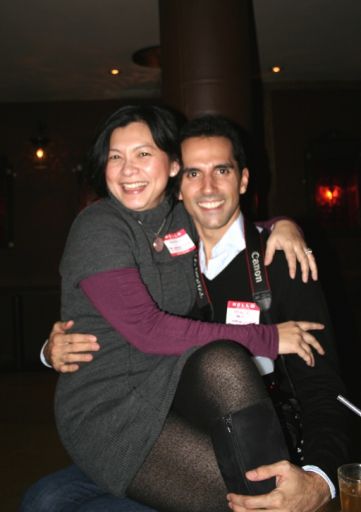 The FBC presentation started of with Jeanne from Cook Sister talking about BloggerAid Cookbook, followed by Meeta from What's For Lunch Honey showing us tricks and tips on food photography and food props. Thanks to Meeta, we'll never look at everyday things the same way ever again. Then Kang from London Eater took over and walked us through social media and low light photography. Jeanne touched on copyright and law topics. And together with Jamie from lifesafeast, they talked about writing style and how to be yourself on your blog. What a fantastic presentation from all speakers. They had us all enthralled to the end.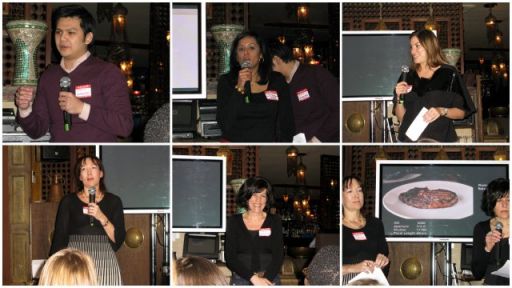 The day didn't end there, soon we were off to meet the rest of the gang which now includes Meeta, Nic, Davina, Sunita and Jeanne for dinner at Vivat Bacchus, located at London Bridge. Happy to find each other once again, we went camera flashing so much that we almost got us kicked out of the restaurant. 'No more flash please' tipped the waiter! Once again we were inspecting and photographing each other's plates. Once again, we got lost in each other's company, suspended in time, laughing and loving each other's company wishing it not to end. Hélas, part we had to, each catching the last train home, each looking forward to the next day food walk.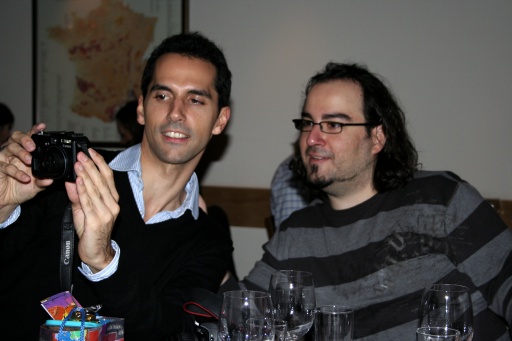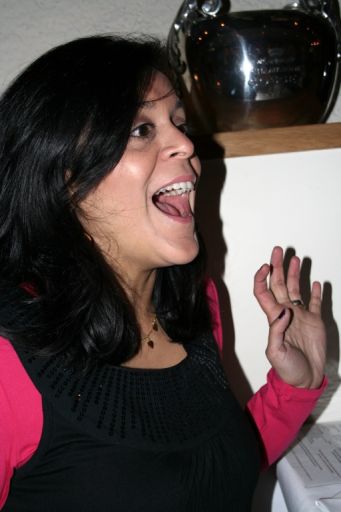 We woke up to a grey and drizzling morning but that didn't dampened our spirit at all. All excited about meeting each other again at Marylebone Farmers' Market. This time around, Sarah, Oz and Sarka joined us including Hilda's gorgeous little papoose. Off we went food ogling, photo taking, and food tasting of course. We found Beth happily and secretly slurping away her oysters at a corner. Soon it was lunch time and off we went looking for a restaurant that could sit 13 of us together. We ended up in the Natural Kitchen.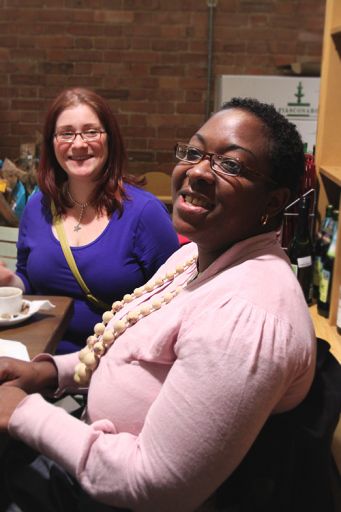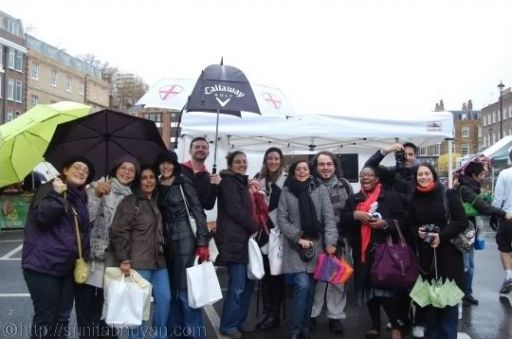 All too soon, Deeba, Sunita & I had to bid goodbye to the gang and head back to the hotel for our luggage. Deeba & Sunita were heading home while I switched to another nearby hotel for another 2 nights in London. After dumping my luggage, it was time to find my way to Mowie's apartment. It took me a little bit longer to reach his place as I mistakenly thought it was in central London and was looking at the wrong map when in fact I had to take the subsurb train. Once I got that sorted out, I was at his doorstep pretty fast. What an great adventure it was for me! I surprise myself sometimes. LOL! I came just right on time while everyone had already made themselves comfortable on the floor, chomping happily away pizza, gingerbread cookies, German peppernuts, discussing and planning FBC '10.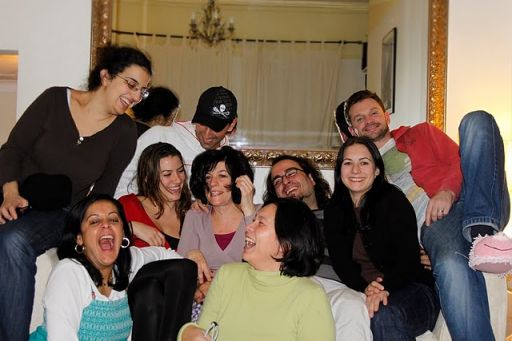 I left London a day later with suitcases filled with presents from Deeba, Sunita, Nic, Hilda, Meeta, Alesscio and a big goodie bag from FBC 09, not forgetting my precious English tea and gifts I found for Little One. What a great long weekend I had in London, heading home all giddy and high in spirit, with fond memories of our fabulous time together and missing everyone of them.
Here's a video clip of the event that you have missed! So mark your calendar and join us in June next year for Food Blogger Connect 2010!

Thanks Mowie, Deeba, Sunita, Davina & Alesscio for sharing your photos with me.