Crème Anglaise, literally translated as "English cream" is a French (!) dessert sauce (liquid custard) with vanilla flavour. Why it is called Crème Anglaise – I have no idea! This sauce is classically used in a French classic dessert called îles flottantes (floating islands), but it is also frequently served along with cakes and pastries. It can also used as a base for ice cream or crème patissère or as a sauce for some dry cakes, dark chocolate cakes etc.
This sauce is easy to make at home. So why get one from the shelf of a supermarket when you can easily make a delicious one without preservatives or coloring?
Crème Anglaise
Ingredients
1 litre full cream milk (or semi-skim milk)
½ vanilla bean pod
8 egg yolks
150 g sugar
Directions
Slit open the vanilla bean pod and remove the seeds. Put both seeds and vanilla pod in the milk and bring it to a boil. Turn off heat. Cover and let the vanilla bean infuse in the milk for 20 minutes to ½ hour.
In the meantime, whisk egg yolks and sugar together until it is creamy.
Remove the vanilla bean pod from the milk.
Pour the hot milk into the egg mixture a little by little while whisking continuously to avoid curdling. And then stir in the rest of the milk until the mixture is well combined.
Transfer the whole mixture into a pot and heat it under medium fire. Stir it constantly with the wooden spoon or spatula scraping the sides and bottom until the foams disappear (critical stage).
Once the foams disappear, watch out carefully. The creme anglaise will be done in about 2 minutes. The mixture will start to feel slightly thicker (not liquid like water). Stop once the mixture coats the back of your wooden spoon or spatula.
Remove from heat and transfer the crème anglaise into a big serving bowl to let it cool.
Let it chill in the refrigerator until it is ready to be served.
The crème anglaise can be eaten as it is or compliment as sauce to cakes or other type of desserts.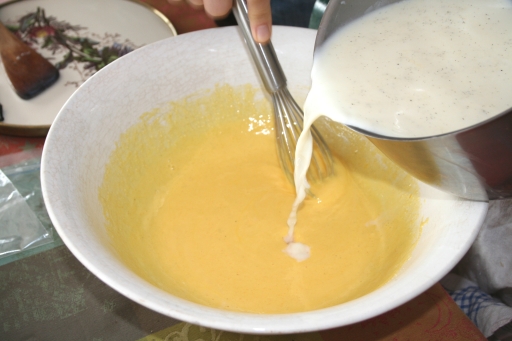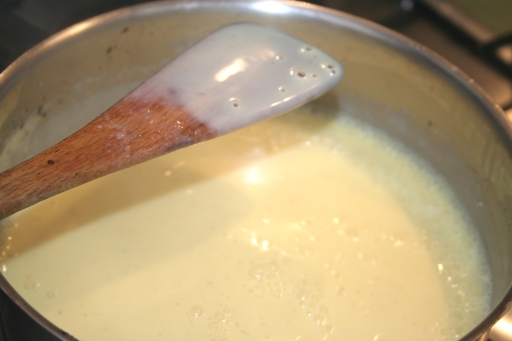 The Verdict
This is a great way of enjoying vanilla, as the flavor stands alone in giving taste to this sauce. This is a dish where a real vanilla pod will clearly make a big difference against artificial vanilla flavoring. This traditionally is great along with a strong chocolate cake, something with raspberries or a cake too dry to eat without some sauce.
Notes
The sweetness of this version is just right and to our liking. However, if you like it sweeter or serve it with something light in sugar, you can probably increase the sugar amount a bit.
Don't throw away the vanilla pod after removing it from the milk. Dry it and store it in a container with some sugar to get natural vanilla flavoured sugar.