Have you ever been served by rude waitress, cashiers or customer service people? I did, not just once or twice, but many times and I'm sure you did too. Sometimes they were so bad that you'd think they are suffering from a bad case of constipation. Perhaps they are lacking prunes or dried plums in their diet!
Prunes or dried plums? What is the difference? None at all. Dried plums is just a new name for an old classic name of prunes. I'm sure not many of us know that they are also high in antioxidants. The fruit and its juice are well-known for its natural laxative effect, thus making it a common home remedies for constipation. So next time if you get bad service, give them a packet of prunes. Maybe that will help them give better service and look less constipated. LOL!
As for me, whenever I get bad services, I always remember the stories from my ex-Management professor on how he dealt with such situations. First he would kindly inquire after the well-being of the said person, much to the said person's surprise and unease, then he would ask if he/she had a rough day at work or is having some personal problems, etc. And if all answers came to a 'NO', he would then politely tell that person: 'If you aren't happy with your job, QUIT. Why make yourself and others miserable? If it's not the case, then why the bad mood?' I can assure you that teacher was truly capable of it. LOL! Would I dare do it like he did? To this date, I haven't mustered that kind of courage. Perhaps I'm a product of how my parents brought me up – the old fashion Asian culture way. So how would you react to such bad treatments? Do you remain quiet and suffer it through or do you tell them off?
Like many, Pierre and I aren't a big fan of dried prunes but what if I tell you there is a way to encourage the young and old to eat it? Eight years ago, when I first arrived in France, my mom-in-law served me this delicious French classic appetizer made of bacon wrapped prune, baked to a nice crisp. Pop one in your mouth, you will be sent on a delicious taste trip. Try this appetizer today, you will love it. Everything taste better with bacon, right?
This is my contribution to this Weekend Herb Blogging #217 hosted by lovely Anna from Anna's Cool Finds.
Crispy Bacon Wrapped Prune
Ingredients
12 strips bacon (thin slices)
24 dried prunes (pitted)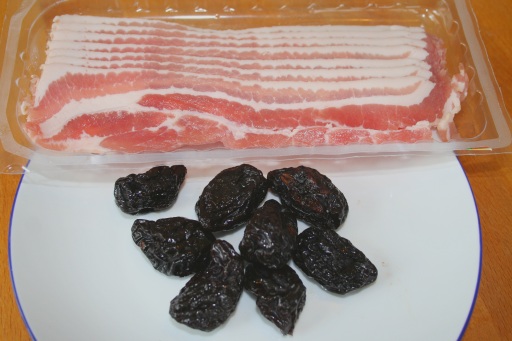 Directions
Preheat oven at 230°C (450°F – gas mark 8).
If the bacon strip is long, cut it into 2.
Lay a strip of bacon on a plate or board, place a dried prune at the beginning edge of bacon strip. Roll, wrapping it tightly around the dried prune until end of strip.
Using a toothpick, pierce through centre of wrapped prune to hold it in place.
Bake it for about 15 minutes or until bacon is grilled slightly crispy on both sides. Flip and grill the other side at mid way.
Serve warm.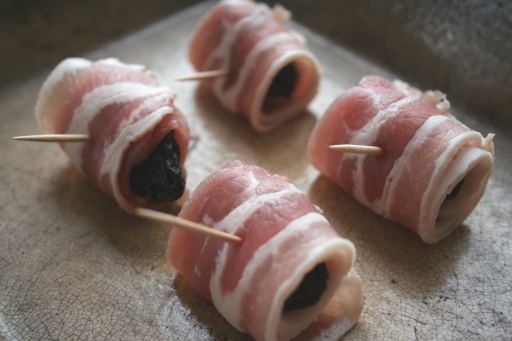 The Conclusions
I never thought that this combination would this oh-heavenly-delicious. The taste of sweet-slightly sourish flavour of prune mix with salty crispy taste of bacon all rolled in one bite. Once you starts eating them, it's hard to stop as we are forever chasing after that 4 flavour, bite after bite. And it's obviously super-easy to make, which doesn't hurt.
Notes
You can also cook them under grill mode of your oven or pan-fry them without oil if you don't have an oven.