Last weekend, I belatedly asked Pierre what he wanted to have for his birthday on Monday (yes, I lower my head down in shame). Bear in mind, it was on Saturday that I asked him that question and the whole of Europe was still suffering and buried under the big bad FROST. Before he could reply, I thought I should first warn him that the fridge was empty. Strangely that didn't seemed to faze him at all. Deep in his food world, he said 'For dinner, I would like either a tarte flambée or moghlai murgh. And for my birthday cake, take your pick of either that delicious caramelized walnut apple pie of yours or a cheesecake.' Obviously all of these implied some grocery shopping, and I know how much he loves shopping during the weekend…NOT! No problem – we just rushed on Monday afternoon instead at the store's opening… which means I was left with little time to cook.
So mad rush all Monday afternoon, starting at 4 pm to make Birthday Boy his favourite cheesecake – in between answering the needs of Little One who got home from school and not forgetting taking photos of process. I so totally stressed myself out over it. Why? I don't know. Perhaps it is the perfectionist in me wanting everything to be perfect for Pierre. Plus the fact that I'm testing out a new recipe on his BIG DAY doesn't help at all. OK perhaps a little background on this cheesecake fiasco might help you to understand why I was freaking out.
In France, it is hard to find a perfect cheesecake (which isn't a local pastry). Most of them, the texture is rather mousse-like which we don't like at all. We are forever hunting for that New York Cheesecake texture. After a while, we gave up and decided to bake one ourselves. I mean how hard can it be, right? LOL! If only we knew before hand. Well, the big problem is that there's no such thing as cream cheese or cottage cheese here. So weeks after weeks, we tried one recipe after another, fiddling with the ingredients to get the RIGHT ONE, trying different sort of fresh cheese mixed together, but it seemed to elude us forever. As luck would have it, the last experimental recipe gave us a glimpse of hope but the texture was too firm. So we psych ourselves to give it one last try – now this is the joke of the century! We both thought one of us noted down the changes we made to the last recipe – none of us did! Arrggghh! Since then, we never found the courage to start all over again. And that was 4 years ago.
Anyway, I managed to get the cheesecake in the oven by 5.30 pm, using an experimental cheese mix. Then I went on to prepare dinner, moghlai murgh which was almost ready when Little One declared she wanted to go to bed (she caught a bad case of flu). So by the time we had her fed, put her in bed early, it was already quite late. We ended up having a late dinner, just the two of us… unfortunately the cheesecake wasn't chilled yet – to our great disappointment especially the Birthday Boy! Poor Pierre only got to eat his birthday cake the next morning. Although he loves the cheesecake, I realized that orange flavour isn't his cup of tea. *sigh* Guess I'll just have to make it up to him by making his favourite waffles for breakfast.
Roselyn of Travels with a Gourmet was kind and generous to share her delicious Lemon & Orange Cheesecake with me to realized Pierre's dream cheesecake. The below recipe is an adapted one to deal with the lack of cream cheese or cottage cheese.
I'm sending Pierre's cheesecake (his sweet comforts) to this month's Sugar High Friday #61 – Sweet Comforts, hosted by Kate of A Merrier World. SHF is a monthly dessert event created by Jennifer of The Domestic Goddess.
Lemon & Orange Cheesecake
Ingredients
Pie Crust
200 grams of milk biscuits
40 grams granulated white sugar
113 grams salted butter (melted)
Cheesecake
200 grams fromage blanc en faiselle
500 grams mascarpone cheese
150 ml thick crème fraîche / double cream
3 eggs
1 egg yolk
150 grams caster sugar
1 orange, zest only
1 lemon, zest and juice
½ teaspoon vanilla extract
2 tbsp cornflour (approximately)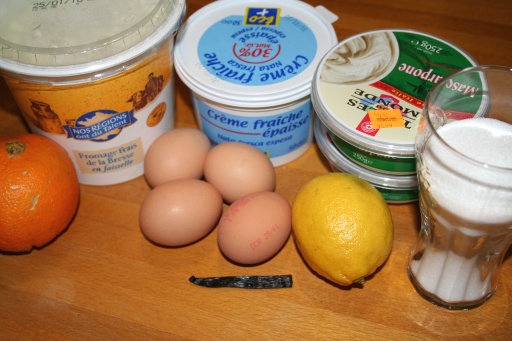 Directions
Making Pie Crust
Grease and line the bottom of 19 cm diameter springform cake tin with baking paper.
Break up the biscuits into pieces, process it together with sugar in the food processor until it's crumbly. Add melted butter and pulse it a few times until all is well mixed.
Press a few tablespoonful of the crumbs evenly over the bottom of the springform pan. Turn pan on the side and press some crumbs all the way up on sides of the springform pan. Let it chill in freezer while you prepare the filling.
Making the Cheesecake
Preheat oven to 140°C (275°F – gas mark 1).
Mix the mascarpone cheese and fromage blanc together until it is smooth
Stir in the eggs, egg yolk, sugar and the zest of the orange & lemon. Whisk until it is combined.
Mix in the crème frâiche or double cream and the lemon.
Lastly stir the cornflour into the mixture until it is well incorporated.
Take the frozen base and wrap (twice) the tin in aluminum foil on the bottom and sides. Make sure it is well wrapped so that water doesn't seep in.
Pour in the cheese mixture and shake the tin gently to settle the cheese in.
Fill a large roasting pan with hot water. The hot water should reach halfway up the cake tin.
Gently lower the cake tin into the roasting pan. Then carefully place the roasting pan into the oven.
Bake for about 1 hour 20 minutes or until the top feels firm and doesn't stick to your finger when touched.
Then turn off the oven and leave the cake in the oven to cool.
Once cool, carefully remove the ring of the springform from cake. Slowly and carefully slide the cake from the springform tin onto a big dessert plate. Leave the cheesecake in the fridge to chill for at least 6 hours or overnight (best).
When ready to serve, heat a knife or spatula in hot water before slicing the cake.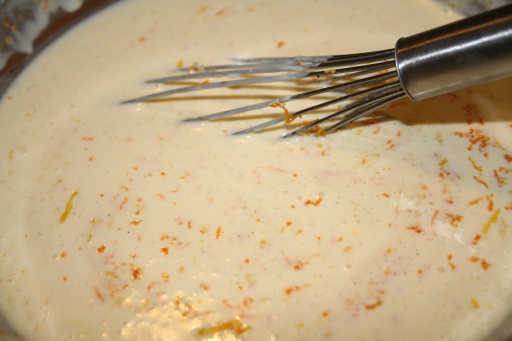 The Verdict
Yes! This is IT! We strike gold – creamy, soft yet thick at the same time (not mousse-like nor too firm in texture) and not overly sweet. It's very fragrant with a mix of lemon and orange flavor. The sweet-salty (salted butter) crust brings this cheesecake to another dimension in taste. It's ooh-so-heavenly! Like I heard someone once said 'a very good cheesecake is better than sex'. Oops…did I just said that! No I mean 2nd closes, no I mean … nothing …oh well, you know what I mean, do you?
Pierre who is a cheesecake fanatic (and hard to please) gives this cake 2 thumbs up. Little One wanted this again for her tea-time and as dinner, even my parents-in-law who aren't cheesecake fans are converted.
Notes
The above stated baking time is just an estimate as I had some hiccups while baking it. If the middle of the cheesecake is very wobbly when shake slightly, bake it for another 15 minutes or so until the centre feels firm to touch.