There are a few desserts on my blog that I completely conjured in my head like the Chocolate Pear Cake, Coconut-Choc Scrolls, Coconut Chocolate Nut Cookies or the Carrot-Zucchini Cake etc. This new recipe is no exception. It all started with an innocent picture in a magazine of a layered apple slices, and from there it slowly brewed and ballooned into an extremely sinful fantasy… the urges grew stronger and yearning for that biteful of aromatic apples basked in spices, cradled in drooling buttery biscuit pie crust with to-die-for caramel walnut toppings became so real that I could almost savour it.
My attempts to make this tart was thwarted a few times… Somehow the apples always ended up eaten as an every day fruit as we either had other desserts lined up or over indulged during lunch. Finally the occasion came not once but twice. I made my first trial tart with Pierre as my ardent & willing taster. I was a bit nervous as it was my first attempt at making a caramelized walnut topping and frankly, I had no idea how to make one and neither did my mom-in-law. She suggested that maybe I stir the walnuts into the caramel. Well, that didn't went down quite as I expected. In trying to get the walnuts coated with caramel like I had in my head, I ended up with a big lump of un-spreadable caramelized walnut. AAAAHHH!
Anyway, with Pierre's stamp of approval, I made a 2nd one for my in-laws who were coming for lunch the following day. This time around, I got my caramelized walnut topping right. Bless my mother-in-law who, upon seeing me struggling with the apple slices, taught me the correct way of doing it like the professionals. I can't believe everything was going so beautifully well that day. I was so proud of myself. The oven beeped and my tart was all ready for its photo session before being devoured. Unfortunately for us, that day happened to be cloudy all day long. Pierre decided to place the tart on our kitchen window sill to have better lighting with Mom-in-law worrying that Pierre might accidentally drop the tart while taking the pictures. And me, menacing that I'll have his head if he dropped my gorgeous work of art. Phew! All went well and Pierre proudly told his mom that her worries were totally unfounded when suddenly, before our eyes, the tart slipped out of his hand… SPLAT! 2 floors down, it became part of our garden's decoration and bird food. The horrified look on Pierre's face when the tart took a suicide plunge was PRICELESS! The scene was too hilarious to begin with… any upset thoughts flew out of the window. Pierre kept apologizing to me while Mom-in-law and I couldn't stop laughing. All was not totally lost, mom-in-law managed to salvage a bit of the tart from our garden floor. LOL! No, you can stop your wild imagination right there, there weren't any extra ingredient on our plate.
I'm sharing my beautiful broken tart with Meeta for her Monthly Mingle 'Brunch'.
Caramelized Walnut Apple Tart
Ingredients
Pie Crust
2 cups (200 grams) of graham biscuits/gingersnaps or milk biscuits
1/4 cup (40 grams) granulated white sugar
1/2 cup (114 grams) salted butter, melted
Pie Fillings
6 – 8 apples (peeled & cored)
brown sugar
ground cinnamon & nutmeg
walnuts (roughly chopped)
Caramel
sugar
water
about 2 tbsp salted butter
Directions
Preheat oven at 180°C (350°F – gas mark 4 ).
Break up the biscuits into pieces, process it together with sugar until it's crumbly. Add melted butter and pulse it a few times until all is well mixed.
Press a few tablespoonful of the crumbs evenly over the bottom of the springform pan. Turn pan on the side and press about 3 cm up the sides of the springform pan. Cover and refrigerate it while you prepare the filling.
Peel, cut into half and cored the apples. To keep the apples from turning brown, dip them in a bowl of lightly salted water.
Cut the sides off (set aside) and sliced the apples vertically. Hold it between your hands and gently spread it with your thumb.
Place it clockwise on the bottom of the pan. Continue spreading sliced apples from the outer circle to inner circle. Fill the center circle with cut off sides of the apples.
Sprinkle a dash of ground cinnamon, nutmeg and some brown sugar on top of the apple slices.
Place the next round of apple slices anti-clockwise. Repeat step 5 – 7 until all apples are done.
Sprinkle roughly chopped walnuts on top of apple slices (enough to cover the surface), pour caramel sauce over the walnuts.
Bake pie loosely covered with aluminum foil at 180°C (350°F – gas mark 4) for 30 minutes and uncovered for 10 – 15 minutes.
Making the caramel
Prepare this only after you have done up your pie as caramel sauce hardens up quickly when cooled.
Put some sugar and enough water to wet the sugar in a small pot and heat it up on medium heat.
Sugar will dissolves and when it turned into bubbling brown and golden, turn off the heat.
Quickly stir in the salted butter until combined.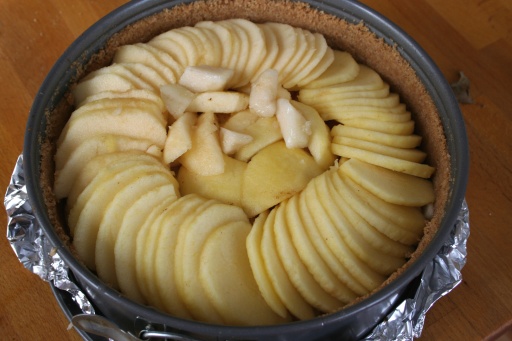 The Verdict
It's so sinfully good and decadent. How can I described it? Every bite is filled with aromatic, spice basked apples with salty sweet crunchy caramelized walnuts together with the butter biscuit crust – awesome combination. Best of all, it's not overly sweet. Pierre said it's the best apple tart I ever made. LOL! This desert also proves that salted butter rules 🙂.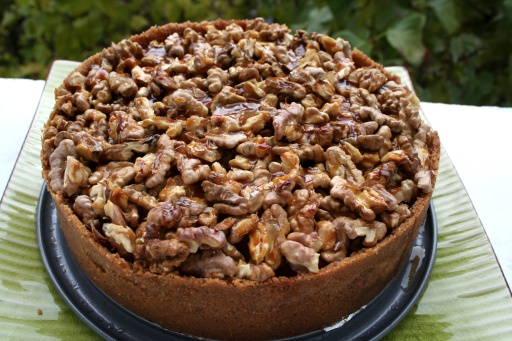 Notes
You can replace the biscuit pie crust with pâte brisée (short pastry crust) instead. Either you blind bake the crust or bake it at 210°C for 10 minutes, then lower it to 180°C.
For the caramelized walnut toppings, don't make the same mistake as I did, went walnut crazy and totally filled up every space available on the pie. LOL! Just enough to cover the pie is fine, more than that will be overkill.
The number of layers of apple slices in the pie is up to your discretion. For us, 3 layers high is just the right combination. If you are doing a mix of apples and pears, make sure that the pears aren't too ripe as they have high water content and will turn your pie filling mushy.