There are 2 exciting things happening in my life right now. Firstly, I'm flying to London this Friday for my very first Food Bloggers Connect conference, meeting fellow bloggers that I have met through blogging, via Facebook and Twitter. The response to this meeting is tremendous, far more than we expected, with 70 confirmed attendees from all over the world. We are going to have lots of fun exchanging knowledge, getting to know each other and rock the house down that day. We are all so excited about it and counting down each day on Twitter. LOL!
Now other fantastic thing that happened to me is I finally made a friend, Sharon, in Clermont-Ferrand. Hard as it is for many of you to believe, but it has been a long and tiring journey for me trying make new friends and have some sort of social life in this new city for the past 2 years. It all happened last Wednesday when we stopped at KFC for lunch (the usual Wednesday routine) so that we can eat while Little One can play at the big playground with other kids there. All of sudden I heard a young woman with a very familiar accent talking to her son. I told Pierre that I wasn't sure if she was from Singapore or from Malaysia. Pierre was very excited for me (knowing that I have been very lonely here and missing friends) and coaxed me to speak to that young lady right away. I was kind of hesitant at first (after being rejected by people so many times, my skin has gone thin), then I plucked up courage and approached her… funnily, she made a move towards me at the same time. Turned out she has been living here for almost 3 years now and she, like me, thought she is the only Singaporean in this city. LOL! It was a blessing meeting her. I'm grateful to Sharon for introducing me to her weekly meeting with a group of lovely ladies (mainly wives of Michelin's expatriates), her child's playgroup as well as introducing me to courses at AVF (Accueil des villes Francaises) where I'm learning silk painting together with her. Thank you Sharon for your friendship, kindness and generosity.
The following recipe is a representative of what life has presented me at this moment – aromatic, sometimes tangy but the right amount of spiciness to keep me on my toes.
Balti Chicken
(taken from Indian – Shehzad Husain & Rafi Fernandez)
Ingredients
1½ kg (3 lb) chicken (skinned & cut into 8 pieces)
3 tbsp vegetable oil
3 medium onions (sliced)
3 medium tomatoes (halved & sliced)
2.5 cm (1″) cinnamon stick
2 large black cardamons
4 black peppercorns
½ tsp black cumin seeds
1 tsp ginger pulp
1 tsp garlic pulp
1 tsp garam masala
1 tsp chili powder
1 tsp salt
2 tbsp natural (plain) yogurt
4 tbsp lemon juice
2 tbsp fresh coriander/cilantro (chopped)
2 fresh green chili (chopped – I only used 1)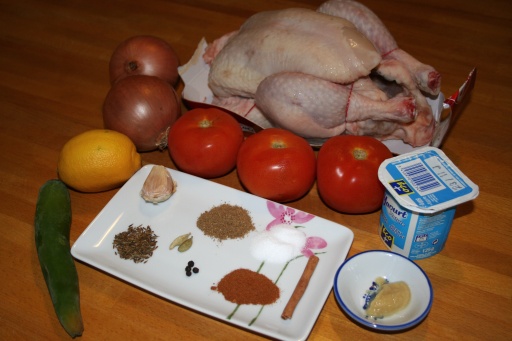 Directions
Heat oil in wok or a deep round bottomed frying pan (skillet), stir-fry sliced onions until they are golden brown.
Add in the tomatoes and stir well.
Add the cinnamon stick, cardamons, peppercorns, black cumin seeds, ginger, garlic, garam masala, chili powder and salt. Lower the heat and stir-fry for about 3 – 5 minutes.
Add the chicken pieces, making sure that the pieces are well mixed and coated with the spices. Stir-fry for at least 7 minutes or until the spice mixture has completely penetrated the chicken pieces.
Stir in the yogurt and mix well.
Lower the heat and cover. Cook it gently for 15 minutes.
Give it a stir once or twice to avoid food sticking to the bottom of the pan.
Finally add the lemon juice, fresh coriander (cilantro) and green chilies. Make sure it is well mixed.
Serve at once with plain rice.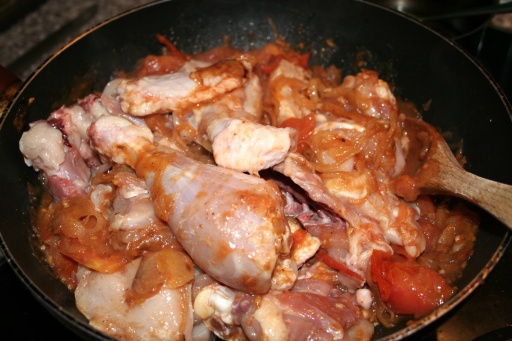 The Verdict
It was so aromatic while I was cooking it that it perfumed the whole house with it's aroma making everyone hungry and drooling, especially me. I personally love this dish – tangy, tint of spiciness, full of flavour and so are the chicken pieces.
Pierre finds it a bit too sour for him while I find it just right so I would suggest to add only 2 tbsp of lemon juice first and adjust the last tablespoon of lemon juice to your taste.
Notes
As I didn't have black cumin seeds nor black cardamom pods, I just use the normal cumin seeds and green cardamom that I have in my pantry. From what I understand, the difference in flavour is barely noticeable.
Cooking the chicken pieces with bones makes a dish more flavourful, however you can replace it with boneless and cubed chicken. In this case, the reduce the cooking time for step 4.