I first heard about Daring Bakers a few months after I started my own food blog. I was intrigued by it and loved the monthly challenges they issue to participating bakers, bringing them to a new heights each month. But I felt intimidated as I was really a novice (and still am!). Now after two years of baking and cooking and lots of hesitation, I decided to just jump right on the wagon and learn how to swim with the experts if I have to. So here I am, my very first Daring Bakers Challenge.
For this November 2009 challenge, the Daring Bakers are taking out their woks: yes, we are frying. But all the same we still need our faithful rolling pin to do the hard work. This month's host, Lisa Michele of Parsley, Sage, Desserts and Line Drives chose the Italian pastry, Cannolo (Cannoli is plural) – a fried, tube shaped pastry shell filled with mixed creamy fillings of sweetened ricotta cheese, chocolate, candied fruit or zest and sometimes nuts. It can also be filled with pastry cream, mousses, ice cream etc. The origin of cannoli dates back to Sicily, where it was prepared during the Carnival season or Mardi Gras and it is said to be a symbol of fertility.
In all honesty, when it was announced that we would not be baking this month, I was very disappointed. But it wasn't long before the Cooking Ninja rose to the challenge and tackled it with a gusto. I did however run into a few problems with my cannoli, it wasn't going as well as I expected. In fact I almost throw in the towel on this challenge as I was going no where with my dough. It kept ballooning up like a little pregnant blob, while everyone else turned out beautiful except mine and I had no idea why. Using all my Ninja spirit I gave it one last try, and I'm glad I did as it finally turned out exactly how it was supposed to be. I wouldn't be that head banging frustrated while making this cannoli if I had only RTFM: the most important thing to remember when making this is to ROLL the DOUGH REAL PAPER THIN and make sure the cut out is 3″ to 5″ big. Duh! So now you know the trick, so please don't make the same hair pulling mistakes like I did.
Lidisano's Cannoli
Makes 22-24 cannoli
Ingredients
2 cups (250 grams) all-purpose flour
2 tablespoons (28 grams) sugar
1 teaspoon unsweetened baking cocoa powder
1/2 teaspoon ground cinnamon
1/2 teaspoon salt
3 tablespoons vegetable or olive oil
1 teaspoon white wine vinegar
Approx. 125 ml sweet Marsala or any white or red wine
1 egg white (to hold the dough closed on form)
vegetable oil for frying
Directions
Put flour, sugar, cocoa, cinnamon, salt, oil, vinegar in a food processor. While blending it, add in enough wine or juice to make into a soft dough. Then turn the dough out on a lightly floored surface and knead until smooth (about 2 minutes). Shape it into a ball and cover it with a plastic wrap. Let it rest in the fridge minimum 2 hours to overnight. The longer it rest, the dough gets more aromatic.
Divide the dough into half. Keep the remaining dough covered while you roll out the other dough.
Flour your rolling pin and roll out your dough until super thin (thin like crêpe) on a lightly floured surface. Let it rest a minute before cutting out the shapes. The dough might spring back a little.
Cut it out to 3″ – 5″ circles (small: 3″, medium: 4″, large: 5″ – choice is up to you). Then roll the cut out circle into an oval, rolling it larger and thinner if it springs back a little.
Oil only the outside of the cannoli tubes (You only have to do this once). Roll an oval shaped dough from the long side around each tube. Dab a little egg white on the edges and seal it by overlapping it & press it well. Avoid getting egg white on the tube, or the pastry will stick to it. Set aside to let the seal dry a little.
Heat the oil in a deep frying pan to 190°C (375°F) on a deep fry thermometer, or until a small piece of the dough or bread cube placed in the oil sizzles and browns in 1 minute.
Carefully place a few cannoli tubes into the hot oil. Do not crowd the pan. Fry the shells until golden, about 2 minutes, turning them so that they brown evenly.
Scoop up cannoli tube with a large slotted spoon out of the oil. Using tongs, grasp the cannoli tube at one end. Very carefully remove the cannoli tube with the open sides straight up and down so that the oil flows back into the pan. Place the tube on paper towels.
While they are still hot, grasp the tubes with a potholder and pull the cannoli shells off the tubes with a pair of tongs, or with your hand protected by an oven mitt or towel. Or push it out with a butter knife or back of spoon. Do it gently as the shells are very delicate. Don't let the shells cool on the tube or else you will have difficulty in removing them. Let the shells cool completely on the paper towels.
Repeat the making and frying process with the remaining dough. If you are reusing the cannoli tubes, let them cool before wrapping them in the dough.
Place shells on cooling rack until ready to fill.
Fill cannoli only when you are ready to serve. If you fill them an hour early or so, you'll end up with soggy cannoli shells.
However, if you are preparing the shells in advance, store them in an airtight container, then re-crisp in oven at 176°C (350°F) for a few minutes, before filling.
For Cut Out Shaped Cannoli
Just cut out your desired shapes with cutters or a sharp knife about 3″ to 5″ big.
Deep fry it until golden brown and blistered on each side, about 1 – 2 minutes.
Remove from oil with a slotted spoon, drain dry on paper towels.
If the cannoli balloon up in hot oil, dock them lightly prior to frying.
Place on cooling rack until ready to stack with filling.
Filling the Cannoli
When ready to serve, fill the filling of your choice (in my case, creme pâstissère) in a pastry bag fitted with a 1/2-inch plain or star tip. If using a ziplock bag, cut about 1/2 inch off one corner. Insert the tip in the cannoli shell and squeeze gently until the shell is half filled. Turn the shell and fill the other side.
Dip cannoli tip in chopped pistachios, grated chocolate/mini chocolate chips, candied fruit or zest. Dust with confectioner's sugar and/or drizzles of melted chocolate if desired.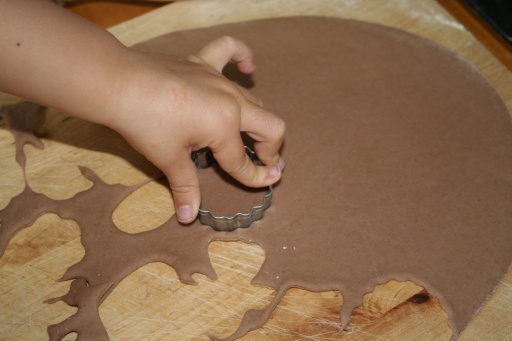 (The dough is not rolled thin enough and cut out is too small.)
The Verdict
The shell itself is very tasty – crispy, lightly flavoured with cinnamon & wine and only a hint of sweetness. Even without stuffing, it's quite addictive. With the filling, it brings you to another high in the taste department. Simply delicious!
Now if you didn't roll them thin enough like I did with my first 2 batch, your cannoli will taste like puff up deep fried pastry – like deflated donuts. They are still very good and addictive, just not crunchy 🙂.
Notes
You can replace the wine with fruit juice like grapes, orange, cranberry, apple juice etc (any sweet fruit juice) but add a little more vinegar, this is to ensure that there is enough acidity to relax the dough so that it is easier to work on.
No Cannoli tubes? No problem! Just saw off a few sticks off a broom or mob handle. Voilà, you have cannoli tubes. Or you can wrap your dough around pasta shapes like penne or rigatoni or cannelloni – this works too.