Canada, here we come! The 2010 Winter Olympics is coming soon to Vancouver. And in honour of this great event, Lauren of Celiac Teen, host of January 2010 Daring Bakers' challenge chosed Gluten-Free Graham Wafers and Nanaimo Bars as the challenge for the month. The sources she based her recipe on are 101 Cookbooks.
Nanaimo Bars, pronounced Nah-nye-Moh, are a classic Canadian dessert created in none other than Nanaimo, British Colombia. These bars have 3 layers: a base containing graham crackers, cocoa, coconut and nuts, a middle custard layer, and a topping of chocolate. They are extremely rich and available almost everywhere across the country.
I'll be splitting the challenge into 2 parts:
Make graham crackers from scratch, gluten-free if possible
When I saw that we were going to make them from scratch, I was so excited. Why? Because I have never tasted one. The only graham crackers I know is what was mentioned in the cookbook. The challenge here is to do a gluten free crackers but I don't have glutinous rice flour nor sorghum flour, so I made it with plain flour. The other slight modification I did was to reduce the quantity of sugar in the recipe after hearing from fellows DB that it was too sweet. The other minor problem that some DB participants faced was the very sticky dough and how tricky it was to roll it out. So when I did mine, I was expecting a sticky disaster, however much to my surprise, it turned out to be a breeze to make. Although my dough was slightly sticky like everyone else, I didn't need a lot of flour to roll out the dough. Oh, lucky me! Now without further delay, here's the recipe with reduced sugar quantity:
Graham Crackers
Ingredients
303 g (2¼ cup ) plain flour or gluten free flour
100 g (½ cup) dark Brown Sugar (lightly packed)
1 tsp baking soda
¾ tsp salt
100 g (7 tbsp) Unsalted Butter (Cut into cubes)
1/3 cup (80 ml) Honey
5 tablespoons (75 ml) cold Milk
2 tablespoons vanilla Extract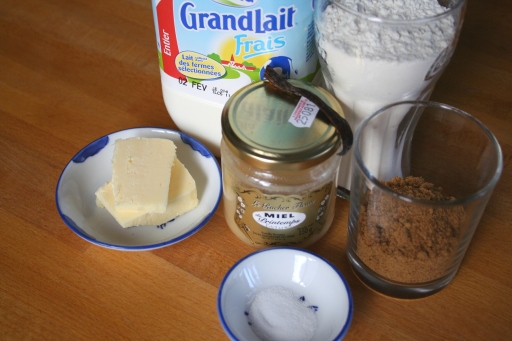 Directions
Put the flour, brown sugar, baking soda, and salt in the food processor and pulse on low to incorporate.
Add the butter and pulse on and off, until the mixture is fine and crumbly.
Stir honey, vanilla and milk together in a small bowl or glass.
Add it to the flour mixture, process until the dough comes together. It will be very soft and sticky.
Turn the dough onto a surface well-floured with flour and pat the dough into a rectangle about 1 inch thick. Wrap in plastic and chill until firm, about 2 hours, or overnight.
Divide the dough in half and return one half to the refrigerator.
Sprinkle an even layer of flour onto the work surface and roll the dough into a long rectangle, about 1/8 inch thick. The dough will be quite sticky, so flour as necessary.
Cut into 4 by 4 inch squares. Gather the scraps together and set aside. Place wafers on one or two parchment-lined baking sheets. Chill until firm, about 30 to 45 minutes. Repeat with the second batch of dough.
Adjust the rack to the upper and lower positions and preheat oven to 180 degrees Celsius°C (350°F – gas mark ).
Gather the scraps together into a ball, chill until firm, and reroll. Dust the surface with more flour and roll out the dough to get a couple more wafers.
Prick the crackers with a fork, not all the way through, in two or more rows.
Bake for about 11 – 12 minutes or until browned and slightly firm to the touch, rotating sheets halfway through to ensure even baking.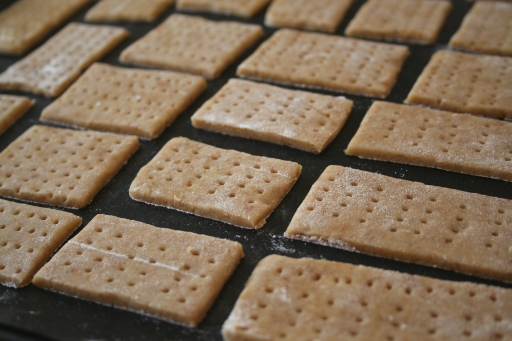 The Verdict
The crackers are very crunchy, very aromatic and not overly sweet, yet a bit tough to chew. I love the fragrance and taste of honey mixed with dark brown sugar. They are so good that Pierre and Victoire finished half of the biscuits during tea time and asked me to make extra for our cookie jar. They are simply addictive. One can just chomp chomp them down without thoughts.
Notes
If you cannot find gluten free flour, mix 1 cup (138 g) sweet rice or glutinous flour, ¾ cup (100 g) Tapioca Starch/Flour & ½ cup (65 g) Sorghum Flour or brown rice flour or millet flour.
If you use solid type of honey like I do, process it with the flour mixture making sure it is well mixed before adding in the butter cubes. Original recipe uses frozen butter but I didn't in mine and it still turned out good. Perhaps if you are living in a tropical climate where butter melt faster, it's a good idea to use frozen butter for this.
Alternatively you can roll the dough out in between two baking papers if you find it too stick to roll out. You can cut it out in any cookie shapes you like. To fork it or not is also up to you. If you like, you can also add other aroma like cinnamon, nutmeg, or four spice or whatever you like. The graham crackers may be kept in an airtight container for up to 2 weeks.