The 2nd part of Daring Bakers' January challenge hosted by Lauren of Celiac Teen is making Nanaimo Bars.
The Nanaimo bar is a Canadian dessert made up of a base containing graham crackers, cocoa, coconut and nuts, a middle custard layer, and a topping of chocolate. This no bake dessert is named after the West-Coast city of Nanaimo, British Columbia and is popular across North America.
Nanaimo Bars
Ingredients
Bottom Layer
115 g (¼ cup) unsalted Butter
50 g (¼ cup) granulated Sugar
5 tbsp unsweetened Cocoa powder
1 large egg (beaten)
1 ¼ cups (300 mL) graham crackers crumbs (home-made or store bought)
55 g (½ cup) Almonds (finely chopped)
130 g (1 cup) Coconut (Shredded)
Middle Layer
115 g (½ cup) unsalted butter
2 tbsp & 2 tsp (40 mL) heavy cream or crème frâiche
2 tbsp vanilla custard powder (or vanilla pudding mix may be substituted)
½ cups (127 g)Icing Sugar
Top Layer
115 g Semi-sweet chocolate
28 g (2 tbsp) Unsalted Butter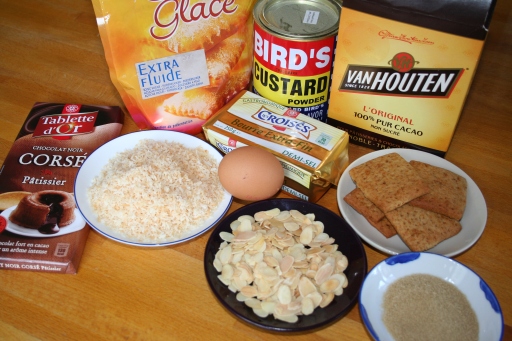 Directions
For bottom Layer

Melt unsalted butter, sugar and cocoa in top of a double boiler.
Add egg and stir to cook and thicken.
Remove from heat. Stir in graham cracker crumbs, nuts and coconut.
Press firmly into an un-greased 8 by 8 inch pan.

Middle Layer

Cream butter, cream, custard powder, and icing sugar together well.
Beat until light in colour. Spread over bottom layer.

For Top Layer

Melt chocolate and unsalted butter over low heat.
Cool. Once cool, pour over middle layer and chill.

The Verdict

They are sinfully rich in taste and flavour. We like it but aren't so hot about it, as it is simply too rich and creamy for our taste. Pierre ate 2 slices and he doesn't want to touch it again. Poppet loves the rich creamy taste of it and would gladly eat more if I let her. As for me, I tried to eat more of it as I didn't want to see it go to waste but it is just too rich for my digestion. I'm glad that I have the hindsight to make only half of the above quantity stated. The rest of the bars are in the freezer.

As it is extremely rich, it is probably best to make these bars in very small bite size.

Notes

These bars freeze very well, so don't be afraid to pop some into the freezer.