Satay or sate, a very popular dish in Southeast Asian countries like Malaysia, Singapore, Indonesia, Thailand, etc. is made up of marinated meat (chicken, lamb, beef, pork, fish) skewered on wooden or bamboo sticks, barbecued and served with different types of spicy seasonings. Growing up in Singapore, I have eaten my fair share of satay in my life time and I'm still not tired of it. That gives you an idea just how good these satay are. LOL!
So when Daring Cooks January host, Cuppy of Cuppylicious announced that we are going to make Thai Satay this time around, I was thrilled. Although it isn't the first time I made home-made Satay, it is my first time making a Thai version – so it is still something new.
Thai Satay with Peanut Sauce
(Adapted from book 1000 Recipes by Martha Day)
Ingredients
Marinate for meats
½ small onion (cut into half)
2 garlic cloves
1 thumb size ginger (peeled, cut into several pieces)
2 tbsp lemon juice
1 tbsp soy sauce
1 tsp ground coriander
1 tsp ground cumin
½ tsp ground turmeric
2 tbsp vegetable oil
1 tbsp fish sauce (optional)
450 g meat (chicken, pork, lamb or beef)
Peanut Sauce
250 – 300 ml coconut milk or milk
½ cup peanuts
1 tbsp lemon juice
1 tbsp light soy sauce
1 tsp dark brown sugar
½ tsp ground cumin
½ tsp ground coriander
1 – 2 tsp chilli powder (reduce to ½ tsp if you are not used to spiciness)
1 lemong grass, only the white portion – bruised (optional)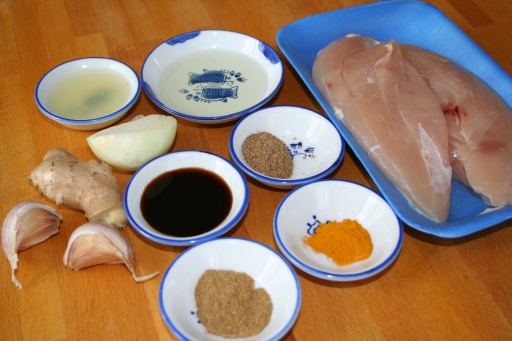 Directions
Put all the meat marinate ingredients (of course not the meat) in the food processor and blend until you obtain roughly a smooth paste.
Cut the chicken breast into small bite-size pieces.
Mix and coat all the chicken pieces with the marinate in a bowl. Cover and let it chill at least 6 hours or over night in the refrigerator.
Soak wooden or bamboo skewers in warm water for 30 minutes before using it so that they won't burn.
Preheat oven at grill mode
Skewer the marinated chicken pieces with the sticks, don't overcrowd it.
Grill them on each sides for about 8 – 10 minutes or until the edges just start to char. Bast or brush the pieces with oil when you flip the skewers.
Serve right out of grill with peanut sauce, some cucumbers, onions and ketupat(compressed rice cake).
Preparing the peanut sauce
Heat up a bit of oil in a wok.
Once the oil is hot, stir-fry ground cumin, coriander, chili powder and lemon grass for a minute. Then add in the ground peanuts, lemon juice, dark brown sugar, light soy sauce and lastly the coconut milk or milk, making sure they are well mixed.
Cook it on medium fire, continue to stir from time to time.
Once the sauce thickens, adjust the seasonings according to taste and turn off the heat.
Can be served warm or room temperature. To heat up, just microwave it.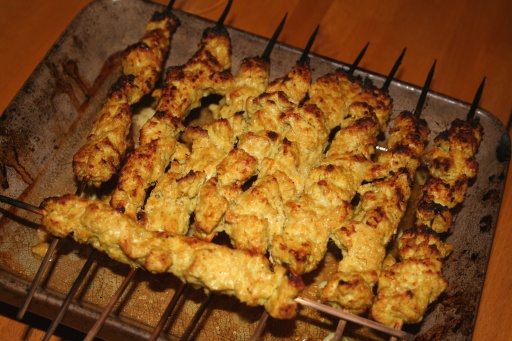 The Verdict
I was surprised that it turned out better than I expected – on its own, the satay doesn't really stands out much (perhaps I'm comparing too much to the satay I'm used to in Singapore) but when combined with the peanut sauce – it's very good, heightening all the aroma of the dish.
Satay can be served as aperitif, entrée or main course.
Notes
Instead of meats, some marinate tofu, fish, prawns, etc. Why not? 🙂
If you don't have space in refrigerator, just put let your meat marinate with sauce in a zip-lock bag.