Red Velvet Cake (RVC) is a mysterious cake to me. Why? Because lots of people crave and rave about it, not to mention even bake it and eat it. But not me…. why not? I don't really know but that bright blood red looking slice of layered cake simply doesn't turn me on. Quite the opposite: my immediate thought was that there must be a horrendous amount of food colouring in it. So how come I'm making one today? Well, it all started one day while twittering: Davina, who loves RVC, upon hearing that Aparna & I have never made one before, urged us to try it. That got Aparna & I talking about it, how did RVC got it's red colour, it's origin etc. Little did we know that our curiosity would turn into adventure with Alessio & Asha on board (aptly named the " 4 Velveteers"), each of us trying to make au naturel RVC.
So what is Red Velvet Cake? It's apparently supposed to be a rich, moist layered chocolate cake with a dark red, bright red or red-brown colour with either cheese or buttercream frosting – very popular in Southern U.S. The red colour in question comes from either uses of food colouring to get the artificial bright red colour or chemistry reaction between ingredients to get the natural crimson colour – the acidic vinegar and buttermilk brings out the red anthocyanin in the cocoa. From what I understand, with the use of more alkaline « Dutch Processed' » cocoa, the red colour is more prominent. It is said that the natural tinting might have prompted the name 'Red Velvet' or 'Devil's Food' and other similar names for chocolate cakes.
My quest to make an au naturel RVC took me through a sea of recipes on the net – all demanding a lot, I mean really a HUGE, amount of food colouring like 6 tbsp to 4 bottles of food colouring. All the recipes are quite similar from one to another so I decided to ask Davina for her favourite recipe. And this is what I used and adapted from there.
Red Velvet Cake
Ingredients
207 g cake flour (not self-rising flour)
113 g butter (melted)
250 g sugar
4 eggs (separate egg yolks and whites)
2 egg whites
9 tbsp beetroot juice
1 tbsp unsweetened cocoa powder
1 tsp vanilla extract
¾ tsp salt
180 ml buttermilk
Cream Cheese-Mascarpone Frosting
180 ml heavy whipping cream or crème fraîche
114 g cream cheese (room temperature)
114 g mascarpone cheese (room temperature)
½ tsp vanilla extract
a few tablespoon beetroot juice
55 g icing/powdered sugar
Directions
Preheat oven at 175°C (350°F – gas mark 4 ).
Lightly greased 2x 22 cm cake pan, lined the bottom with baking paper.
In a small bowl, mix well the cake flour together with the cocoa powder. Set aside.
In a large bowl, whisk the egg yolks together with sugar, vanilla extract and buttermilk until it is light and double the volume.
Slowly beat in the cooled melted butter and beetroot juice.
Fold in the flour mixture into the batter until combined.
In a separate bowl, whisk the egg whites with a dash of salt until the peaks are stiff.
Gently fold it into the batter until all is combined.
Divide the batter into the prepared pans. Bake for 20 minutes, or until a wooden pick inserted in the center of the cake comes out clean.
Let the cake cool on the wire rack for 10 minutes before inverting it.
Once the cake is cooled completely, spread a layer of cream cheese-mascarpone frosting on top of the 1st cake. Gently placed the 2nd cake on top of the 1st cake, spread a layer of frosting on top and the sides.
Cream Cheese-Mascarpone Frosting
Process your cream cheese and mascarpone cheese either in a food processor or handheld mixer until smooth.
Add beetroot juice, vanilla and icing sugar until smooth.
Add in the whipped cream, whisk until stiff peaks form. Your frosting is ready to be used.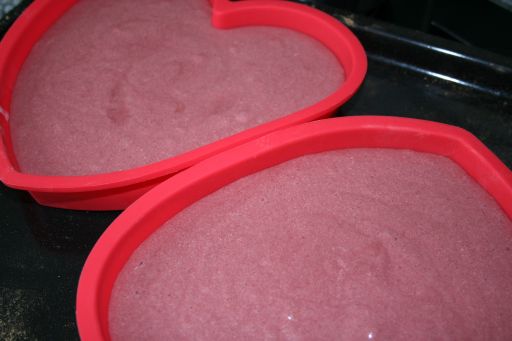 The Verdict
The cake came out surprisingly well. There is indeed a hint of red colour – not the chemical red kind. It's more of a earthly red tone – I kinda like it. Maybe it would be dark red if I had added beetroot puree instead of juice only.
The cake has a kinda spongy like texture which is quite nice, however it is lacking in the taste department. There was only an extremely light hint of chocolate taste in the cake but Pierre would beg to differ on that, finding it really bland. LOL! The frosting is OK but we aren't a big fan of rich creamy frosting like this either.
Do I want to make another attempt to experiment with it to get a better taste and colour? No, I don't believe it is even worth it. When I asked Pierre that question, his immediate reaction was: 'Oh, no. Please get over it and move on.' LOL! That sums up how much we love this cake. So we still don't understand why all the Red Velvet Cake lovers out there are willing to hand out their money for an artificially heightened Red Chocolate Cake. If it is chocolate cake you want, might as well get a real rich chocolatey cake sans 4 bottles of food colouring in it, no?
Notes
To make your own cake flour: for every cup of plain flour, replace 2 tbsp of it with cornflour or cornstarch. Sieve it together at least 5 times or more to make sure it is well incorporated together.
To make beetroot juice: Cut your beetroot (cooked) into small pieces, process it in food process until it is a puree. Put the beetroot puree in a muslin cloth, twist it and press out the juice.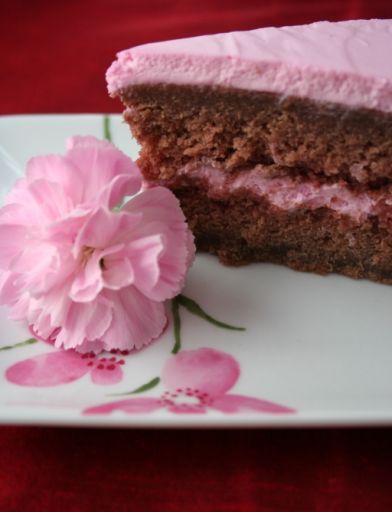 Now that you have seen mine RVC, let's check out the other 3 Red Velveteers: Aparna (her eggless RVC using beetroot puree), Alessio (using his genius brain to create his raspberry RVC) and Asha (tried her hands at chemistry) and see how their experiment turned out.
Psss… this is just the beginning of the adventures of us 4 Velveteers. Remember to keep a look out… you'll never know what we are up to next! 😉