Pierre & I are so proud of Little One: she got accepted for Taekwondo class. I know it's nothing special but she is only 3½ years old and the minimum age for this class is 5 years old with a few 4 years old accepted on a case to case basis. Last week, my friend, Sharon checked with the teacher if Little One could join his class together with her son. He was a bit hesitant about her ability to follow instructions, discipline etc. but he decided to give her the benefit of the doubt after Sharon sang praises about Little One. Needless to say, she was all excited and looking forward to this day, talking non-stop about it and practicing her karate chop-chop since last week. So at the tryout on Wednesday, wooed and impressed the teacher she did. When I went to pick her up after her class, he kept praising her and giving me his thumbs up, telling me that she is good as those 5-6 years old in his class. Woohoo! Way to go, Little One! Bullies, watch out! This one will kick your ass if you dare to mess with her. LOL!
To celebrate this occasion, I decided to experiment with the left over dough from my Chinese Steamed Buns. I was curious to see how the buns would turned out if I incorporated some beetroot juice into the dough. The dough was a beautiful pinkish red but after steaming, it lost all the red tone, leaving a dull blotchy looking bun. But with a few strokes of brush of beetroot juice over the hot steaming buns, we got ourselves that beautiful red bun again.
This time around, I tried it out with cheese fillings using Laughing Cow (La Vache Qui Rit). I would recommend to try these cheese: cream cheese, blue cheese (if you like blue cheese), Saint Nectaire, Mont d'Or or any cheese that could melt easily.
The Verdict
It is so surprisingly delicious. The Laughing Cow cheese which is normally very mildly flavoured tasted as strong as some of those strong cheese. Even my father-in-law was surprised. Be careful when eating it because the melted cheese is still hot and it simply oozes out of the bun when you take a bite of it. I'm not a very cheesy person but I love the taste of this creamy cheese filled buns so much that I'm going to make more of it for breakfast. It's so yummy.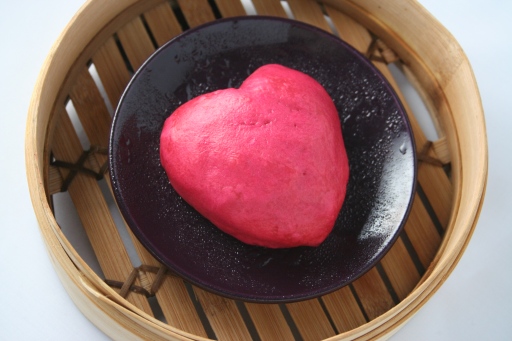 I also would like to thank lovely Renee of Flamingo Musings and Asha of Fork-Spoon-Knife for these 2 lovely awards: Happy 101 & Honest Scrap. For being the proud owner of these awards, I have to share some honest things about myself. So here they go in no particular order:
A self-confessed internet addict just like my significant other.
Housework is definitely not my cup of tea as much as I try to like it.
Spiders are my worst nightmare even tiny ones are enough to freak me out.
Flowers makes me smile and lift up my spirit.
Babies and children simply brings out the mother hen in me and make me go ga ga over them.
Book stores are my favourite place. I could spent hours there just browsing through the books.
Jigsaw puzzles relax me.
Making jewelry is my other secret passion.
I have a bit of wanderlust in me.
History is my all time favourite subject in school. Even today, I still love history.
I'm forwarding these awards to some of my favourite bloggers whom I got to know when I first started blogging: