Chinese Steamed Buns are called baozi or popularly known as bao, bau, pow, pau. They are plain or filled buns (bread-like/brioche made of flour) that comes in various forms, with a variety of fillings (meat or vegetarian). In its bun like form, it is quite similar to the traditional Chinese mantou. In the Chinese culture, we eat this for breakfast or as snacks in between meals or during a meal.
One of my childhood favourite bao is Birthday Buns made in the shape of a peach with a lotus-seed paste fillings. Why in the form of peach? Peach is a symbol of long life in the Chinese culture. When I was a little girl growing up back in my village, we used to live in a typical big Chinese household of 3 generations under 1 roof – grandparents, uncles & aunties, cousins. That was back in the 70s before all of us were relocated to our new spanking multi-storey like pigeon holes home HDB flat (Housing Development Board) in the city. But before that happened, my grandparents used to host grand birthday celebrations with about 10 tables or more at home on their birthdays each year. My cousins & I used to sneak into the kitchen during the celebration to help ourselves with another one of those delicious and beautiful looking birthday buns. Sometimes the cooks caught us and kick us out of the kitchen but sometimes, he would kindly give one to each of us before sending us back to our parents.
When Jamie of Life's a feast who is hosting this months Bread Baking Day throws a « Baking Bread for a Birthday Party! » theme, I thought this is a wonderful occasion for me to try my hands at making Chinese Birthday Buns to honour her birthday in January.
Eager to bring some peach bao to Jamie's birthday bash, I plunged into this task with zealous energy and concentration. Little did I know forming bao in a shape of a peach would be this hard. I tried several times to shape it the best I could but failed miserably; it always turned out like a round bun after steaming. Then I thought every party needs some party animals, so I decided to make some party animals for her instead.
Some recipes calls for bao flour or Hong-Kong flour (gives your bao a whiter colour than normal flour but Hong-Kong flour is very expensive if you live overseas), while others uses a traditional method which takes 3 days but gives a fluffy outcome. I opted for a simpler recipe that is very suitable for making home-made bao using plain flour (easily available) and the result is pretty good. And since I live in France now, I decided to give these bun a little twist in East meets West version. And please don't spit out your coffee or fall off your chair upon seeing my artistic work!
I'm also sending my some of party animals to YeastSpotting! team as well as to celebrate World Nutella Day (5 Feb 2010) created by Ms Adventures in Italy & Bleeding Espresso.
Chinese Steamed Buns
Ingredients
300 g plain flour
5 g instant yeast or normal dry yeast
40 g sugar
1 tsp baking powder
160 ml water (approx)
3 g butter
some beetroot juice for colouring
Filling
Nutella
caramel
jams (or whatever sweet fillings you like)
Directions
In a big bowl, mix the yeast with some lukewarm water and let it sit for a few minutes.
Add the flour, sugar, butter, baking powder and the rest of the water in the bowl. Stir the mixture until it comes together like a wet dough.
Knead the dough until it becomes smooth and elastic. To see if it is elastic, pinch a small portion of dough and stretch it with your fingers to see if it is stretchable. If it breaks up easily, continue to knead until you are able to stretch it sans problem.
Divide dough into small portions (any size you want). Shape it into a ball, flatten it and roll it out in round shape.
Drop a bit of caramel or nutella in the middle of the bun and wrap it up. Pinch the edges to seal the dough together. Make sure it is sealed properly
Shape it into a peach shape. For a rabbit, shape it into oval and make a snip on the dough on top with scissors to make the ears.
Put a piece of paper underneath the shaped bun and leave it aside to rise for 30 minutes.
Steam over high heat for 6 – 12 minutes (depending on how small or big is your bun). Remove and spray with beetroot colouring on top. For rabbits, dot the eyes with flat tip of a toothpick.
It is best eaten warm or lukewarm.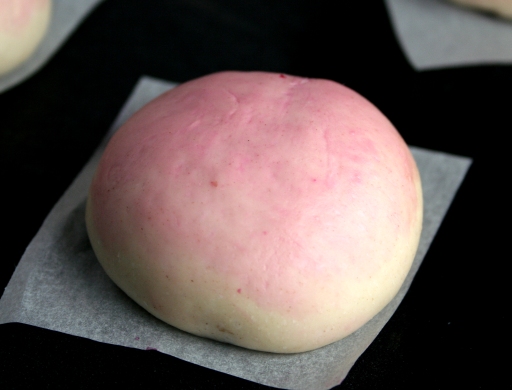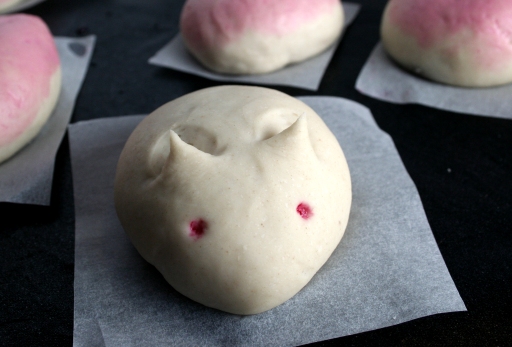 The Verdict
My little animal friends are so cute, aren't they. Guess what are they?
Mmm…these are so good. The caramel just simply oozes out and so did the nutella version. They are even better than the traditional version with red bean paste or lotus seed paste. But be careful when eating it, the caramel and nutella filling can be pretty hot!
And no, it's not a hamster or a mouse. I know it looks really like one but it supposed to be a rabbit. LOL! I personally think I've done quite a good job – not bad for a first try at creating an animal form bun. It could have turned out looking worse. LOL!
Notes
If you couldn't make the buns immediately after making the dough, you can let it rise in the bowl with a damp cloth drape over the bowl. And if you have any leftover dough, leave it in the bowl with a plastic film or in covered box in the fridge.
These buns can be kept covered in the fridge, or frozen. You just need to steam it again when you want to eat it.