Lately Pierre has been lamenting AGAIN (see my posts on Moghlai Murgh, Beef Madras, Balti Butter Chicken, Prawns in coconut gravy & Grilled Broiled Prawns) about lack of haute Indian cuisine in Clermont-Ferrand (or more generally, France) and yearning for his luscious, lip smacking favourite restaurant, the Shahi Maharani in Singapore. So strong was his longings that even while driving, I would catch him murmuring to himself 'ahhh… if only I can move 'Shahi Maharani here.' with a broad grin on his face. He even suggested (not once but several times and counting) that I ask the manager of the restaurant for a post in their kitchen when we are back in Singapore, so that I can learn how to cook like they do but at home to his majesty desire. LOL! This man has no shame when it comes to his food.
Now I'm going to let you in a little bit more just how popular we are at Shahi Maharani. Bear in mind that we only go back to Singapore once a year. Every year, upon arriving in Singapore, we would go immediately to lunch or dine there after dumping our luggage at my parents place. Not just the manager but the staff also recognise us immediately when we stepped into their restaurant saying 'Welcome back. Happy to see you again. How long are you staying in Singapore this time around? How's your little daughter? Oh, she didn't come along with you today? Hope to see her next time when you come by again.' Trying not to turn me off going there, Pierre would sneak in a lunch or dinner there once every week or thrice if he could hassle it out of me. And as our departure for France approach, so is our rising dinning frequency at this restaurant. To a point, the Manager even gave us a discount on our bill and sometimes a free drink. LOL! And on the last day in Singapore, we both would strike a bargain : Lunch at Shahi Maharani, Dinner with my family before we leave for the airport, and he dreaming of his favourite restaurant on the plane.
Since I can't bring Shahi Maharani to him, I told him to choose a recipe from this Indian cookbook that sweet Deeba (upon hearing that how much Pierre loves Indian food) gave me in London when we met at Food Blogger Connect last November. It was filled with delicious recipes and it was hard to pick one out of so many. So he decided to pick whichever recipe that he just happened to flip open the book and honest truth, we weren't disappointed at all.
Reshmi Kebab (Chicken Kebabs)
(Taken from Moti Mahal's Tandoori Trail by Monish Gujral)
Ingredients
750 g chicken meat (cut into big pieces)
1½ tsp ginger-garlic paste
1½ tsp salt
2 tbsp olive oil or vegetable oil
50 g (5 tbsp) gram flour
100 g (½ cup) cream or crème frâiche
2 tsp white pepper powder
50 g (¼ cup) cheese spread (cream cheese or laughing cow)
1 egg
1 tsp green cardamom powder
Directions
Marinate the chicken pieces with ginger-garlic paste and salt. Keep aside for an hour.
Heat the oil in a heavy bottomed pan. Add gram flour and stir continuously till the oil separates and a sweet smell emanates.
Remove from heat, add cream, white pepper powder, cheese spread, egg and green cardamom powder. Whisk to a smooth paste.
Apply to the chicken and keep aside for 2 hours.
Skewer the chicken and grill in a tandoor or a preheated oven till golden brown.
Serve with mint chutney and onion lachla in vinegar.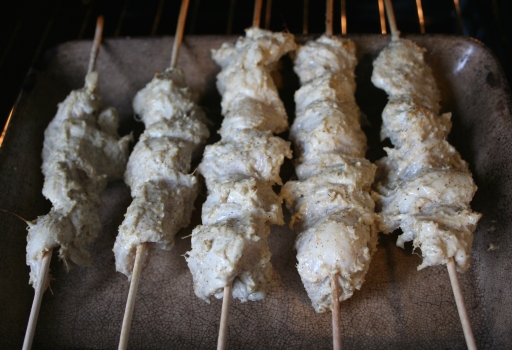 The Verdict
The kebab is very tasty and aromatic – simply delicious, even though cardamom flavour is strong with this one! Like all grilled meat, the chicken breast is slightly dry yet very tender. It was so good that we had it for dinner and lunch the next day. We can't wait for warmer weather so that we can grill this outside. This recipe is definitely a keeper!
Notes
I didn't have gram flour, so I used cooked chickpeas (from a can) and mashed them. And add some olive oil to the creamy mixture. I also ground some green cardamon pods myself as I don't have it in powder form.
To make ginger & garlic paste: put equal amount of peeled garlic and ginger in food processor and process it. Add a bit of water if necessary to make a smooth paste. Keep it in an airtight container in the refrigerator or freeze it in small quantity for later use. This can be used as marinate for meat, poultry and seafood or added to sauces.