What do you know – it's the time of the month again – the Velveteers' Challenge (Aparna, Alessio, Asha & I). This month we decided to go nutty fruity to lift up our spirit to welcome summer after a long spell of rain and gloomy weather in Europe. At the beginning, I had in mind to make something with cheese, nuts & fruits but I got seduced by Aparna & Shellyfish chatting about their moist, oh so heavenly tasting cupcakes. So curious was I to know if their cupcakes are that good that I started dreaming of it. Soon, my imagination took a different angle – imagining all sort of ways to improvise over the Velveteers' project. Et voilà ! An adapted recipe was born.
I made these cupcakes earlier but didn't have time to post it as I was in the rush to put the house in order, before I left with Little One for a long weekend trip to visit friends and attend a little boy's (Noah) birthday party in Nantes. This time, I was able to meet Jamie of Life's a feast for lunch, had our dessert at her place, met her shy Man & handsome (very French) son, Clément, and of course her adorable but very shy Marty (ooh, I so love Marty). After dessert, we went for a "walk" (I mean shopping spree). I had in mind to shop for a few things for Little One's birthday party but in the end, I bought some tops and a dress for her instead. Jamie got herself a great bargain – a Curnonsky's cookbook for 10 €!! I'm so dying of jealousy! Little One & I had a wonderful time in Nantes and wish that we could stay longer than just over a long weekend. I would also like to thank my wonderful mother-in-law Michèle & sister-in-law Irène for driving us to Nantes and back to Clermont-Ferrand and for taking care of Little One the whole Saturday so that I could spent the day alone with my girlfriends.
Chocolate-Pear Velvet Cupcakes
(Adapted from Aparna's Cinnamon Cupcakes)
Makes: 8 – 10 cupcakes
Ingredients
1½ cups cake flour (sifted and then measured)
1¼ tsp baking powder
2 – 3 tbsp cacao powder
1/4 tsp salt (omit if using salted butter)
100 gm butter (softened)
3/4 cup demerara (or light brown) sugar, packed
1 egg (room temperature)
1 tsp vanilla extract
3/4 cups milk (room temperature)
1 pear (peeled & cut into 4 or 8 parts)
walnuts (roughly broken up)
Caramel Sauce
sugar
water
about 2 tbsp salted butter
about 2 tbsp cream or crème fraîche
Directions
Sift together the flour, cacao powder, baking powder and salt. Set aside.
In a large bowl, whisk the butter and sugar till light and fluffy.
Add the egg and vanilla and mix well.
Add the flour mixture in three additions, alternating it with milk. Starting and ending with flour. Beat just enough to combine the ingredients and do not over mix. After all the ingredients are in, beat it for just one minute.
Divide the batter equally between 8 to 10 paper lined cupcake tins (depending on the size of your tins) so that each one is 2/3rds full.
Lightly insert a slice of pear in the middle of the cupcake.
Bake the cupcakes at 180°C (350°F – gas mark 4) for 20 to 25 minutes till done or a skewer inserted in them comes out clean. Cool for 10 minutes and then turn out and cool completely.
Spoon some caramel sauce on top of the cupcakes. Sprinkle some walnuts on top of the caramel sauce. Then drip some caramel sauce all over the walnuts.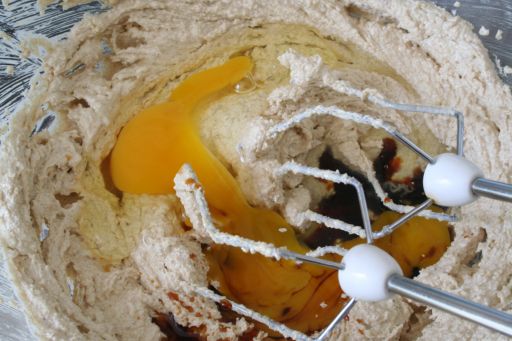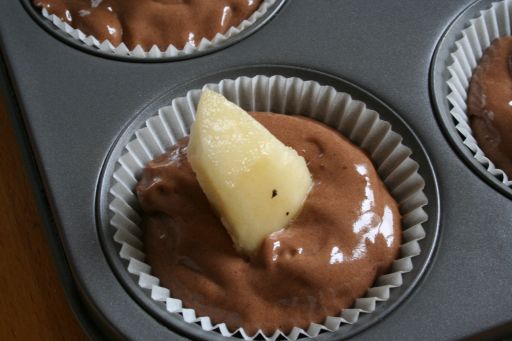 Making the caramel sauce
While your cupcakes cool, you can start preparing your caramel sauce.
Put some sugar and enough water to wet the sugar in a small pot and heat it up on medium heat.
Sugar will dissolves and when it turned into bubbling brown and golden, turn off the heat.
Quickly stir in the salted butter until combined.
Put the pot back on stove under very low heat and stir in the cream.
Continue stirring until you get a thick consistency like crème patissière.
Voilà, your caramel sauce is ready for your cupcakes.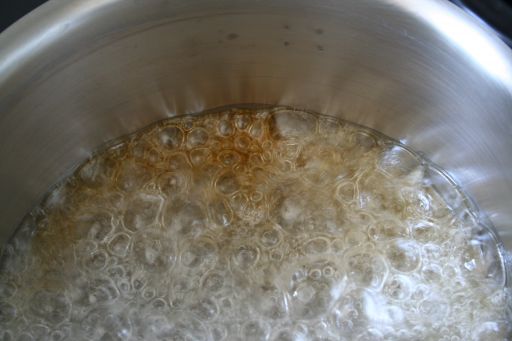 The Verdict
The cupcake is very soft & moist like a sponge cake with a light touch of chocolate flavour. The pear compliments the chocolate cake very well. Everyone loves the cupcakes and the caramel sauce with walnuts topping. I'll make it more chocolaty next time.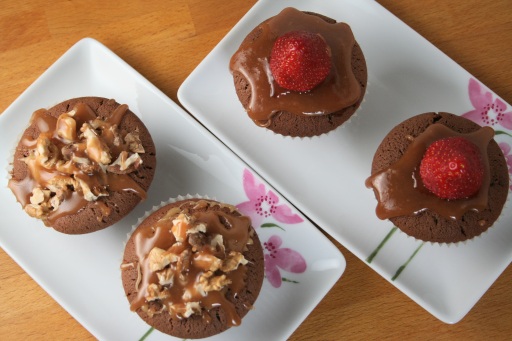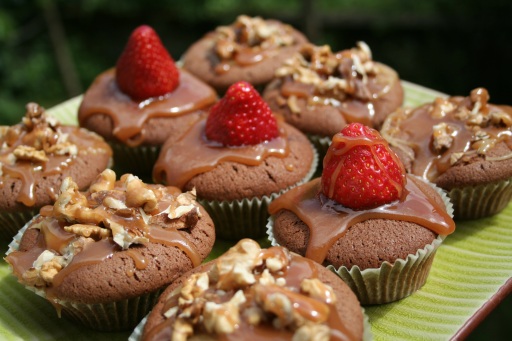 The 4 Velveteers
The 4 Velveteers (as we called ourselves) are hosting a monthly event that explores food & cuisine and share our recipes, experiences and verdicts on our blogs. Every month will be a surprise – we never know what we'll make next. So if you're interested in joining the Velveteers, please feel free to drop by our food blogs and leave a comment and we will get back to you.
Do check out what the other Velveteers have come up with: