Last Sunday, all mothers and mothers-to-be celebrated Mother's Day in France. This year, Little One's class, together with their teacher, made a lovely heart-shaped card with a poem and a hanging mirror with crystals all around it. What a lovely surprise gifts! Little One had been so excited about it and couldn't wait for Mother's Day to give it to me. The poem says 'There are millions of bees in hives, there are millions of birds in trees but there's only only 1 mommy.' Although it's not written by her, still I can't help being all weepy about it. Yes, us women and our hormones…
To celebrate this special day, we decided to make a lovely strawberry tart with crème patissière as strawberries season has just began. They are still kind of expensive but heck, why not indulge ourselves?
This is a very simple yet tantalizingly delicious tart to put together. Definitely an all time family favourite.
Strawberry Tart (with crème patissière)
Ingredients
1 or 2 packets strawberries
Pâte Sablée (Sweet Shortcrust Pastry)
250 g Plain Flour
125 g Chilled Butter (cut into cubes)
80 g Sugar
1 egg
A little water (ice cold)
Directions
Pie Crust
In a large bowl, mix the flour and sugar together and put in the diced up butter.
Using your fingers, rub the butter into the flour until it is crumbly (like sand). To make sure that all butter are rubbed in and there is no big lumps left, scoop some mixture into your hands and rub it in a rubbing motion.
Make a small well in the middle, crack in the egg and just a little bit of ice cold water. Mix the dough mixture with your hands until it forms a ball of dough. It will be a little bit sticky but the dough should hold together and comes off the bowl easily. Do not work the dough too much.
Wrap the ball of dough with a plastic wrapper and refrigerated it for 1 hour.
After 1 hour: Roll out a clean piece of cloth on the table; sprinkle generously some flour on it.
Flatten the dough slightly with your hands and dust the dough lightly with flour before rolling the dough out with a rolling pin. Start rolling at the centre of the dough and work outwards. Roll the dough into a circle and larger than the size of your pie dish.
Put your pie dish face down to the centre of dough. Put your hand underneath the cloth (centre of the dough) and gently flip the dough over.
Without stretching the dough, press the pastry firmly into the pan and trim any excess dough from the edge.
Prick all over the pastry bottom with a fork and put a smaller pie dish on top of it and bake it at 200°C (400°F – gas mark 6) for about 20 minutes or until it is golden brown. However if you don't have a smaller pie dish, cover the top with either baking paper weigh the pastry down with either beans or uncooked rice.
Remove pie crust from the oven and allow it to cool totally.
Making Crème Patissière
While pie crust dough is resting in the fridge or baking, make your crème patissière (French Pastry Cream) and set it aside to cool.
Keep your crème patissière chill in the fridge until it is ready to use.
Assembling Strawberry Tart
Rinse your strawberries and pat dry them with a towel.
Cut them into half and remove the stem. Set them aside.
Place the pie crust on a big plate, spread a layer of crème patissière on it (even it out smoothly).
Carefully place the half strawberries on top of it starting from the outer circle working your way to the centre of the tart.
Serve it immediately or keep it chill in the refrigerator until it is ready to be served.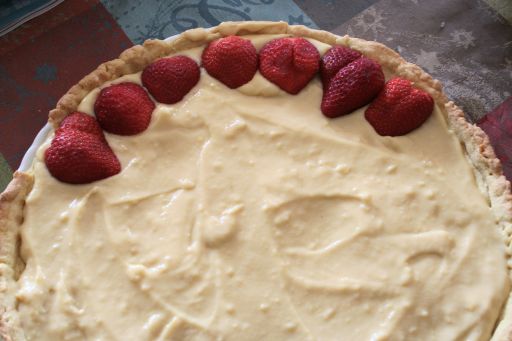 The Verdict
This is one of Pierre's favorite dessert: it is sweet and provided you put it in the fridge before serving, very refreshing as the water and crème stay cool. All those components (crust, crème patissière and of course strawberries) actually can be eaten on their own, but together they also form an amazing combination!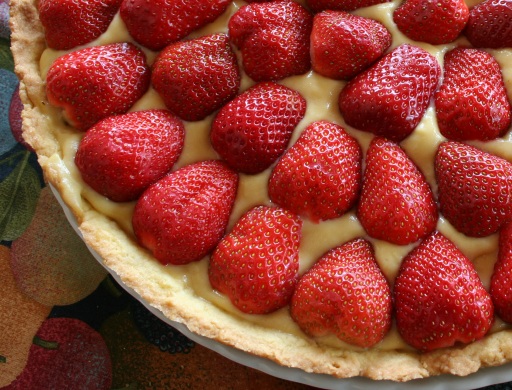 Notes
If you have a food processor, to save time, process the dough ingredient with it. And if you can't bake your dough on the same day, wrap the raw dough pasty in a cling film and put it in the refrigerator – it can stay there for 2 or 3 days. It can also be kept frozen for up to 3 months. When required, simply defrost it slowly in the refrigerator.
Strawberries are very perishable, so only purchase them a few days prior to use. Choose those that are firm and have shiny deep red colour with attached green caps. When buying prepackaged strawberries, make sure they are not packed tightly and the container looks clean (no sign of stain or moisture). Before storing it in the refrigerator, check for any strawberries that are mouldy or damaged. Remove them from the the good ones or they will not contaminate others. Store them unwash in its container in the fridge.