I had a wonderful week meeting up with the Food Bloggers at Food Bloggers Connect 2010. But the highlight of the week started with this hilarious conversation I had with the British officers at the border – me and my Singaporean accent (yes we chatted for quite a while, who cares about the other travelers waiting for their turn, right?):
Officer: So you are staying in London for a week. What will you be doing there?
Me (all excited): Oh, I'm going there to attend FBC. There will be lots of FOOD bloggers at that event.
Officer: I see, FOOT Bloggers you say. So what is this meeting all about?
Me (babbling on): Oh we exchange notes, experience, recipes, take pictures of FOOD, share photography taking techniques, getting to know each other and exchange our blogs etc. I also have my own FOOD blog. (I said rather proudly)
Officer: Oh! So what do you blog about?
Me: Oh about FOOD, a bit of restaurant review but not much. Mainly FOOD, what I cook with, how it tastes, the result of my experience with the recipe, etc.
Officer: FOOT, yeah ??
Me: Yes, you know FOOD like : I show him the hand sign of eating.
Officer: Oh you mean FOOD. I thought you were talking about FEET. I was starting to wonder – recipes, photos and all with FOOT.
Me: Oh, no, not FOOT… Now that would be a bit of too fetish, isn't it?
Officer: Oh, don't worry. We are used to all sorts of things here working in this line. Talking about food, my wife baked 3 cakes last night and it's all for her office.
Me: Oh lucky her. A food blogger's dream – to be able to bake and give it away to others to eat.
Officer: You can say that again. Look at me, I got it all here (pointing to his waist and tummy).
Me: Oh, my husband complaints the same but he can't stop eating what I make. So your wife loves to cook. Do you like Indian food, Asian Food or French Food?
Officer: Oh yes, I love it.
Me: Here's my name card. You can find delicious Indian, Asian & French recipes in there. (So I gave the 2 officers my name card – what a start of a great day!)
Off I went with a big smile on my face to meet Sarka of Cooking Your Dream, Tiina of Sparkling Ink & Giulia of Jul's Kitchen (my bedmate for the weekend) at FBC 10. Sarka was so generous to offer her home for us to stay. We got to know each other better, had brainstorming sessions, exchange camera techniques etc. till late at night. Each night we slept only like 5 or 6 hours. We had a real blast together!
For me, the highlight of the FBC 10 was Friday evening & the Sunday session. Jaden of Steamy Kitchen talks on 'monetizing your blog' was very inspiring with her boundless enthusiasm on how she got started with nothing, worked to cookbook, TV shows after only 6 months into blogging and how she could earn enough by then to pay her household bills. It was truly awesome – every food bloggers dream come true. So much was learnt from Kerrin Rousset of My Kugelhopf & Julia Parsons of A Slice of Cherry Pie on 'how to get published & get feature work'. Thank you for sharing with us your tips and secrets of trade. Kerrin's boundless energy is infectious: she's like an Energizer rabbit – never stop moving. I'm so impressed by Julia's personality: so down-to-earth, open, very friendly and very approachable. Lastly, Niall Harbison's (lively personality with great sense of humour) talk on social media left all of us hungering for more information. I was kinda of disappointed that there wasn't any hands-on photography workshop as I was so looking forward to having one. Instead I found tables of fruits/cakes set up on the table for us to play with our camera mode by ourselves. Other than that, I got to finally meet several bloggers that I have known online for some time and lots of new bloggers!
Sarka's partner, Pavel, came home from his European conference trip and showed me one evening the difference of the aperture and shutters speed hands on with his camera and explained it in details. I greatly appreciated him taking the time to teach me. Now I know the difference. It's one thing listening to talks and reading from the manual, it's totally different when someone actually show it to you. On my last day in London, I cooked dinner for Sarka & Pavel and letting them taste my home (Singapore) & French food – Assam Fish (Singapore Nyonya), Curry Coconut Prawns (Indian – recipe below) & Moules Marinière (French) and last minute whip up dessert like this rich & delicious Lava Coffee Chocolate Cake that only took 10 minutes to make & 8 minutes to bake. Thank you Sarka & Pavel for hosting me for a week.
Curry Coconut Prawns
Ingredients
2 mediume sized yellow onions (finely chopped)
1 tsp ginger garlic paste
800 g – 1 kg prawns (peeled)
1 tsp coriander powder
1 tsp chilli powder (more if you prefer spicer)
tumeric powder (a pinch)
salt
200 ml coconut milk
Directions
Heat wok or pan with some vegetable oil, stir-fry the chopped onions until lightly brown.
Add in the garlic-ginger paste and stir till fragrant.
Add in the prawns and mix it well with the onions and garlic-ginger paste.
Mix in the coriander powder, chilli powder, salt & a pinch of tumeric powder.
Cook it until it is slightly done and pour in the coconut milk.
Stir to mix well and adjust the seasoning if needed.
Serve hot with rice.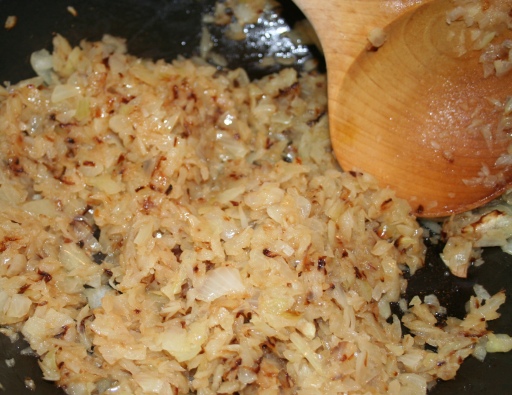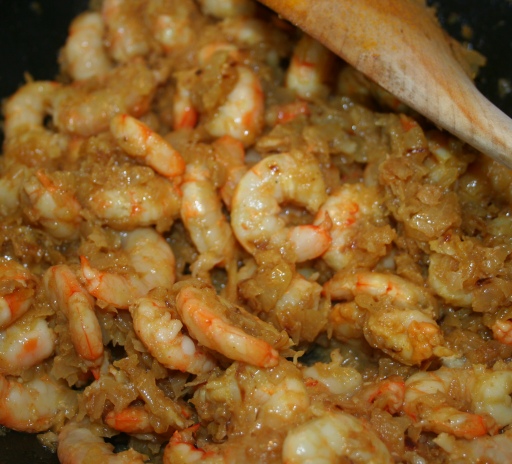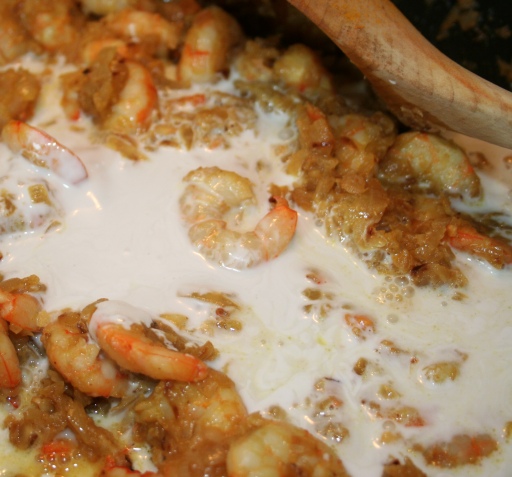 The Verdict
This truly is a great Indian dish, very aromatic and exotic. Unlike some other Indian recipes, this one is really simple and fast to put together, and yet it really taste authentic. The coconut milk doesn't overpower the flavour of the spices.
Notes
If you don't want it with too creamy coconut, add half coconut milk and half milk. Add the chili powder according to how spicy you want it to be. It's always better to start with little bit of chili and add more if needed as we cannot reverse the spicy taste the other around.
To make garlic-ginger paste, just process the same amount of ginger & garlic together in the food process. Keep this paste in an airtight container in the refrigerator.