Everyone of us (yes, you included indeed!), at some point in our childhood been eager to grow up. Impatiently waiting with batted breathe for that birthday to come. Remember how excited we were, jumping with glee and joy, in a rush to blow those birthday candles and wishing our birthday would last forever. We were so proud that we couldn't wait to tell everyone we are a year older. Such forgotten fond memories of the yonder years! Many birthdays came and went, so did my enthusiasm about birthdays until Little One came along. Remembering how excited and determined I was to make her perfect 1st birthday – never mind that the only cake I could bake at that time was Quatre-Quart (French Pound Cake) and it was Pierre who taught me how to bake it. I didn't even know how to make a crème chantilly (Pierre had to teach me that too).
Well, Little One is no different. She was over excited and so desperately wanted to be 4 like her best friend, Lise, that she asked me this question almost every day since January: 'Am I 4 yet, mommy? Is today my birthday?' Each time I would say 'Not just yet, poppet. You'll be 4 in 5 months time.' And then came the same wailing scenario 'Mommy, I want to be 4 now like Lise. Why can't I be 4 now? No, mommy I'm not 3½ years old. I'm 4 today just like Lise because I say so.' I have since learnt to be creative in my reply 'Yes, you are almost 4. In x months or x weeks' to keep my little camper happy.
This year Little One celebrated her 4th birthday the big way – a big birthday party at home with her friends (8 kids including her). In France, the parents will drop off their kids with a birthday present at your doorstep and come to fetch them home at the end of the party. Each kid is then sent home with a little goodie bag of gifts & candies (a birthday party souvenir). I like this concept very much as the kids didn't leave home empty handed. So for the next 3 hours or so, you are in charge of X number of kids in your house.
Yes my house was really noisy with kids running here and there! We had everything planned right down to games, gifts, etc…but do the kids really care? NO! Their longest attention span with pinning-the-donkey-tail game (supposedly a game that kids love most) – lasted only like 5 minutes. They preferred to chase each other around the house, playing big-bad-wolf with some kids hiding under the fairy tent while others were upstairs playing in Little One's room. So why bother stressing up myself to baldness thinking up different types of games? One surprising thing that stumped us all was that the kids loved storytelling. They couldn't get enough of that. (Yes, beats me too) They also loved fishing for presents – patiently queuing for their turn. They had so much fun at the party that they didn't want to go home. Then a few weeks later, she celebrated her birthday again in school with her friends and teacher. And Yes! Little One goes around proudly telling everyone who cares (or not) to listen to her: 'I'm 4 years old today.' Never mind that she doesn't even know them at all. What about presents, you might be wondering? APLENTY from family & friends to a point that she now expects more presents to come every day since she is now 4 years old every day. This was her bestest birthday ever… for now.
Now for the birthday cake, as much as I love my chocolaty & moist chocolate cake that I baked for her every year, I felt it was time for a change. So I asked my in-house gourmet, Pierre, who voted for his favourite Sour Cream Cinnamon Coffee Cake from Life's a Feast. I have adapted the recipe into layered cake with crème patissère covered with chocolate ganache.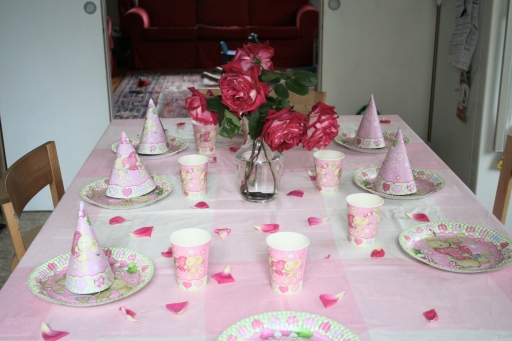 Strawberry Sour Cream Cake (with crème patissère & chocolate ganache)
Ingredients
some strawberries (rinsed, pat dry & cut off the top)
Sour Cream Cake
1½ cups sour cream or crème fraîche
1 tsp baking soda
3 cups flour (spooned in and leveled)
2 tsps baking powder
1 tsp salt (omit this if you are using salted butter)
1 cup (226 g) unsalted butter or semi-salted butter (soften, room temperature)
1¾ cup superfine sugar
3 large eggs
1 tsp vanilla extract
Chocolate Ganache
200g (12 oz) semisweet dark chocolate (I used dark chocolate, 54%)
½ cup whipping cream
3 tbsp butter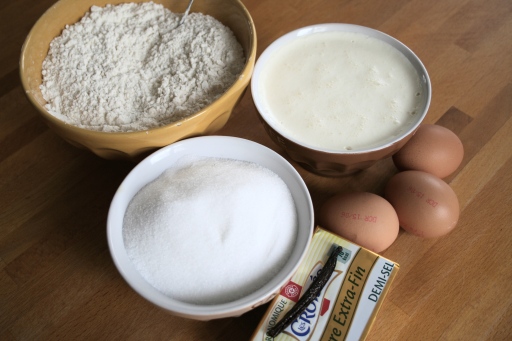 Directions
Make the French pastry cream(crème patissieère) first before making the cake. That way, the pastry cream can be chilled in the refrigerator and will be ready for laying.
Making Cake
In a small bowl or container, stir the sour cream (or crème fraîche) and the baking soda together and let it stand at room temperature for 1 hour.
Preheat the oven to 180°C (350°F – gas mark 4).
Butter two 8 inch heart-shaped baking pan, then line the bottom with parchment paper, and butter the paper.
Mix together the flour, baking powder & salt (omit it if you are using semi-salted butter) in a big bowl.
In another big bowl, whisk the softened, room temperature butter (cut into cubes) until it is smooth and lightened in color.
Add the sugar, 1 or 2 tbsp at a time, and beat it for 6 to 8 minutes until it is light and very fluffy.
Add in the eggs, one at a time, whisking it for 1 minute after each addition, scraping down the sides of the bowl as needed. Stir in the vanilla.
Beating at low speed, add the flour mixture, alternating with sour cream (crème fraîche) – beginning and ending with flour mixture. Mix until it is just blended after each addition. Scrape down the side of the bowl as needed.
Spoon the batter equally into two 8 inch heart-shaped baking pan and even the top out, leaving some room on top of pan for cake to rise during baking.
Bake for about 40 – 50 minutes in the preheated oven. The cake is done when it is risen and the top is golden brown and springy to the touch or a toothpick inserted comes out clean.
Leave the cake to cool on racks for about 15 minutes before turning it out of the molds. Let the cakes cool completely before filling and covering it with chocolate ganache.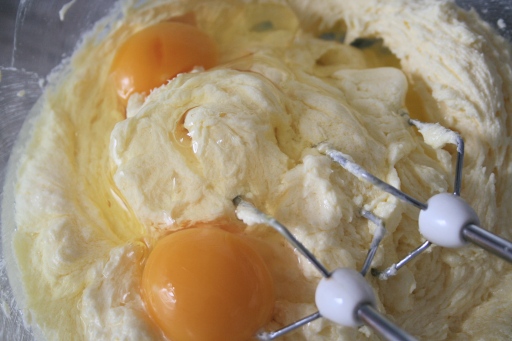 Making Chocolate Ganache
Melt chocolate pieces and whipping cream in bain-marie. Whisk until smooth, then stir in butter.
Let stand for about 30 minutes. Beat at medium speed with an electric mixer for 3-4 minutes.
Assembling the Cake
Place 1 heart-shaped cake on a cake plate.
Using the back of your spoon or spatula, spread a generous layer of pastry cream (crème patissière) on top of the cake.
Delicately place the other heart-shaped cake on top of the filling.
Spoon and spread the top of the cake generously with chocolate ganache, letting it spill naturally over the sides of the cake.
Arrange the strawberries along the edge of the heart-shaped.
Keep the cake in the refrigerator until it is ready to be served.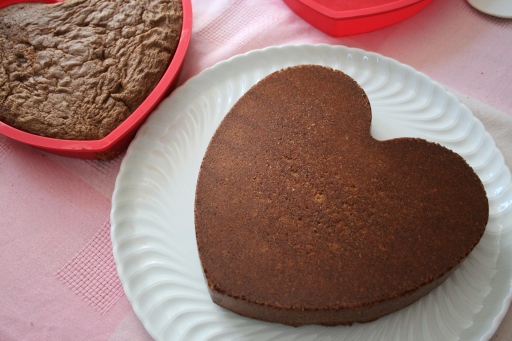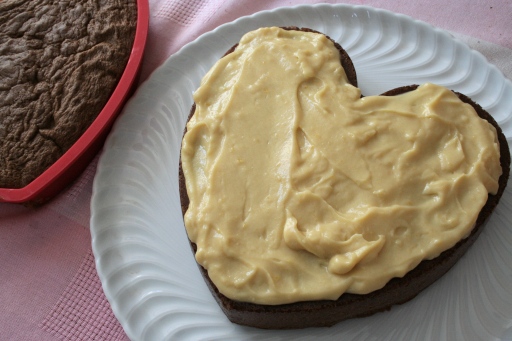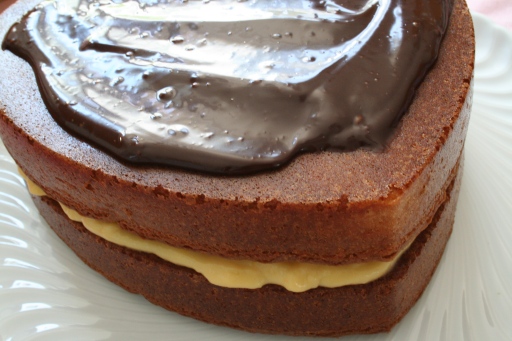 The Verdict
In a classic layer sponge cake, it is usually all about the cream and other fillings, and the sponge cake is secondary (who eats plain sponge cake anyway). This cake however, stands on its own – moist, fluffy yet dense and lightly flavoured in taste complimenting the pastry cream, strawberries and chocolate ganache. Even with all the complimentary toppings and filling, this cake remains just nicely sweet. So if you have a real sweet tooth, please add more sugar to the above recipe.
This cake was so delicious that Pierre requested the same to be made for sister-in-law's birthday. Alternatively, you may also include a layer of sliced strawberries on top of the pastry cream as I originally intended to do but in my hurry to get the cake done, I forgot about until I had covered it with chocolate ganache.
Notes
If you don't have large eggs but have some egg whites sitting in your fridge, use 3 medium sized eggs and a few tablespoons of egg white for this cake and it will turn out marvelously good too.
The original recipe bakes in a 10 inch angel cake pan for about 1 hour and 10 minute. I usually roughly estimates the baking time when I bake this recipe in smaller cake pan. And whatever leftover batter I have, I made them into muffins.
For the chocolate ganache, I didn't let it stand for 30 minutes. Once it is done, I spread it all over the cake and then let it chill in the refrigerator.