Woohoo! I'm back home in Singapore for summer vacation. What a relief to finally touch down at Changi Airport last evening! After a delay from taking off at CDG airport due to technical checks, we had a long 13 hours of very turbulent trip, sending poor Little One into waves of nausea through out the flight. It's one thing watching people throwing up in plane in a movie, it's another facing the real thing. Never had I had so many panic attacks each time she said these words: 'Mommy, I don't feel well. I feel like throwing up.' I was literally groping in panic for the paper bag in the seat pockets, so afraid of Murphy's Law playing up at me. Phew! Luckily, for me, her & the passengers on the flight, she didn't threw up at all. And surprise my family at their doorstep we did. Because of the jet lag, we let Little One stay up till near midnight (6 pm French time) last night as we didn't want her to wake up at 3 am bright & chirpy. This didn't quite work out but luckily I was able to convince her to go back to sleep until 9 am this morning.
Anyway, a few days before we flew off, I was busy doing my very late entry for Velveteers' Challenge – Mochi (Minty Green Tea with Strawberry & Nutella) as well as baking 2 chocolate velvet cakes (recipe coming soon) for Little One to celebrate her birthday together with 2 other classmates at school. Both the teachers and children loved it – what a relief to hear! Not that I doubted the cake but whenever I have to cook, specially for an event, I tend to screw things up with my closet perfectionist disorder. And on Sunday, we celebrated my sister-in-law's birthday with coconut prawns curry, tofu curry (recipe below) and a simple stir-fry broccoli with rice. Of course no birthday is done without a cake: Pierre loves the cake (recipe coming soon too) I baked for Little One's birthday so much that he requested me to make the same for his sister.
Now tofu is not one of the favourite food in my household. The last time I made an attempt to seduce Pierre into liking it, the result was totally flat. So after 3 years of tofu abstinence, I thought of re-introducing this infamous ingredient to his whole family on this birthday celebration. Quite a big risk as it was the first time I was making a curry out of a tofu (cooking by blind faith hoping everything will come together). But lucky me, by chance it happened that my sis-in-law and father-in-law like tofu.
Tofu Curry
Ingredients
2 packet firm tofu (cut into 9 cubes each)
1 onion chopped
1/2 tsp ground mustard)
1/2 tsp cumin seeds
a bunch of curry leaves (fresh or dried – about 10)
2 tsp ginger/garlic paste
1 tsp ground coriander
1/2 tsp turmeric powder
1 tsp red chilli powder (more if you prefer it to be spicier)
1 tbsp tomato paste
2 cup water (approx.)
a pinch of sugar
salt (for seasoning)
Directions
Cut tofu into small cubes and pan-fry them dry on non-stick pan until light brown, delicately turning them often. This is to remove some water from the tofu.
Add a little bit of oil into the pan and let the tofu brown a little by the oil. Remove and set a side.
Heat up a little bit of oil in a wok or pot, add in the chopped onions and let it brown a little.
Add ground black mustard, roasted cumin seeds and curry leaves. Stir-fry it with the onions for a minute or two.
Stir in ginger and garlic paste. Cook until it is fragrant.
Add ground coriander, turmeric powder, chilli powder and tomato paste. Stir to mix well before adding approximately 2 cups of water to it.
Add a pinch of sugar and season it with salt.
Let it cook for about 10 minutes.
Add in the tofu, cover partially and let it cook for another 15-20 minutes to allow the curry to thicken and the tofu to soak up the curry flavour.
Serve hot with rice.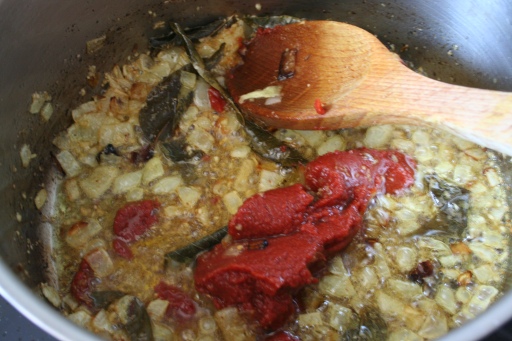 The Verdict
The result was actually great and much better than my older tofu experiment! A very flavourful curry with a clear tomato background. Of course the faint tofu flavour takes a back-seat in this dish. Judging by the many times Pierre went for it, I say it's a great success. Everyone loves it.
Notes
When I cooked this dish, I didn't really measure the water – just add it in according to what I feel is correct amount. Basically it should more or less cover your tofu.
I happened to have in hand some coarsely ground roasted black mustard seeds and roasted cumin seeds. However if you don't have, you can pan-fry the black mustard seeds, cumin seeds and curry leaves first with oil. Once the seeds pops, add in the chopped onions.