What made me bake apricots ? The craving came about a week or two ago when I ate some very delicious ones at my mother-in-law's house (it's now apricot's season). Try as I might, I couldn't get them out of my head. When I read about Domestic Goddess' sugar-high Fridays, the idea of cooking them Tatin's style came to me – it's one of the richest kind of fruit pie, right ?
A little historical background
The story of the Tarte Tatin invention is a bit fuzzy, but is known to originate from the Hotel Tatin (run by the two Tatin sisters) in Lamotte-Beuvron, France in 1889. The legend of this upside-down pie claims that it was first made by accident, although reasons for such accident are not very clear. Although the original recipe use apples, variants are now made with other sweet fruits like peaches and pineapples.
Apricot Tatin – Abricot à la Tatin
Ingredients
Fillings
Apricots (cut into halves)
110 g butter
110 g sugar
Shortcrust pastry (pâte brisée)
250 g plain Flour
125 g chilled Butter (cut into cubes)
1 egg
5 g salt
a bit of water (approx 5 ml or less)
Directions
Pie Crust
Using food processor
Place flour, salt and butter in food processor bowl. Using the pulse action, press button for 30 seconds or until mixture is fine and crumbly.
Add egg and water; process a further 20 seconds until mixture forms a dough.
Wrap the dough in a plastic wrapper and refrigerate for 30 minutes.
Roll out a clean piece of cloth on the table; sprinkle some flour on it.
Flatten the dough slightly with your hands and dust the dough lightly with flour before rolling the dough out with a rolling pin. Start rolling at the centre of the dough and work outwards. Roll the dough into a circle and slightly larger than the size of your pie dish.
Using hands
Put in the flour, salt and diced up butter together in a large bowl.
Using your fingers, rub the butter into the flour until it is crumbly (like sand). To make sure that all butter are rubbed in and there is no big lumps left, scoop some mixture into your hands and rub it in a rubbing motion.
Make a small well in the middle, crack in the egg and pour in the water. Mix the dough mixture with your hands until it forms a ball of dough. The dough should hold together and comes off the bowl easily. Do not work the dough too much.
Wrap the ball of dough with a plastic wrapper and refrigerated it for 30 minutes.
Follow last steps 4 & 5 of above instructions.
Fillings
Preheat oven at 200°C (400°F – gas mark 6).
Put butter and sugar in a small pan/pot and heat it up till it is caramelized. Remove from heat and pour it into a round baking dish.
Arrange the apricots with the half side facing down on the caramelized liquid, make sure they are fit tightly next to each other.
Bake it in the oven for about 15 minutes.
Take it out of oven and put the crust on top of the apricot and tuck the corners in.
Bake it for approximately another 30 minutes or less. Let the tart cool for a few minutes before turning over on a pie plate. Do not let it cool totally in the baking dish or else it will get stuck to it.
Serve it warm with a scoop of ice-cream or crème fraîche.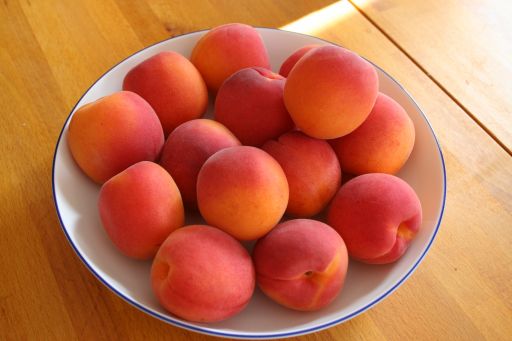 The Verdict
Without too much surprise, the apricots make the tart a bit acid, but I kinda like it. The taste grows on you – the full apricot flavour in each bite with a mixture of sweet and acid taste at the same time. To me the pie was as good with ice-cream as on its own. Pierre (who has a sweet tooth) feels that it was nice but it was a bit too acid to his taste, and the ice cream brought a welcome balance. We both felt that another 30 g sugar to the caramel would have made this tart even better, and I could bake it again with pâte sablée instead and maybe try some cinnamon on top (or is that the bottom ?😉
I have never made this tart before so I had my doubts on how it would turn out. When I took it out of the oven, the apricots had lost a lot of juice and I thought all this water would ruin the crust and create a disaster. Surprisingly when flipped the baked tart over, it turned out beautifully.
Note
Please add another 30 g of sugar to the caramel base. You can also make the caramel with water instead of butter. The pie would look prettier if you put the bottom side of the apricot on the caramel. There are 2 methods for baking it, one in two steps as I mentioned above and the other method is to simply put the pie crust on top of the apricot immediately and bake them at the same time for about 30 minutes at 200°C.