We haven't had curry for a quite some time now… so I decided to cook something different. I have been wanting to try my hands at cooking green curry for years, well, ever since I got this cook book from my ex colleague but I never really dared to try it… when I see the (long) list of ingredients – I usually chicken out. So this time, I was determined to do it and satisfy my hunger pangs for green curry.🙂
In Thai cuisine, curries are a paste used in meat, fish or vegetable dishes. They use local ingredients such as chili peppers, Kaffir lime leaves, lemon grass, Galangal and coconut milk, and as a result tend to be more aromatic than Indian curries. Thai curries are often described by colour; red curries use red chilies while green curries use green chilies, and yellow is closer to the Indian one.
Home-made curry pastes have of course more flavour than prepackaged. As such I decided to make my own paste and write this recipe is in two parts: first the green curry paste itself, then the Green Chicken Curry.
Green Curry Paste
Ingredients
1 tbsp coriander seeds
2 tsp cumin seeds
1 tsp black peppercorns
2 tsp dried shrimp paste (pâte de crevette)
8 large fresh green chilies, roughly chopped
1 cup French shallots, chopped
5 cm fresh galangal (peeled and pounded or chopped)
12 small cloves garlic, chopped
1 cup fresh coriander, chopped
6 kaffir lime leaves (feuilles de Combava), chopped
3 stems lemon grass (citronnelle), white part only – finely chopped
2 tsp grated lime rind
2 tsp salt
2 tbsp oil
Directions
Place the coriander and cumin seeds in a dry frying pan and heat for 2-3 minutes, shaking the pan constantly.
Place the roasted spices and peppercorns in a mortar and pestle or clean coffee grinder and work them until they are finely ground.
Wrap the shrimp paste in a small amount of foil and cook under a hot grill for 2-3 minutes, turning the package twice.
Process the grounded spices and shrimp paste in a food processor for 5 seconds. Add the remaining ingredients and process for 20 seconds at a time, scrapping down the sides of the bowl with a spatula each time, until the mixture forms a smooth paste.
You'll get approximately 1 cup of curry paste.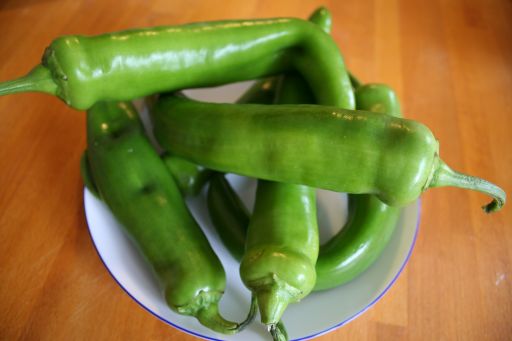 Note
Fresh green curry paste will keep for up to 3 weeks in an airtight container in the refrigerator. Alternatively, place tablespoonful in an ice-cube tray, cover and freeze for several hours; then store the cubes in a freezer bag and use them when required. Allow to defrost for 30 minutes at room temperature before using. Frozen paste will keep for up to 4 months.
For this paste, I didn't have coriander nor cumin seeds, so I used grounded ones instead – the same for the black pepper. I also run out of French shallots so I used 2 French shallots and 1 medium size onion. As for the green chillies, I used only 4 as you can see they are extremely big. If you are not used to spiciness, use 6 instead of 8 and also remove the inside core to lessen the spiciness.
I also couldn't find kaffir leaves so I substituted them with 1 tbsp of kaffir lime zests (equals to about 6 kaffir leaves). Another alternative is to use 1 tbsp of lime zests. Note that fresh Kaffir leaves can be frozen, while dried leaves are much less flavourful, so use twice as many as the recipe calls for if you're substituting them for fresh leaves.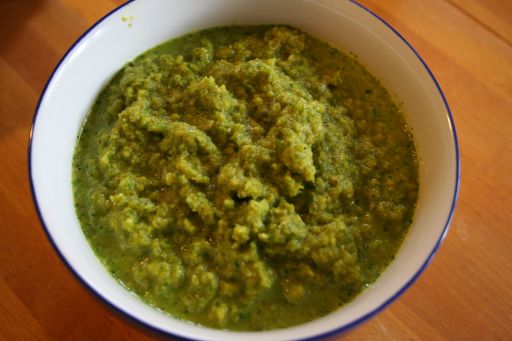 Green Chicken Curry
(taken from Thai Cooking)
Preparation: 20 minutes
Cooking: 25 minutes
Serves: 4
Ingredients
1 tbsp oil
1 onion, chopped
1-2 tbsp green curry paste
1½ cups or 375 ml coconut milk
½ cup or 125 ml water
500 g chicken thigh, fillets (cut into bite-sized pieces)
100 g green beans (cut into short pieces)
1 tbsp fish sauce (nuoc-mâm)
1 tbsp lime juice
1 tsp finely grated lime rind
2 tsp soft brown sugar
¼ cup fresh coriander
Directions
Heat the oil in a wok or a heavy-based pan. Add onions and green curry paste to the wok and cook for about 1 minute, stirring constantly.
Add the coconut milk and water to the wok and bring to boil.
Add the chicken pieces, beans and kaffir lime leaves to the wok; stir to combine.
Simmer, uncovered, for 15-20 minutes or until the chicken is tender.
Add the fish sauce, lime juice and rind, and brown sugar to the wok; stir to combine.
Sprinkle with fresh coriander leaves just before serving. Serve with steamed rice.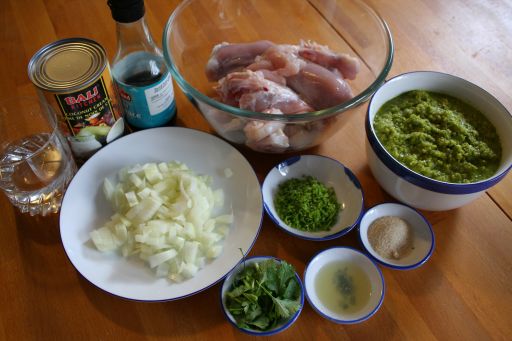 The Verdict
I didn't know what to expect actually, while cooking this curry, the aroma of kaffir lime and coconut flavour filled the whole house… very delightful and mouthwatering.
The chicken curry turned out pretty delicious I must say (a pat on my own back). For the first time, I'm actually satisfied with my own curry 🙂. The verdict from Pierre : Nice, fragrant. He likes it. It is spicy but not overly spicy.
I must say that although the long list of ingredients to make this curry (especially the green curry paste) looks daunting, it is rather simple, just put everything into the food processor and let it do the work for you.
Note
Chicken thigh fillets are sweet in flavour and a very good texture for curries. You can use breast fillets instead if you prefer. Do not overcook fillets or they will be tough.
I replaced kaffir leaves and lime zests with kaffir lime zests like I did with my paste. Trying not to waste, I used the kaffir lime juice instead of lime. And I used brown sugar instead of soft brown sugar (I didn't have any of that in my cupboard).
Many of the above ingredients can be tricky to find in western countries, but I have had good success finding them in local Asian groceries.