Hope everyone had a good Valentine's day last Saturday.
This is the first year we were alone on Valentine's day. Woke up to no crying toddler, bliss! My honey got up early at 7 am, went out and bought some almonds croissants for breakfast and served me breakfast in bed.🙂 Never mind there weren't any flowers… I got breakfast in bed, that counts a lot as it is. There is always room for improvement, isn't it?😉 For lunch, I made Moules marinère (Mussels cooked in white wine) for us. I wanted to make this chocolate cake for our dessert but he surprised me further with a strawberry cake bought from the local bakery. Now that got him another brownie point, don't you think so?🙂 It was a nice and lazy day … just waiting for Little One to come home from her week long vacation at her grandparents place. YES! you heard right! We had a toddler-free week on our own. I know it sounds horrible to say this but it was pure 'BLISS!' We had a wonderful couple-hood time alone – goodness, we needed that so much. We had fun checking out the local restaurants like we used to and we can *censored* whenever we want to without interruptions (that's a big bonus) and wake up late in the morning as we wish. It took me a day or two to switch off my 'mommy mode'.
One thing I would like to remind my readers is to drink lots of water and well hydrate your body. Why do I bring up this subject suddenly? For the past few days I have been having headaches day and night. I took pain killers and try to sleep it off but nothing worked. At first, I thought I was having migraine since some of the symptoms were quite similar to that. After speaking to my sister and checked online for information, I found out that if one is dehydrated, one can get headaches. So since yesterday, I have been drinking lots of water and true enough, my headache did subside a little … guess I was too dehydrated to even realize it and my body was trying to tell it to me in its own way. So please drink more water – that headache of yours might not be stress related.
Let's move on to something more appetizing … today, I would like to introduce you to another traditional French dessert called Tarte Grandmère – a very simple and delicious tart. My mother-in-law told me that my hubby and his younger sister would always say this : 'Oh, we have guests tonight.' whenever they saw her making this tart.😛 As it is very rich in calories, she only makes them whenever they have guests over for lunch or dinner.
Tarte Grand-Mère (Grandmother Tarte)
Ingredients
1 kg apples
80 g dried raisins
2 tbsp rhum
80 g butter
200 g fine sugar
1 packet vanilla sugar
1 egg
1 roll ready made pie crust (sweet version) or make your own (see below instructions)
Pie Crust – sweet version (La pâte sablée)
250 g Plain Flour
125 g Chilled Butter (cut into cubes)
80 g Sugar
1 egg
A little water (ice cold)
Directions
Preheat oven at 210°C (410°F – gas mark 6/7 ).
Soak the dried raisins in the rum for about 15 minutes.
Peel the apples and cut them into big slices.
Melt butter in a pan.
Once the butter turns a little brown, add in the apples, sugar and vanilla sugar.
Cook it under medium heat and stir it frequently, keeping an eye on it. Add in the raisins at the last minute. The apples should look a bit like a compote that is lightly caramelised. Let it cool.
Spread the caramelized apple compote on the prepared pie dish.
Decorate the tart with some left of strips of crusty pie pastry. Brush the strips with egg yolk lightly beaten with a bit of milk.
Bake for about 25 to 30 minutes.
Pie Crust
In a large bowl, mix the flour and sugar together and put in the diced up butter.
Using your fingers, rub the butter into the flour until it is crumbly (like sand). To make sure that all butter are rubbed in and there is no big lumps left, scoop some mixture into your hands and rub it in a rubbing motion.
Make a small well in the middle, crack in the egg and just a little bit of ice cold water. Mix the dough mixture with your hands until it forms a ball of dough. It will be a little bit sticky but the dough should hold together and comes off the bowl easily. Do not work the dough too much.
Wrap the ball of dough with a plastic wrapper and refrigerated it for 1 hour.
After 1 hour: Roll out a clean piece of cloth on the table; sprinkle generously some flour on it.
Flatten the dough slightly with your hands and dust the dough lightly with flour before rolling the dough out with a rolling pin. Start rolling at the centre of the dough and work outwards. Roll the dough into a circle and larger than the size of your pie dish. Roll the pie pastry as thin as possible. We want it to be crispy when baked.
Put your pie dish face down to the centre of dough. Put your hand underneath the cloth (centre of the dough) and gently flip the dough over.
Without stretching the dough, press the pastry firmly into the pan and trim any excess dough from the edge.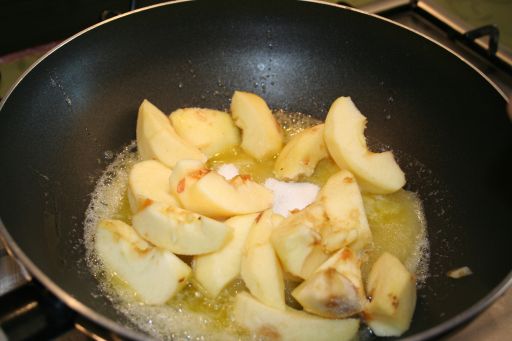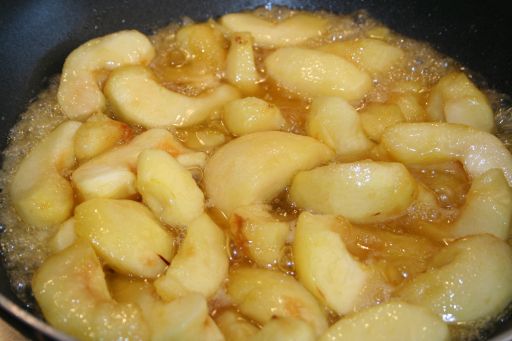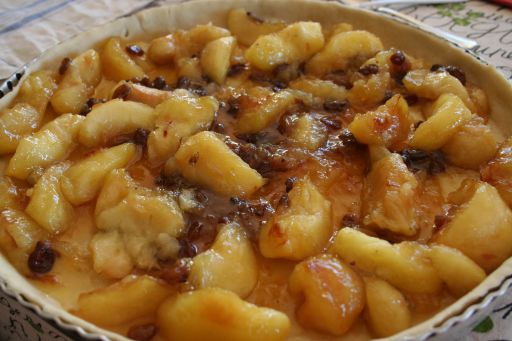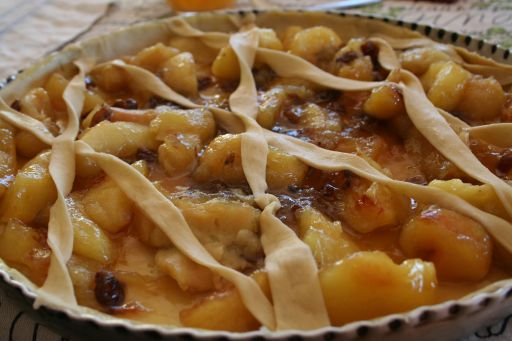 The Verdict
It is super delicious… so different than a normal apple pie. Whereas plain apple pies can be somewhat acid (depending on your choice of apples), the addition of caramel and butter makes it a lot easier in the mouth. Using salted butter adds an extra oomph, so if you have some around this is the way to go!
Notes
According to my mother-in-law, the pie pastry dough would taste even better if leave in the fridge overnight. The flavour of the dough is heighten and it is tastier.