We are back in Singapore 🙂. Woohoo! With the pandemic N1H1 flu, we did consider skipping Singapore this year if it got real bad… then again, it is a pandemic, so even if we stayed in France, we would still get it at some point. So we decided to just go ahead and not bother.
Flying back to Singapore via Singapore Airlines big jumbo plane – the A380 got hubby all excited like a little boy. To me, no big deal – just a bigger plane that can load more cattle in it, that's all. But I have to admit that the plane is indeed awesome to look at – big and beautiful. We chose the upper deck and hoped to get some empty seats around ours, hélas no such luck, it was fully seated. To top it off, passengers were coughing, blowing their nose left, right, front and back of us. My goodness, one would think in view of the pandemic flu, those who aren't feeling pink in health would either postpone their trip or wear a mask before coming on board. Sharing your germs is NOT the true spirit of sharing. Other than that, the flight went well, the Singapore Airlines service was excellent as usual and we got more leg room in this new plane. I liked their kids meal – Little One even got to keep her little red lunch box that came with it.
We landed on time and were greeted by my sister. My parents were waiting patiently for us at home and our dogs barked excitedly upon our arrival and Little One, for a moment, got all distracted by the dogs… but when she saw her 'ma ma' (or Ah Ma – "grandma" in dialect), she shouted out loud, jumped with joy and ran up excitedly to my mom with her arms wide open to hug her. The weather was very hot when we arrived but luckily for us, there were some rain to cool the hot weather off a little. Everything was going well till my family got a call from the Ministry of Health on Monday night informing us that I was quarantined due to a person sitting behind our row that had N1H1 😒. So a nurse and a security guard, all masked up, came to my home, gave me some papers to sign, gave me instructions to isolate myself from my family members to avoid risk of contamination and take my temperature 3x a day. If everything goes well, I'm officially off quarantine as of Saturday 8 am. One more day to go… Hubby is dying to dine at his favourite Indian restaurant on Saturday as soon as my quarantine is over.
In the meantime, I got to indulge myself with my mom's delicious cuisine. Besides being treated with the freshly made lemon juice and other fruit juices every day, I also get to eat her yummy deep-fried chicken wings, curry fish, seafood curry, stir-fried sambal long beans (snake beans) and today's featured recipe: Stir-Fried Prawns with Salted Soy Bean. Boy, am I pampered. 🙂
Stir-Fried Prawns with Salted Soy Bean
Ingredients
Prawns (peel and deveined)
3 garlic
15 shallots
2 cm ginger
1 candle nut
4 or 5 curry leaves , finely cut (optional)
1 tsp salted soya bean (big lump)
1 tsp chili or sambal belachan (optional)
A bit of oyster sauce (optional)
oil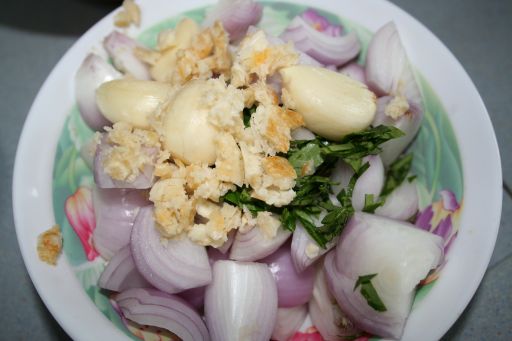 Directions
Grind garlic, shallots, ginger, candle nut, curry leaves, salted soya bean paste and chili in a food processor till it is a paste.
Heat up some oil in wok till it is hot. Add in the paste and stir fry it at medium heat till it is fragrant and the colour of the paste changed.
Stir in the prawns and a bit of oyster sauce.
Serve it with plain rice.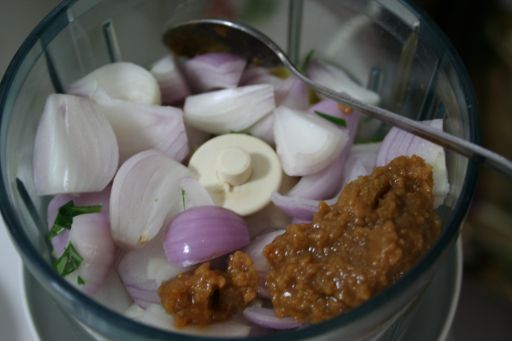 The Verdict
You know I mostly blog about successful recipes, so yes, this one is delicious. Taste wise, it's quite similar to my mom's chili prawns however the taste and fragrance of the salted soya bean is more prominent.
Notes
The nice part about this dish is that even if you don't add curry leaves or chili or oyster sauce, it will still taste wonderful.