One of the things I missed while living in France is my mom's home cooked food. Although I managed to recreate some of her dishes like assam fish, chili prawns, white peppered pork slices etc, I never quite managed to get her Fried Bee Hoon right. Whenever I craved for fried bee hoon, I would hint to hubby 'love, how about I cook fried bee hoon today?' His reply usually was 'erhm…I prefer your Char Kway Teow'. Usually when I pressed him further for an answer why he always avoid my fried bee hoon, he would give elusive answers… However one day I cornered him and finally got the cold hard truth: my bee hoon doesn't taste good. *sigh* So now that I'm in Singapore, I asked my mom to show me her secret in cooking such delicious fried bee hoon.
Bee Hoon (as known in Singapore, Malaysia & Indonesia) are rice vermicelli or thin noodles made from rice. They should not be confused with cellophane noodles, which is another type of vermicelli. Fried bee hoon is another favourite local home dish although one can find this too in the local food court. This dish is a meal by itself and it consists of vegetables, meat and/or seafood. It's basically a bit like Fried Rice in the sense that it is a flexible dish which can accommodate many ingredients that happen to be around your kitchen. Best of all, it is easy to dish it up (or it's supposed to, anyway…). On a lazy Saturday or Sunday, my mom usually cooks a big pot of Fried Bee Hoon for lunch and just leave it on the table. We help ourselves to it whenever we want – be it for lunch, after lunch, tea time hunger or just eating it out of gluttony. 😉
Fried Bee Hoon
Ingredients
Serves : 6
1 packet Bee Hoon
2 tbsp minced garlic
cabbage (shredded into bite size)
a few stalks of kai lan (separate leaves & stalks)
some prawns (peel & deveined)
slices of fresh red chili (optional)
oil
salt
light soya sauce
water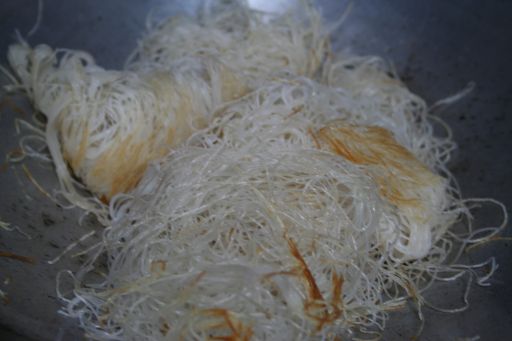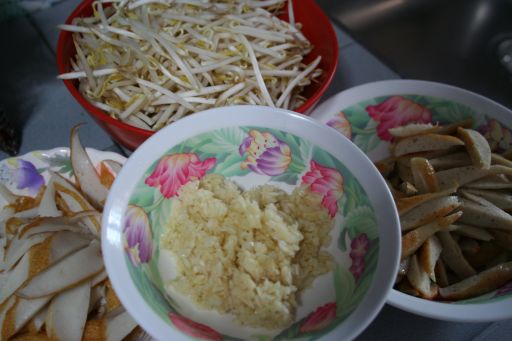 Directions
Soak the dry bee boon until it is soft (flexible). Drain and set aside.
Heat up a bit of oil and pan fried the bee hoon till it is a bit brown. Set aside.
Using the same wok, heat up some oil and stir fry minced garlic till slightly brown.
Add in the vegetable stalks first, stir fry it for a minute or two before stirring in the rest of the vegetables and bean sprouts. When the vegetables is about cooked, add in the prawns.
Season it with salt and light soya sauce. Stir fry it till they are cooked. Scoop it out and set it aside.
With the same wok, put in the bee hoon and add some water (enough water to cook it).
Once the bee hoon is cooked (water is more or less absorbed), add in the cooked vegetables, prawns and chili slices. Stir to mix it well.
Season it further with light soya sauce if the seasoning is not up to your taste.
Serve hot and enjoy.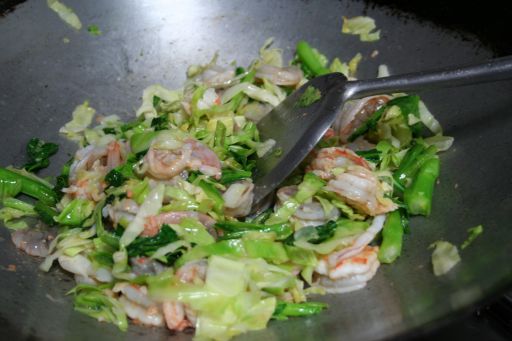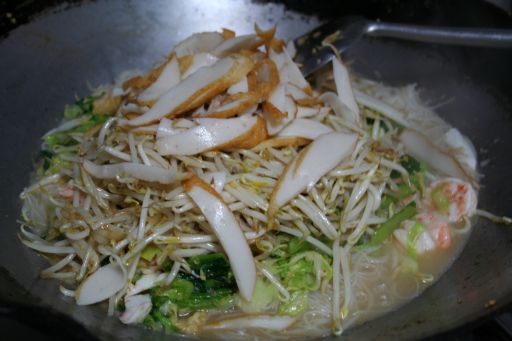 The Verdict
I like the combination of the flavour of the fried bee hoon together with the vegetables and prawns. The bean sprouts give it a nice crunchy touch. The bee hoon is not too dry nor too wet – just right. The success of the fried bee hoon relies on the right amount of garlic – too much, it overwhelms the taste and aroma of everything, but too little, it becomes a bit bland.
Notes
This dish is very versatile – can be cooked with cabbage, cauliflower, carrot, bell peppers or french beans etc, seafood like squid or prawns, or pork, beef or chicken or sausages chunks. Some also add shredded omelette on top.
Alternatively, you can cook the bee hoon in hot water until it is cooked and then drain. Add it to the cooked vegetables.