Canada is buzzing with excitement… an euphoria so different from the sombre mood that kicked off the Winter Olympic 2010 on 12 February, with the loss of life of a 21 year old Georgian lugger, Nodar Kumaritashvili during a training run a few days earlier. For the first time in Canadian history, an Olympic gold medal was won on home soil by Canadian mogul skier Alexandre Bilodeau. This is the 3rd Olympics held in Canada but the Canadians never won a gold in any of those Olympics. What a big celebration that must be for them!
We too, at BloggerAid, are buzzing with excitement of our own kind, cheering alongside all the athletes who have trained so vigorously and represent their respective countries. No, we aren't putting on our skis or skates. Our sport is FOOD, so we'll be working & whisking along with them in BloggerAid-CFF Culinary Olympics – an excellent idea by Val and Giz, the founders of BloggerAid :
« In many ways BloggerAid-Changing the Face of Famine (BACFF) members are also athletes. We represent over 60 international countries who have created and developed a communication and friendship that has brought our world a little closer together with a mission to raise awareness. What better way to come together than to create a Culinary Olympics where we can share our pride for our nations cuisine. »
Did we say FOOD? Now, you are talking to the right person. We, Singaporeans pride ourselves in knowing our food – it's sort of a National pride and past-time. Oh, an advice: never start a food conversation with a Singaporean. Go down that road if you dare but don't say I never warned you 🙂. Cuisine of almost all cultures can be found on this tiny island called Singapore. Hence we earn ourselves the name 'Food Paradise'. Bon! Today, we aren't going to talk about Singapore but France – the country of LOVE and its haute cuisine – as it is the place that I call my home today.
I was pleasantly surprised to learn some interesting facts about the country I'm representing, like:
Pierre Frédy, Baron de Coubertin (1 Jan 1863 – 2 Sept 1937) founded the International Olympic Committee in 1894 and was considered as the father of the modern Olympic Games. He also created the official Olympic Rings & Flag, wrote the Olympic Motto, Oath and Creed.
The first Olympic Winter Games, originally known as "Winter Sports Week" (but was later officially recognized as "Olympic Winter Games" in 1926) was held in Chamonix, France in 1924. It was a great success attracting 10,004 paying spectators.
All these calories burning winter sports commands a good winter dish to energize us back in form like Cheese Fondue or the Poulet à la crème (creamy chicken) that I'm going to introduce to you today. This recipe is traditional of the Bresse region and is particularly simple to dish up – created by Eliza Blanc, a very talented cook famously known as la mère Blanc who cooked exclusively with only simple and fresh products found in Bresse. In 1929, She was awarded a Star by the Guide of Michelin. In 1930, she was bestowed 1st prize in le Touring Club de France's culinary competition. And in 1933, the Prince of Gastronomy, Curnonsky declared that la mère Blanc is the best cook in the world. She was also the grandmother of great French chef Georges Blanc.
Poulet à la crème comme en Bresse (Creamy Chicken)
(from Ma Cuisine Des Saisons by Georges Blanc)
Ingredients
1.8 kg whole chicken (de-boned & cut meat into medium sized pieces)
olive oil or vegetable oil
2 to 3 tbsp plain flour
½ litre (500 ml) thick cream or thick crème fraîche
3 egg yolks (to mix with thick creme)
1 onion
1 clove
1 small branch thym
½ bay leaf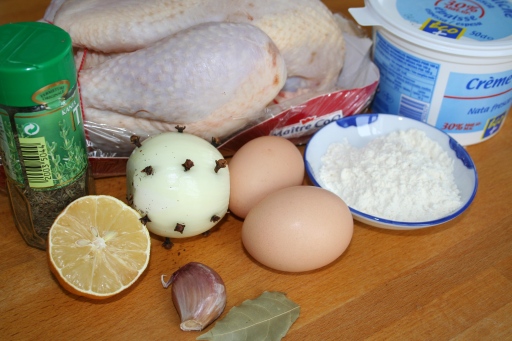 Directions
Put the chicken carcass in a pot with some water. Cover and let it brew. Keep some chicken stock aside.
Salt and pepper the chicken pieces.
Heat up some olive oil on a big pan or wok on high heat and lightly brown the chicken pieces.
Add in the onion prick with a clove on it, thyme and bay leaf.
Add in a bit of butter or olive oil, stir in the plain flour. Mix, let it blend and cook for a minute or two.
Add in some chicken stock, enough to cover the chicken pieces (half way) but not submerging it nor cover 3/4 of it.
Stir and bring it to a boil. Stir to blend it together. Cover and cook under low heat for about 30 minutes.
At the end of 30 minutes, take out the chicken pieces and put it aside – keep warm.
Filter the sauce with sieve to filter out the herbs and spices n onions.
Reheat the sauce, add in the thick cream already mixed with egg yolk. Stir to blend it. Cook it under low heat so that it doesn't boil.
Adjust the consistence of the sauce according to your taste by diluting it with a bit more stock or thicken it with more cream.
Adjust the seasoning according to taste and complete the seasoning with a light squeeze of lemon juice.
Serve immediately hot with rice or pasta.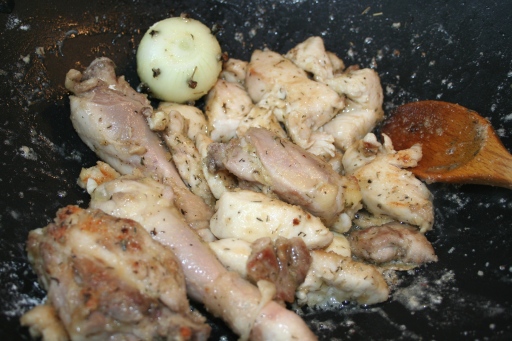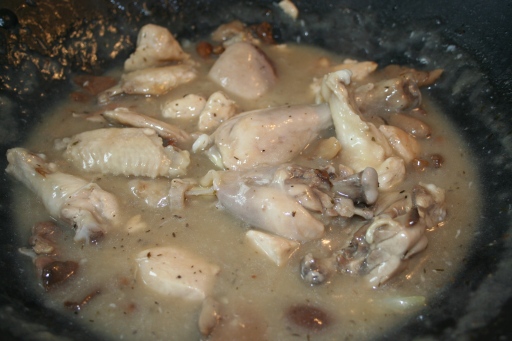 The Verdict
This dish is very rich, creamy and deliciously aromatic. The chicken has to be top quality here, you'll taste the difference. I would highly recommend to add in morsels of mushrooms (morilles is my favorite with this dish).
Notes
Alternatively, you can simply chop up the chicken pieces with bones on it and cook as per above but just add water instead of chicken stock. If you use a good quality chicken for this recipe, you won't need any commercial chicken stock to make this dish taste good. I didn't take out the chicken and sieve to filter out the spices from the sauce.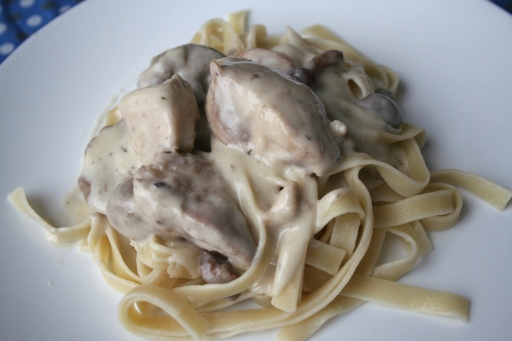 The members of BloggerAid-Changing the Face of Famine have published a cookbook BloggerAid CookBook where 100% of the proceeds target children and education through the World Food Programme called School Meals. The highly successful BloggerAid-Changing the Face of Famine Cookbook continues to be available through the Create Space e-store. The e-store is a direct connection of Amazon but the book cannot be found directly on the Amazon.com site. We have chosen to deal exclusively with Create Space where our children in the School Meals Programme will benefit the most! This professional cookbook makes an excellent gift for family and friends. So let's keep the momentum going. Tell your friends, who will tell 2 friends, who will tell another 2 friends…