Making home-made cheese is something that I have always wanted to do but haven't got the guts for it – fear of failure I guess and wasting milk. So when Daring Bakers' announced that we have to make Mascarpone Cheese as part of their February challenge issued by Deeba & Aparna, I was excited but at the same time a bit apprehensive about it. I mean, making cheese sounds so professional. Can I do it? Will I succeed? Pushing my doubts aside, I said to myself: I've lots of time left before the reveal date. Well, time flies when you are having fun… and before long, the dateline for Dbs' challenge was staring at my face. Cornered, I had no choice but to face my fear. Frankly, it's just so ridiculous that I get all so stressed up about it. It's just making cheese, for goodness sake! If it didn't turn out right, it's no big deal, just try again, right?. But I guess we all have our own weird phobia of failures. LOL!
Facing my fear I did. Although I did try to duck out of it when seeing in the recipe that we needed pasteurized cream and not ultra pasteurization or UHT (ultra-high temperature treatment). A search on the net gave me conflicting information. Some sites claim that it won't give you cheese (can't remember the reasons behind it anymore) while others say that as long as you are making soft cheese like mascarpone, it can be done. Since I have only UHT cream with 30% fat in my pantry, I decided to just use it following Ninja's philosophy: if we don't experiment with it, we'll never know!
At first I tried Vera's method cooking the cream on skillet but after like an eternity, still no sign of any bubbles – a cue for me to add lemon juice (I don't have a cooking thermometer, you see… *hint*hint* to whoever wants to get me a gift). So I decided to switch to bain-marie – nope, still no bubbles. Anyway I decided to just squeeze a few drops of juice in the cream to see if anything happens…what can I lose, right? And the cream had been cooking for quite long enough. Well, NOTHING was darn happening! Arrgggh! Stir, stir, stir… can't tell whether it is milk scum or is it really thickening, but something was sure coating my spatula. LOL! I was getting pretty desperate at this point. I mean how long can I cook this cream? I decided to ditch the bain-marie method, put it on direct low heat and a few more drops of lemon juice for the road. Blink! Blink! Like magic, it was thickening. (yes, for a minute there, I doubted my own eyes) Hurray! Did a happy cheese dance 'I'm so excited. Yeah yeah yeah!'
OK, now that I had it thickened… How do I know what's the right consistency? Did a little stove dance: burner, off burner, back to burner as I wasn't sure if it was thick enough. LOL! Anyway, after a while, I decided to stop the musical stove with my mascarpone and let it cool for 20 minutes. Miracle! It had thickened. As I had to leave for grocery shopping, I put it in the fridge to cool while it was kinda warm. Came back a few hours later and found a nice thick textured mascarpone. Did a finger dip – tasted fantastic! I didn't have any water dripping from the sieve like some other bloggers did. By the way, I didn't use cheese cloth for this – don't even know where to buy it here in France so I used the alternative: hub's good old cotton handkerchief. And yes, it's a freshly cleaned one if any of you were wondering. It works like a charm.
MASCARPONE CHEESE
(taken from Vera's Recipe for Homemade Mascarpone Cheese)
Makes: 12oz/ 340gm of mascarpone cheese
Ingredients
approx 500ml or 2 cups whipping pasteurized cream with 25% to 36% fat (I used UHT cream with 30% fat)
1 tbsp fresh lemon or lime juice
Directions
Bring 1 inch of water to a boil in a wide skillet. Reduce the heat to medium-low so the water is barely simmering.
Pour the cream into a medium heat-resistant bowl, then place the bowl into the skillet.
Heat the cream, stirring often, to 87.7°C (90°F). If you do not have a cooking thermometer, wait until small bubbles keep trying to push up to the surface. It will take about 15 minutes of delicate heating.
Add the lemon juice and continue heating the mixture, stirring gently, until the cream curdles.
Do not expect the same action as you see during ricotta cheese making. The whipping cream will only just thickens, like a well-done crème anglaise. It will cover the back of your wooden spoon thickly.
Remove the bowl from the water and let cool for about 20 minutes.
Meanwhile, line a sieve with four layers of dampened cheesecloth and set it over a bowl. If you don't have cheesecloth, use a cotton kitchen towel or a cotton handkerchief.
Transfer the mixture into the lined sieve. Do not squeeze the cheese in the cheesecloth or press on its surface (be patient, it will firm up after refrigeration time).
Once cooled completely, cover with plastic wrap and refrigerate (in the sieve) overnight or up to 24 hours. (Vera's notes: The first time I made mascarpone I had all doubts if it'd been cooked enough, because of itscustard-like texture . Have no fear, it will firm up beautifully in the fridge, and will yet remain lusciously creamy.)
Keep refrigerated and use within 3 to 4 days.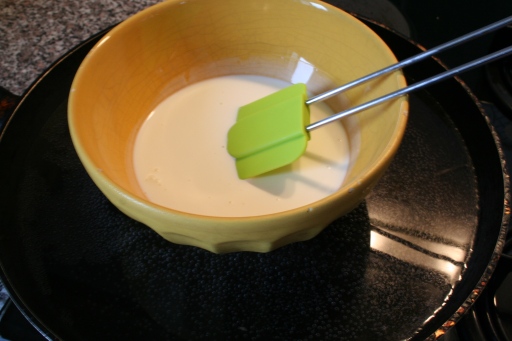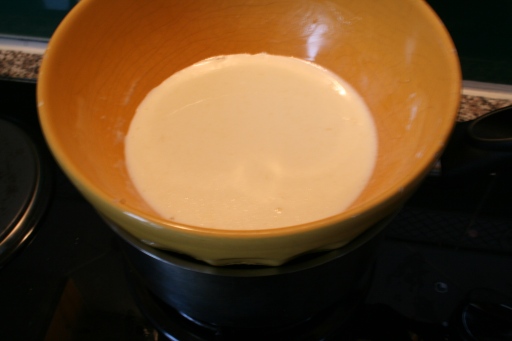 The Verdict
I like the tastes of home-made mascarpone better than the one bought from the store. It's creamy and silkily delicious. I don't really know how to describe but it just taste differently good.
Notes
If the above method doesn't work for you, cook the cream on direct very low heat. But be careful not to burn it or else you will get a burnt flavoured mascarpone cheese.
If you don't have any cheesecloth at home, you can also use cotton kitchen towel, a big handkerchief or any coarse cloth. You can also use those newborn cotton nappy cloth that we often us as diapers, light blanket or wipers etc.