Dear Readers, my apologies for not blogging anything new for a week. After my laptop died on me a few weeks ago, I started using my old PC (used to work on this PC before Little One was born) as an alternative but there were a few things I didn't quite bargain for. Like it used to have very weak WiFi signal that would most of the time prevent me from saving my post, but that was finally fixed by Pierre with a €69 plug. However it didn't fix the age of this PC – surfing or even typing something online is something else when we are also used to newer and faster PC. Just to give a general idea: I can type faster than it can print the letters on screen! I can take 40 winks while reading newspaper or blogs. Yep, it's that slow. So please do bear with me for a while until I get a new laptop.
Today, we are going to make a Verrine. I'm sure you have seen lots of cookbooks specializing on Verrine and even had it in the restaurants, as they have become very popular lately. You might be wondering like I did, what precisely is Verrines?
"A verrine is a confection, originally from France, made by layering ingredients in a small glass. It can be either sweet or savoury, making a dessert or snack." (Wikipedia)
So what has today's 'Verrine' got to do with The 4 Velveteers? Well, after our great adventure at making au naturel Red Velvet Cake (hence our name sake – Aparna, Asha, Alessio & I) and enjoyed it thoroughly, we decided to make it into a monthly event to spur each of us to great heights in our cooking/baking arena. For this month, we decided to make a savoury Verrine. To make it more challenging, we decided to do a blind concoction: each of us picked a secret ingredient and the 4 ingredients were revealed at the same time. I picked Salmon, Aparna chose Cheese while Asha decided on Squash/Pumpkin. Now, of course, Alessio being Al, has to throw all of us out of the loop with his pick of Chocolates. Yes you read it correctly. CHOCOLATES!
This month challenge is quite a difficult one for me as I'm not a great cook like Aparna, Alessio, or Asha. I still have a lot to learn. To be honest with you, I have never made anything with pumpkin or made a verrine before. The last time I tried to make a pumpkin tart, it turned out to be a disaster but my in laws and Pierre bravely ate it all the same. (Well that's another story) Anyway, I toyed with different mix and layers in my head for weeks. At first I wanted to make a curried pumpkin version to go with fresh salmon like sashimi but my curried pumpkin turned out awful. (had to dump it in the bin) so I stroke off that idea. Smoked salmon came to my mind a little bit too late as we have already done our grocery shopping for the week, so I had to stick to original idea of using fresh salmon. Then my mind was roused by the delicious fragrance of steamed gingered salmon with nice crunchy refreshing cucumber. Now how to pair it with cheese, pumpkin & chocolates was another challenge. Soon the idea of chived mixed with cottage cheese with small bits of dark chocolates started playing in my mind – then came the idea of having something crispy like chips …voilà pumpkin chips was born. So with all that in mind, I finally set out to make my very special verrine. Hope you'll like it too.
4 Velveteers' Verrine
Ingredients
fresh salmon (cut into cubes)
ginger (peeled, julienned finely)
a bit of light soya sauce
some pumpkin slices (thin)
cottage cheese or mozzarella (cubed)
grated dark or small broken bits chocolates
some chives (chopped finely)
Directions
Preparing Salmon layer
In a small bowl, marinate salmon with a bit of light soya sauce, pepper & ginger. Steamed the salmon for about 10 minutes or until it is cooked. Taste and adjust seasoning if needed. (Adjust the steaming time accordingly if it's a big plate of salmon)
Set it aside and keep warm.
Making Pumpkin Chips
Grease a plate (microwave safe) with a thin layer of olive oil.
Coat each slices of pumpkin with olive oil and spaced them out on the prepared greased plate.
Microwave it for 2 to 4 minutes. Then turn each pumpkin slices over and microwave it another 3 to 5 minutes.
Take them out and let it crisp up on a clean plate. Continue to do same with the rest of the pumpkin slices.
Voilà, you have your crispy pumpkin chips.
Preparing Cheese layer
In a small bowl, mix cottage cheese or mozzarella cheese with chopped chives and dark chocolates bits.
Set aside.
Assembling Velveteers Verrine
Take a verrine or a glass yogurt pot, spread a thin layer of diced cucumbers.
Spread a layer of gingered salmon on top of the cucumber.
Spoon a layer of cheese mix on top of the salmon layer.
Spread a layer of roughly crushed pumpkin chips on top of the cheese.
Serve immediately.
The Verdict
To my great surprise, it actually turned out good. The ingredients really blends well. The crushed layer of pumpkin chips gives a good flavour and texture to the chived cheese. The introduction of dark chocolate bits in the cheese was kinda odd at first but once we get over the surprise, we start to enjoy this new taste and find that it actually fits. The gingered salmon turned out really good. Overall, you have a very fragrant taste with a crunchy yet springy and refreshing savour all at once.
On the hindsight, I think mozzarella cheese would have been more ideal than cottage cheese as mozzarella is more firm and springy in taste which would go better with the soft textured salmon. For the salmon, perhaps it might have been better to steam it as a whole instead of in small pieces, to make it firmer. And also a more generous layer of roughly crushed pumpkin chips on top. I would like to make this again with this adjustment and experiment with making one with fresh raw salmon with a squeeze of lemon juice (perhaps).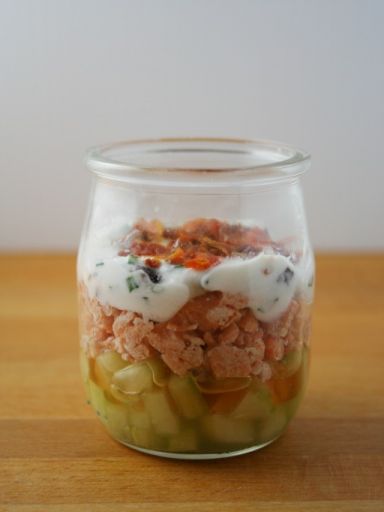 Notes
When making pumpkin chips, it is best to wipe the plate now and then or else oil accumulates and your chips will turn out to be very oily.
The 4 Velveteers (as we called ourselves) are hosting a monthly event that explores food, cuisine or our passion about something that catches our interests. All of us shares our recipes, experiences and verdicts on our blogs. Every month will be a surprise – we never know what we'll make next. So if you're interested in joining the Velveteers, please feel free to drop by our food blogs and leave a comment and we will get back to you.
Do check out what the other Velveteers have come up with: