The 2010 March Daring Cooks challenge was hosted by Eleanor of MelbournefoodGeek and Jess of Jessthebaker. They chosed to challenge Daring Cooks to make risotto. The various components of their challenge recipe are based on input from the Australian Masterchef cookbook and the cookbook Moorish by Greg Malouf.
For this challenge, we must make our own chicken stock and the risotto base. I was not worried about making my own chicken stock but more about making risotto. You see, I had only eaten risotto once in my life when my sis-in-law made it last summer. All I can remember was it tasted super delicious! Since then, I have been wanting to make risotto but was too scared to even start. I even bought ready packaged risotto (like those ready packaged rice) to start out but each time my courage left me. I sound very silly, don't I (even Pierre looked at me weirdly when he found that out). Those packets of risotto are still sitting in my garage. LOL! Now that the Daring Cooks had issued this challenge, I had to stop running and making excuses… however I did procrastinate on it until the last minute!
I had an idea of what kind of risotto I was going to make – Prawns & Mushrooms. Even watched a video on how to make basic risotto just to make sure I would not screw up on expensive prawns (I'm not even talking about fresh ones – the cheap frozen ones already costs about 12 €/kg). I had everything bought and ready to go, and then my laptop went belly up that very day (right after I got back from my grocery shopping). Arrggh! All my data, recipes, food pictures were in there! How can I cook when I don't have the basic risotto recipe to follow? How can I post on my blog? Yep! You got it right. FRUSTRATION is the word that described my state of being for the following days. As if it wasn't bad enough, someone up there decided to put the proverbial icing on the cake and the whole family got seriously sick with flu by late afternoon. Peachy or not, risotto was on tonight's menu. So I spat on my hands and rubbed them well for good luck like a baseball batter (Gotcha! Just kidding!), I went ahead and cooked it sans recipe, with just memories of how the guy in the video did it, crossing my fingers and hoping it would turn out good.
What do you think? Did it turn out good or bad? Did my ninja's training saved the day? Read further to find out!
Prawn & Mushrooms Risotto
Ingredients
olive oil
1 small onion (chopped)
risotto rice (I use Arborio rice & measure 1 espresso cup per person)
1 espresso cup dry white wine (for 2 espresso cups of rice)
1 litre chicken or vegetable stock (approx)
some button mushrooms (sliced)
some fresh prawns (peeled)
a dash of parsley (chopped)
salt & pepper
Directions
Heat oil in a pan and add onion. Fry for a few minutes until the onion is fragrant and translucent.
Add the rice and stir for a few minutes to coat each grain of rice with oil and toast slightly.
Add the wine and let it bubble away until evaporated.
Add enough stock to cover the rice by a finger's width (about an inch or two). Don't actually stick your finger in, it will be hot. Just eye it off.
Cook on medium heat, stirring with a wooden spoon from time to time, until most of the stock has been absorbed.
Then add in mushrooms, season it with salt & pepper with another ladle of stock.
Continue adding the stock and stirring it once in a while until the rice is nicely al dente.
Then stir in the prawns, parsley with a little more of the stock. Cover and heat through until the prawns turn pink and are cooked.
Serve immediately
The Verdict
Strike! I got it right – the risotto was done just right, the rice was thick and moist but not mushy, the prawns were cooked just enough to remain crunchy and flavorful, and go well with the mushroom. I can still see a possible improvement by using more refined mushrooms – morilles (morchella) or cèpes for example would probably make the dish a total bliss.
Don't be afraid to cook risotto like me. It's actually very easy – like cooking rice except one adds broth to the rice little by little until it is cooked. It's that simple. The great thing about risotto is that once you know how to make the basic risotto, you can make risotto with anything you have in mind or in your fridge.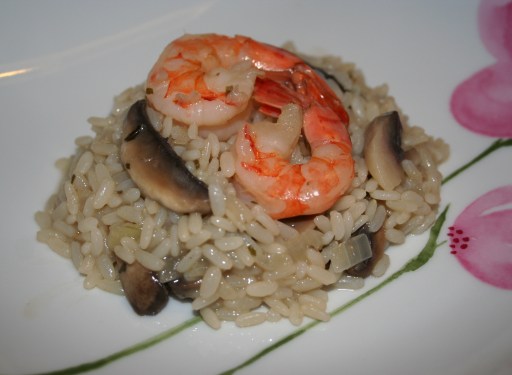 Notes
To avoid having a very starchy or lumpy looking risotto, don't stir the rice constantly while it's cooking .
For the above recipe, I used my leftover frozen chicken stock from Poulet à la crème (Creamy Chicken). It's a very basic stock of water & chicken carcass without any extra ingredient. However you can also try making DC's Challenge Chicken stock if you wish.