POISSON D'AVRIL!
Happy April Fool's day, everyone! This day celebrated worldwide is however known in France as 'Poisson d'avril' (April Fish). On this day, like the rest of the world, jokes are played on family and friends and the medias are all so full of funny hoaxes – it's hard to know the reality from the jokes. For the children in France, it's the day where they have fun discretely sticking a paper shaped fish on their parents, teachers and friends back.
Dear Readers, you must be like me as curious as a cat wanting to know why it's call April Fish here. Well, sadly the story is kind of blurry, but is connected to the fact that in some part of France, the year-end was celebrated around 1st of April in the Middle-Age, and the end of Lent during which meat was forbidden and fish was the alternative. Oh, admit it, you feel kinda let down like me by the the lack of mystery surrounding this fish day.
Now guess who is all excited jumping out of bed this morning when I went to wake her up? Yes you guessed it right (sorry no price for guessing it right this time) – Little One! You see, it's her first 'Poisson d'avril'. So she was all excited this morning, jumped out of bed in excitement 'Mommy, it's Poisson d'avril' today!' 'We got to hurry up – dress up and make some fish.' Boy, was she fast in dressing up and finishing her breakfast! (record time) Quickly some fishes were cut out and coloured with a sticker tap on. Giggling with excitement, she just couldn't wait to reach school to stick one on the back of her teacher. Said teacher was sportive enough to pretend she didn't see that coming and turned her back for Little One to stick it on it. You should have seen that glee on her face when she did it and said 'Poisson d'avril' to her teacher and giggling non-stop. PRICELESS! I wish I could capture that moment on camera and freeze frame it forever. Then she went into her class and stickied another one on her best friend, Lise, giggling. Ahh… it's so wonderful to see things through the eyes of a 3 year old. Thank you dear daughter for reminding me what's like to be a child again. And who says we, adults, can't have fun like Little One. I dare you to stick a coloured paper shaped fish on your family, friends and colleagues next year – it'll be a nice French touch.
Which brings me to this chicken kebab. Well not, but bear with me, it's a slow day.
Afghani Murgh (Cheesy Chicken Kebab)
(Taken from Moti Mahal's Tandoori Trail by Monish Gujral)
Ingredients
600 g chicken (cut into 8 pieces)
2 tsp ginger-garlic paste
1tbsp vinegar (I used apple cider vinegar)
1/2 tsp salt
3 1/2 tbsp cashew nuts
1/4 cup milk
2 tbsp cheese (grated)
2 tsp cardamom powder
salt to taste
2 tsp white pepper powder
2 eggs
2 1/2 tbsp cream or crème fraîche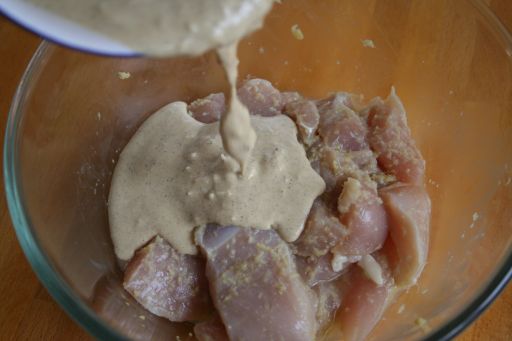 Directions
Make some incisions on the chicken pieces (simply poke some holes on it with your pointed sharp knife). In a big bowl, marinate the chicken pieces thoroughly with ginger-garlic paste, vinegar & salt. Keep aside for half an hour to an hour.
In the meantime, blend cashew nuts with milk in food processor until you get a smooth paste.
In another bowl, mix grated cheese, cardamom powder, salt and white pepper with cashew nuts milk paste. Add in the eggs and cream. Stir and mix until everything is well incorporated, giving a smooth paste.
Pour this mixture onto the marinated chicken, making sure that each chicken pieces are well coated with the paste. Set it aside for an hour or until it is ready to be cooked.
Soak your wooden skewers for about half an hour or an hour in water before using it. This is to prevent the wooden skewers from being burn in oven. (If you are using metal skewers, skip this part, of course.)
Preheat oven under grill mode.
Thread chicken pieces on skewers and place it under grill for 6 – 7 minutes.
Turn chicken pieces over and baste it with oil. Let it grill for another 6 minutes or until chicken is tender.
Alternatively you can cook it in a preheated oven at 180°C (350°F – gas mark 4).
Serve it hot with mint chutney. (We just ate it with rice.)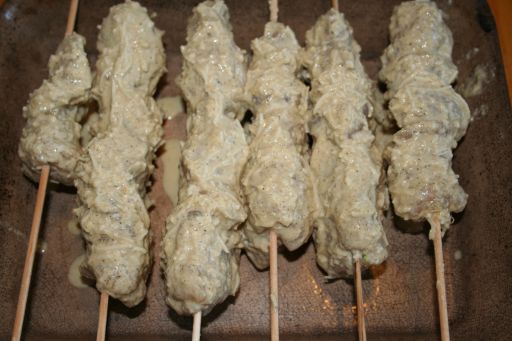 The Verdict
It's flavorful and the cardamom is definitely strong here! Thanks to the thick creamy cheese coating around the kebab, the chicken doesn't feel dry at all and is very succulent. Both Pierre & Little One loved it very much.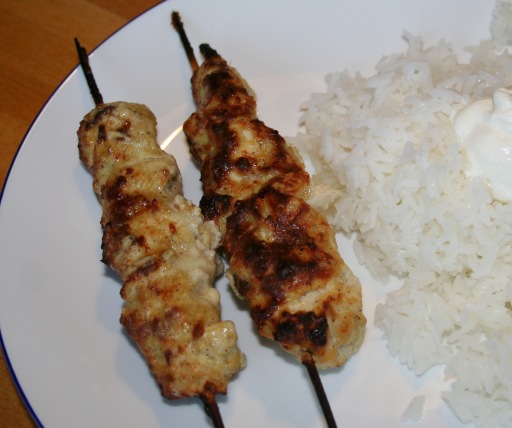 Notes
I have no idea what type of vinegar the author of the book used so I just replaced it with apple cider vinegar that I have in my pantry. It still turned out succulently delicious.
Grated Cheese – Please do not use prepackaged emmental grated cheese in this recipe like I did. They won't stick to your chicken in the marinate. What it calls for in this recipe is finely grated cheese. Or you can cut pre-grated emmental cheese further up with scissors to make it finer.
If you like kebab, try this too :