Woohoo! It's about time! I'm back online again with my spanking new hand-me down laptop (Pierre's new toy finally arrived). I was slowly withering away in withdrawal syndrome of not being able to write new entry on my blog and keeping in touch with my readers and friends for a month. However something good did come out of this, like Little One getting 110% of mommy's attention and the house too (yes, the dreaded housework got done faster). Being without a computer for a month taught me quite a few things but I'm not going to bore you with this right now (later, I promise). Ah… lots of news and recipes to share with all of you.
Before we dive into my new recipe, I want to draw your attention to some NEW features on the Blog (courtesy of Pierre's programming talents):
Print button (bottom right) – to print your recipe easily
Translate button (bottom right) – different languages like French or Italian etc. I have checked the French translation and it was pretty good, even the measurement units get translated.
Picture of each dish when you do a search by main ingredient or cuisine
And the following recipes to look forward to:
Chapati with Potato stuffing
Chocolate Velvet Pound Cake
Now just before my infamous laptop failed me, I joined a food blogger book club This Book Makes Me Cook – besides reading the nominated book of the month (of course), we also make a book inspired dish as the club is aptly named. I'm very late at this but hey, better late than never! Anyway, April book review was Can you keep a secret by Sophie Kinsella – a light hearted and humorous chick book with kind of predictable scenarios (sometimes a bit over-the-top) but a good read all the same. I enjoyed it thoroughly, even laughed out loud many times at some hilarious situations. The story begins with the heroine, Emma Corrigan, who is aviophobia (fear of flying) babbling out all her secrets to a total stranger seated next to her on flight during a very bad air turbulence, thinking the plane was going to crash. Unfortunately for her, that stranger unexpectedly become a permanent fixture in her life.
There was a company family picnic day scene in this book that inspired me to make this no-knead brioche. I figured that if it works on bread, no reason why I can't make a brioche the same way? Et voilà! It's as easy as 1, 2, 3. From now on, I don't have to knead my brioche anymore – makes my life a lot simpler (pssst… because I suck at kneading big time). Just stir everything in, let it rise, punch it down and let it rise over-night covered in the fridge or a very cool place. Bake it the next morning and you have a lovely delicious breakfast.
No Knead Brioche (with M&M Peanuts)
Ingredients
1 tbsp plain flour
11 g dried yeast
60 ml milk or buttermilk (lukewarm)
300 g plain flour
45 g sugar
3 eggs (lightly beaten)
125 g salted butter (melted, cooled)
1 tsp vanilla essence
a few handful of peanut M&M's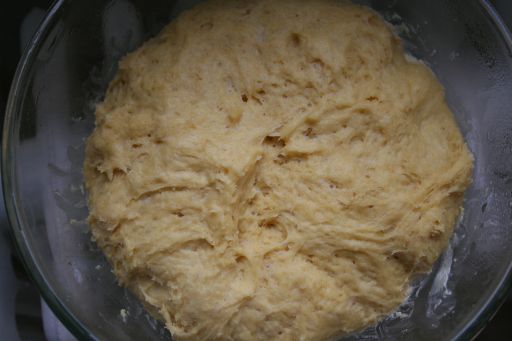 Directions
In a big bowl, mix 1 tbsp plain flour with dried yeast and stir in lukewarm milk making sure it is well mixed. Leave it for 15 minutes.
Mix the rest of plain flour and sugar together. Pour it on top of the yeast mixture.
Make a well in the centre, pour in lightly beaten eggs, cooled melted butter and vanilla essence.
Stir until everything is well incorporated.
Let it rise on the table for about 2 hours or until it doubles in volume.
Lightly punch it down and pull/fold the outer edge of the dough to centre.
Cover it with a plastic film and let it proof in the refrigerator or a very cool place overnight.
Lightly flour your work surface, turn the dough out and lightly dust it with flour. Roll it out into a big rectangle.
Sprinkle M&Ms all over the surface.
Roll in from the longest side like a Swiss roll. Cut it into 6 or 8 even slices and arrange them loosely in the prepared round baking pan lined with baking paper.
Melt butter and sugar together in a small bowl. Brush this mixture on top of the brioche and let it rise for 1 hour.
Bake it in preheated oven at 160°C (325°F – gas mark 3) for 40 minutes.
Coat the top with some melted buttery sugary mixture again and let it cool.
Serve it with a cup of tea or coffee. Savour it.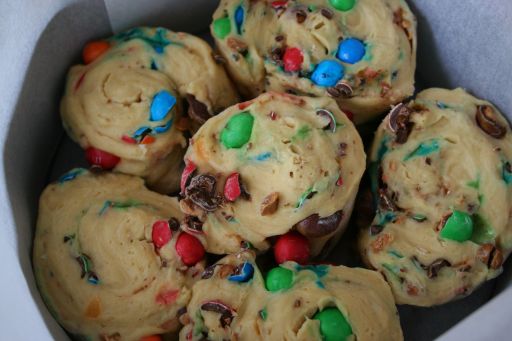 The Verdict
It really tastes as good as the kneaded brioche. Pierre suggested using M&M's instead of the traditional pralines: OK, so it looks like a clown that has been thrown into a car-wash, but it actually taste great and the peanuts still give the same crunchy sensation as the pralines
Notes
If you are living in cool climate country like me, I let my dough rise overnight outside on my window sill in spring or autumn but the coolest part of the house during winter.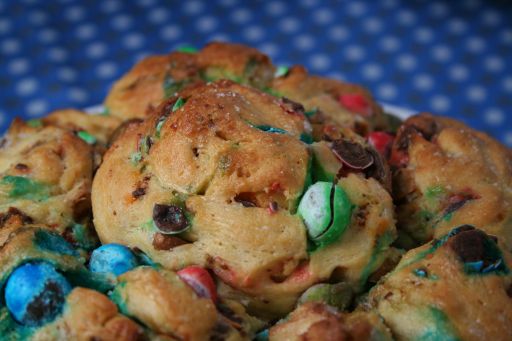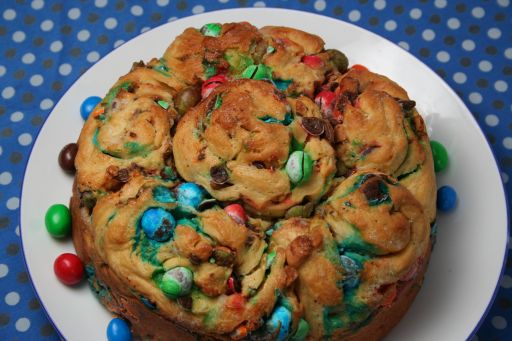 I'm sending this No Knead Brioche recipe to YeastSpotting!.
You might like this too: