Dear Readers, immediately after I rejoiced blatantly to all that Spring is finally here in my post last Friday, winter slapped me hard on my face the next day with freezing cold below zero temperatures. As if that was not enough, winter threw in some snow on us last Sunday, as if to make sure that we understood that it was here to stay for a while longer and to stop dreaming about spring. Since last Sunday, the temperature stayed -3°C with snow fall now and then. On such cold days, the best way to warm ourselves up is to cook a pot of spicy hot curry like chicken curry or mutton curry or soup like tomato or leek & potato.
Leek & Potato Soup is one of the greatest classics of French homemade soups. I can easily understand why, for it is not only delicious, aromatic, nutritious but also inexpensive and filling. Leeks belongs to a vegetable family called the Allium vegetables like garlic and onions. Leeks are a very good source of manganese, vitamin C, iron, folate and vitamin B6.
How to choose Leeks?
Choose leeks that are firm, straight with dark green leaves and white necks. It should not be yellowed or wilted, nor have bulbs that have cracks or bruises. Buy only leeks with a diameter of 1 1/2 inch or less, as large leeks are generally more fibrous in texture. Store fresh leeks unwashed and untrimmed in the refrigerator in a loosely wrapped plastic bag : this will help to retain moisture and keep them fresh for 1 – 2 weeks. Cooked leeks will only stay fresh in the refrigerator for about 2 days.
Here's the simple version of the Leek & Potato soup that my mom-in-law and sis-in-law often cook at home. Hope you will like it as well. Enjoy!
Leek & Potato Soup (Soupe aux poireaux)
Ingredients
1 big onion (chopped)
4 leeks (washed and chopped)
2 potatoes (peeled & diced)
1 litre water or chicken stock (approx.)
salt & pepper
sour cream or crème fraîche or milk (optional – for serving)
Directions
Trim the leeks and remove the top tough green leaves, leaving on the tender green parts. Slice each leek longwise twice (like a cross), wash it and chop the leeks from top to bottom.
Heat a pot with some olive oil. When oil is hot, add in the chopped onions. Stir-fry it till fragrant & translucent.
Add the chopped leeks and potatoes to the pot. Stir-fry the leeks until it is soft.
Add in the water or chicken stock to the pot and bring it to a boil.
Season it with salt & pepper. Lower the heat and let it simmer covered for about 30 minutes or until the potatoes are cooked.
Purée the soup using stick blender. Taste, adjust the seasoning accordingly.
Serve hot plain or with a spoonful of crème fraîche or a bit of milk.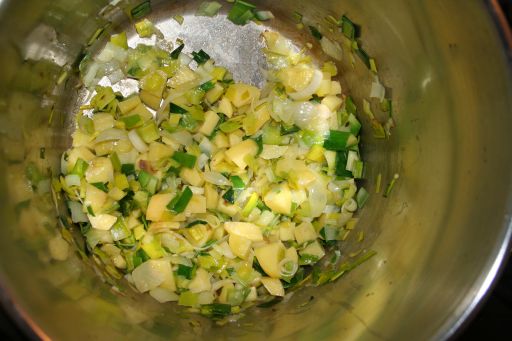 The Verdict
This soup is simply delicious – creamy, full of flavour and tasty. Little One loves this soup, even Pierre who dislikes leeks likes it. It's an all occasion soup: as comfort soup or under the weather or just to warm us up on a cold day. It's simple, quick & easy to make and healthy too.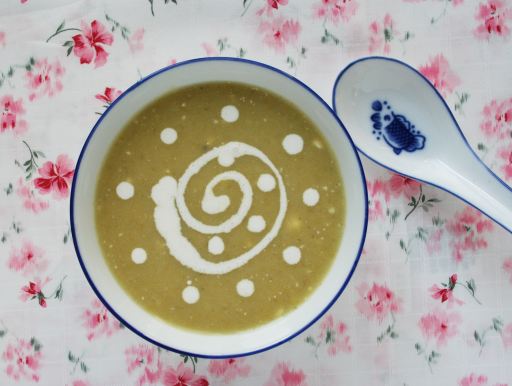 Notes
The above recipe is the base. You can add other herbs to it or any other ingredients like bacon, mushrooms, chicken or fish, etc if you want. You can also freeze the soup but it must not have milk or cream in it.